The Gallardo
PerioDontaLetter
Dr. John Paul Gallardo, Periodontics and Implant Dentistry
---
From Our
Office to Yours…
Predictable delivery of highly esthetic and naturally-appearing implant restorations is dependent on the quality, quantity and volume of bone at the implant site because they influence the interface between bone, soft tissue and implant.
The best results are obtained when there is a thick biotype and abundant bone.
Many patients present after tooth loss with alveolar defects which will not accommodate an implant supported prosthesis. In these situations, site development is an essential prerequisite for successful implant therapy.
In this current issue of The PerioDontaLetter, we discuss implant site preparation techniques. Such procedures may range from minor surgical preparation to more advanced techniques like guided bone regeneration, guided tissue regeneration, using autogenous or allograft material and orthodontic site development.
As always, we invite your comments and suggestions.
Implant Site Development
The primary consideration in preparing the implant osteotomy site is the preservation of bone vitality.
Most extractions, and all extractions in the anterior region, should be coordinated with a site development plan, such as bone grafting, or immediate or delayed implant placement.
After tooth extraction or loss, the alveolar ridge resorbs and may result in a significant osseous deformity.
Most bone loss after extraction occurs in the first six to 24 months. Consequently, hopeless teeth should be considered for early extraction to preserve as much of the alveolus as possible.
At the time of tooth extraction, if there is sufficient bone in which to place an implant, immediate implant placement may be indicated to preserve as much of the patient's natural tissues as possible.
Alternatively, the extraction site can be treated with complete flap closure to encourage the formation of a stable clot, in conjunction with a socket preservation graft, to help preserve the natural bone volume.
Figure 1. A small sinus elevation window allows simultaneous implant placement and increased alveolar height with a subantral graft.
The minimum amount of bone needed for placement of a standard 3.75mm diameter implant is 6mm horizontally and 8mm vertically. When alveolar ridge resorption results in much smaller dimensions, guided bone regeneration (GBR) techniques can successfully augment the preimplant ridge. The use of GBR with barrier membranes makes bone regeneration possible by preventing the ingrowth of soft tissue while encouraging new bone formation.
Ideally, there should be at least 2mm of bone around the circumference of each implant and 3mm of bone between each implant to prevent bone loss around the implant as the bone remodels. In the absence of this amount of bone, bone regeneration is essential prior to implant placement.
Bone grafts for implant site development can be obtained from the same individual (autografts or autogenous grafts), from a different individual of the same species (allografts), or from a different species (xenografts). Synthetic regenerative products (alloplasts) represent another bone grafting alternative.
Bone graft materials are generally classified as osteogenic, osteoinductive or osteoconductive.
Osteogenic grafts form new bone from cells contained in the graft. These materials will grow bone in the absence of native bone. Autogenous bone grafts are osteogenic grafts.
Osteoinductive grafts induce bone formation through a chemical process which converts the patient's undifferentiated cells into osteoblasts which in turn form bone. Demineralized freezedried bone allografts (DFDBA) and mineralized freezedried bone allografts (FDBA) are osteoinductive grafts.
Osteoconductive grafts facilitate new bone formation from existing bone by their structure and chemical composition. Osteoconductive grafts form a scaffold that stimulates the patient's cells to form new bone. Osteoconductive materials will only induce bone formation when placed next to viable bone. Xenografts and graft materials such as Hydroxapatite (HA) and Tricalcium phosphate (TCP) are examples of osteoconductive grafts.
Autogenous Bone Grafts
Autogenous bone is often regarded as "the gold standard" for grafting. Autogenous bone grafts may transplant osteocompetent cells, are biocompatible with human tissue, have the potential for longlasting space maintenance and can possibly be completely resorbed and substituted with the normal turnover of native bone.
Autogenous bone grafts may be harvested from many intraoral sites, including:
Healing extraction wounds
Edentulous ridges
Edentulous areas between natural teeth
Ideally, the bone would be harvested from a site close to the defect site. Bone from the tuberosity, anterior nasal spine and zygomatic buttress represent excellent donor sites in the maxilla. The mandibular symphysis, ascending ramus, coronoid process and horizontal ramus are useful donor sites in the lower jaw.
The harvested bone may be placed in an extraction site, an implant site defect, a buccal alveolar defect and the maxillary sinus. It may also be used as a block for a vertical onlay ridge graft or as an inlay graft.
Particulate grafts are usually stabilized with a membrane, while block grafts are secured to the recipient site with screws and often do not require a membrane.
Allografts
Bone allografts offer a suitable substitute to autogenous bone grafts and avoid the additional surgical removal of donor material from the patient. They are harvested within 12 hours of the death of the donor, defatted, cut in pieces, washed in absolute alcohol and deepfrozen. The material may then be demineralized and ground and sieved to minute particle sizes, freezedried and vacuum sealed in glass vials for sale by tissue banks.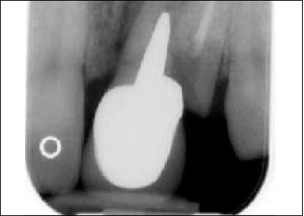 Figure 2. A pre-operative radiograph reveals tooth number 9 is fractured and the prognosis is hopeless.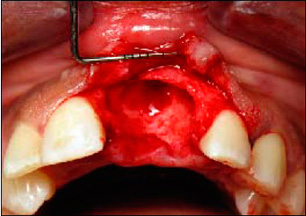 Figure 3. Tooth number 9 is removed.
Numerous steps are taken to eliminate viral infectivity. These include exclusion of donors from known highrisk groups and various tests on the cadaver tissues to exclude individuals with any type of infection or malignant disease.
The material is treated with chemical agents or strong acids to inactivate the viruses and are often subject to irradiation.
Demineralized freezedried bone allografts (DFDBA) are the most commonly used bone allografts for implant site development because of their high osteogenic potential, although they are considered an osteoinductive graft.
Studies of defects grafted with DFDBA have shown significant new attachment and periodontal regeneration. Mineralized freezedried bone allografts (FDBA) have also shown success in filling between 50 to 67 percent of defects. The success rate of FDBA can be enhanced with the addition of autogenous bone. They are considered an osteoinductive material.
Xenografts
The only successful xenograft currently in use for implant site development is an anorganic, bovine bone.
The most popular xenograft is marketed under the brand name Bio-Oss, but there are many others on the market. These xenografts are an osteoconductive, porous bone mineral matrix obtained from bovine cancellous or cortical bone.
The material permits clot stabilization and revascularization to permit migration of osteoblasts leading to osteogenesis. It is biocompatible with the adjacent tissues eliciting no systemic immune response.
Several studies have reported successful bone regeneration around implants and sinus grafting with this material. When used as a graft material covered with a resorbable membrane to prevent the migration of fibroblasts and connective tissues into the pores and between the granules of the graft, these xenografts have shown significant osseous regeneration and cementum formation.
The combination of a xenograft with a biomediator can enhance the results of bone regenerative techniques.
Alloplastic Graft Materials
Calcium Phosphate Biomaterials have excellent tissue compatibility and typically do not elicit inflammation or foreign body response. These materials are osteoconductive.
Two types of calcium phosphate ceramics are well tolerated and can result in clinical repair of periodontal lesions:
Hydroxapatite (HA) has a calcium-to-phosphate ratio of 1.67 similar to that found in bone and is generally nonbioresorbable. HA is often useful for maintaining ridge volume because it is not readily resorbed.
Tricalcium phosphate (TCP) has a calcium-to-phosphate ratio of 1.5 and is partially bioresorbable.
Bioactive Glass attracts osteoblasts that rapidly form bone. It is osteoinductive and absorbs more rapidly than TCP.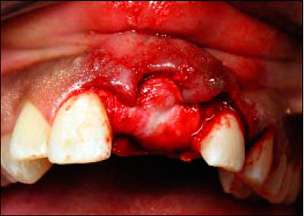 Figure 4. An allograft cortical and cancellous bone graft and a barrier membrane are placed to regenerate the lost alveolus.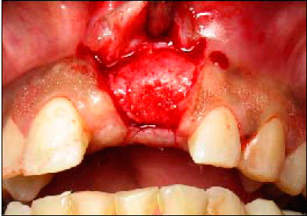 Figure 5. Six months post extraction and grafting, reentry at the time of implant placement reveals full regeneration of lost alveolar bone.
Combined Techniques
With the advent of osteopromotive agents, such as the enamel matrix derivative Emdogain and the osteoconductive bovine-derived anorganic bone graft materials, a variety of combined techniques for implant site development are now available. Recombinant bone morphogenetic protein (rhBMP-2) has been used with great success in clefts, large reconstructions, ridge augmentation and sinus lift procedures.
Initially, rhBMP-2 was used in spinal fusion surgery. It is known as INFUSE and manufactured by Medtronic. A synthetic BMP in a liquid form mixed with an absorbable collagen sponge is placed into the defect site and closed primarily. After six of months healing, the site is reentered and implants may be placed into newlyformed bone. This technique avoids a donor site but is very costly.
A number of growth factors such as PDGF (platelet derived growth factor) have been shown to accelerate the formation of more abundant and higher quality bone in the treatment of osseous defects.
The combined use of these products, along with the use of autogenous bone with resorbable membrane coverage, has resulted in an increased number of cases with successful new bone formation.
GEM 21S, a synthetically-engineered growth factor enhanced matrix, may have the potential to form new bone without the need to harvest autogenous bone.

Figure 6. A small lateral window was created to lift the sinus membrane and place a sinus bone graft.
Orthodontic Site Development
Orthodontic tooth movement may be a viable site development treatment option as it can be used to resolve some types of osseous defects. Sustained tension on the periodontal ligament results in bone formation and pressure causes bone resorption. This "balance" represents the controlled tissue activity responsible for orthodontic tooth movement. As a result, osseous defects in prospective implant sites can often be repaired by the judicioususe of orthodontic forces on teeth adjacent to an alveolar defect.
Orthodontic tooth movement can often enhance the quality of a potential implant site by regaining space which had previously been lost between adjacent teeth00 resulting from pathologic tooth migration.
Conclusion
Reconstructive periodontal surgical procedures are an effective method of rebuilding atrophic alveolar ridges. Such reconstruction can dramatically improve the shape and volume of available alveolar bone prior to implant placement.
Many materials are available and effective for rebuilding ridge defects. Some materials, such as autogenous and allogenic grafts, are more predictable and less technique sensitive than others.
The most important factors in graft success are good graft and clot stabilization. Tension free primary closure is essential for the best outcome.
The future of periodontal reconstruction technique will see the emergence of new products which will lead to even more predictable outcomes. What will continue to be a critical part of graft success is proper case selection and sound surgical technique.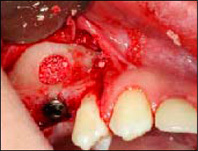 Figure 7. A combined allograft/xenograft bone graft was placed along with an immediate implant.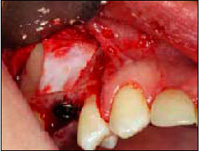 Figure 8. A resorbable membrane was placed to cover the grafted site.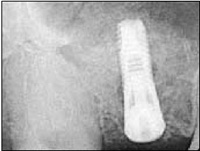 Figure 9. A post-operative radiograph at the time of implant placement and sinus lift reveals the formation of new bone.