Dental Implant Failure in Miami, FL (LAPIP™)
Dental implants are the most common way to replace missing teeth. They look great, feel natural, and last forever. But sometimes dental implants fail. When dental implants fail, patients often blame themselves. Peri-implantitis is a disease that affects implants placed in the jawbone. It causes inflammation around the implant site and bone loss. This condition often requires removal of the implant. However, many patients are not aware of the signs and symptoms of peri-implant disease until it has progressed to the point where the implant must be removed. Laser-Assisted Peri-Implantitis Treatment in Miami, Florida is a treatment option for advanced cases of peri-implanatitis. This treatment uses a laser to remove tartar from the implant surface, thus preventing further infection and allowing the patient to retain his/her implant. In addition, the laser also helps prevent future infections. If you're looking for a way to prevent peri-implant problems from happening in the first place, then read on. I'll tell you everything you need to know about laser-assisted peri implantitis treatment in Miami, Florida.
Dental implants can change the lives of patients suffering from missing teeth, restoring a healthy mouth and a beautiful smile. Unfortunately, when not treated properly, a failing dental implant can be painful and result in permanent damage to the surrounding bone. At our office, Dr. Gallardo offers patients LAPIP™. The unique treatment can halt the progression of infection, eliminate painful inflammation, and reestablish bone growth for a strong, long-lasting implant.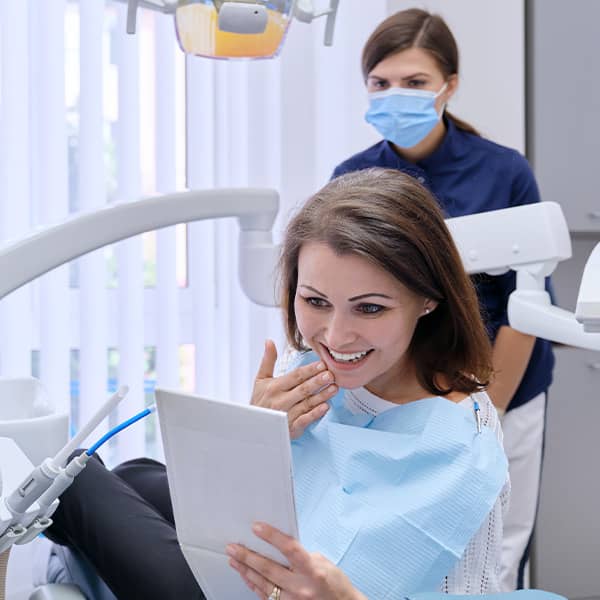 LAPIP for Dental Implant Failure
The laser-assisted peri-implantitis procedure, or LAPIP™, is a cutting-edge technique designed to eliminate tissue inflammation and infection, as well as stabilize the bone surrounding a dental implant. Dr. Gallardo is part of a small group of periodontists across the country that provide this unique technique, which ensures better tissue rejuvenation and longer-lasting results than seen with traditional treatments.
The LAPIP™ is unique in that it does not require any incisions or sutures. In only one appointment, Dr. Gallardo identifies if there is an infection present and uses LAPIP™ to treat the cause of infection, without disturbing the implant, itself. Patients will experience immediate relief from the pain of inflamed and/or infected tissues. Benefits from the LAPIP™ include reinforced stability of the implant, ensuring a strong, healthy bite that will last for years to come.
Need a dentist?
Contact our Miami office today!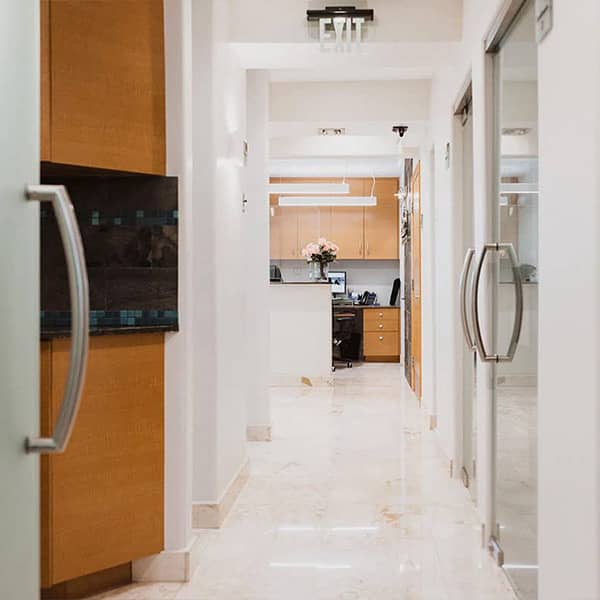 Reasons for dental implant failure
Dental Implant failures can be caused by a variety of factors, including poor dental hygiene, poor overall systemic health, and environmental factors such as smoking. Additionally, an inferior implant procedure, or an implant placed in low-density bone, can cause the implant to become loose and take on bacteria, which can then result in an infection of the surrounding tissues. If not properly treated, the infection can then turn into peri-implantitis. Even minor inflammation, known as peri-mucosititis, can cause the bone to deteriorate and the implant to become loose.
Signs and symptoms of peri-implantitis
Gum or implant sensitivity
Loose or wiggling implants
Mild to severe pain
Drainage or pus from the surrounding tissues
Implant exposure

The Best Candidates for LAPIP™
While some inflammation around a dental implant is normal, severe pain, bleeding, and infection calls for immediate treatment. Almost anyone suffering from these issues may be a candidate for the LAPIP™ procedure from our Miami dental specialty office. The ideal patient should be in overall good health and have a clear understanding of the LAPIP™ process.
During the consultation appointment, Dr. Gallardo will perform an in-depth evaluation of the implant. In some cases, an antibiotic regimen can successfully eliminate the infection. If it is determined that the LAPIP™ is the right treatment for your individual situation, a treatment plan will be created for you.
What Causes a Dental Implant to Fail?
How LAPIP Treats Failing Dental Implants
The LAPIP™ procedure is performed in one of the private, comfortable treatment rooms at Gallardo Periodontics and Implant Dentistry. After a careful examination, the doctor will begin the LAPIP™ procedure using a tiny, innovative laser, about the width of three human hairs. The laser will be inserted between the implant and the gum line, eliminating bacteria and removing unwanted particles or tissue. This unique laser also stimulates growth factors within the bone, promoting healing and tissue regeneration.

In some severe cases, the use of a small scalpel may be required to pull back the gum tissue, providing deeper access to the implant. Additional growth factors can also be added by the doctor as needed, to encourage bone growth. In this case, sutures will be placed for proper healing.

Your LAPIP™ Recovery
Recommendations
Although unlikely, if patients experience any discomfort, over-the-counter pain medications are normally adequate, but prescription pain medications could also be prescribed. To keep the implant immobile during the healing period, Dr. Gallardo may place a temporary splint along the treated area.
For the first seven to ten days, patients should not brush or floss. The doctor will provide a medicated rinse to use during this time period. A soft diet is recommended, and hard items like nuts, chips, or seeds should be averted. Smoking should also be avoided, as it can cause delayed healing and can introduce bacteria into the mouth.
Schedule Your Miami LAPIP™ Consultation
Ensure the health of your dental implants by scheduling regular cleanings with periodontist experienced in implant dentistry. Should any concerns arise, including pain, difficulty chewing, or a loose implant, contact your dentist immediately. Dr. Gallardo on the forefront of cutting-edge techniques, like the LAPIP™, that will keep your teeth and implants healthy for years to come. Call our Miami dental office at 305.447.1447 to schedule a complimentary consultation, or to discuss any concerns about the LAPIP™ technique.
LAPIP™ FAQS
What is LAPIP™?
Laser assisted peri-implantitis procedure (LAPIP™) is a specialized, laser technology used by the doctors to deep clean and restore failing implants affected by peri-implantitis. The technique can save an ailing implant by eliminating infection and stopping bone loss to restore a healthy, stable tooth.
Where will my LAPIP™ be performed?
Dr. Gallardo performs all of the procedures, including the LAPIP™, in one of the comfortable, state-of-the-art treatment rooms at their Miami office.
What causes implant failure?
A variety of factors can cause a dental implant to fail. These include the accumulation of bacteria along the gum and tooth pocket. Implants that were improperly placed in low density bone, teeth grinding, poor dental hygiene, and cigarette smoking can increase the risk of peri-implantitis to occur.
Am I a good candidate for LAPIP™?
Almost anyone suffering with implant failure due to peri-implantitis can benefit from the LAPIP™. The ideal candidate should be in generally good health and hold an understanding of the LAPIP™ procedure, including the benefits and limitations of the technique.
How is LAPIP™ performed?
To begin, the doctor will use a delicate laser to vaporize bacteria and excise contaminated tissue around the implant. Once the infected tissue has been eliminated, the doctor will reconstruct the bone and gum surrounding the implant.
How long does LAPIP™ take?
The length of you LAPIP™ procedure will vary, depending on the extent of correction. On average, the LAPIP™ will take from half an hour to one hour, depending on the number of implants that need to be treated.
Will LAPIP™ hurt?
Pain-control is of upmost importance at our office. Our goal is to make sure your LAPIP™ procedure will be as pain-free as possible. Using one or more anesthetic options, we will ensure maximum comfort during your upcoming procedure. To learn more about sedation dentistry, please click here.
What special care is required during my LAPIP™ recovery?
For the first 7-10 days, no brushing or flossing; your doctor will provide a medicated mouth rinse for this time. A soft diet is recommended while the mouth is healing. Smoking is highly discouraged as it will cause delayed healing and increase the risk of infection.
How long will my LAPIP™ results last?
The benefits of a LAPIP™ are long lasting. With proper oral care and routine cleanings, there is no reason that your implants cannot stay healthy for years to come.
What LAPIP™ office is near me?
If you live near Miami, FL, Gallardo Periodontics and Implant Dentistry offers LAPIP™ among its services, and is conveniently located at 2020 SW 27th Ave Miami, FL 33145
Why choose Dr. Gallardo