SOUTH FLORIDA'S LEADING PERIODONTIST
Dr. Gallardo is highly-trained and has performed surgery on patients all around the world for 25 years. As a specialist in the field of periodontics, he spends 100% of his time focused on the diagnosis and treatment of the gums and the placement of dental implants.
Address and hours of operation
2020 SW 27th Ave
Miami, FL 33145
Phone: (305) 447-1447
Fax: 305-447-4559
| Monday | 8:00 AM – 5:00 PM |
| --- | --- |
| Tuesday | 8:00 AM – 5:00 PM |
| Wednesday | 8:00 AM – 5:00 PM |
| Thursday | 8:00 AM – 5:00 PM |
| Friday | 8:00 AM – 3:00 PM |
| Saturday | Closed |
| Sunday | Closed |
Get directions to this location on Google Maps
Do you speak English or Spanish? At Dr. Gallardo's office, we speak both! To us, clear communication is everything. From discussing treatment to payment options and health-related matters – the details can easily get lost in translation. 
Patients, doctors, and staff are able to understand and fully express ideas without any confusion. All documentation, such as patient forms, is translated. Rest assured that whether you're an English or Spanish speaker, we're here to serve you with the highest care and attention possible.
South Florida's Leading Periodontist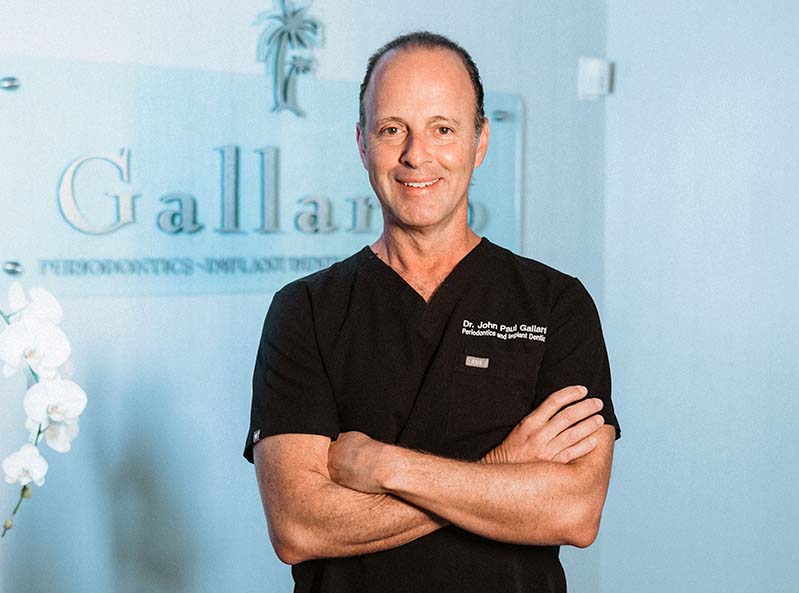 Having dedicated his entire career to the field of periodontics, John Paul Gallardo, DDS, PA is known as South Florida's leading periodontist and implant specialist with more than 25 years of experience.
He is recognized by both former patients and colleagues for his meticulous attention to detail and unique techniques that bring patients life-long results.
At our state-of-the-art facility, he leads the way with technologies that are proven safe and effective in treating gum disease and placing dental implants while achieving optimal results with little to no downtime.
He is also one of a few providers of IV conscious sedation in South Florida.