Partial and Full Dental Bridges in Miami, FL
A dental bridge is a tooth replacement option that replaces missing teeth with artificial teeth. It's also called a partial denture because it only covers part of the space where a tooth was lost. If you've had a tooth removed due to decay or injury, then you may be interested in replacing it with a full dental bridge. This type of restoration will cover the whole area where a tooth has been lost. A dental bridge is usually made from porcelain or gold alloy, and it looks just like a natural tooth. If you'd like to learn more about partial and full dental bridges in Miami, Florida, please contact us today. We offer affordable prices and top-quality services.
What Are Dental Bridges?
Dental bridges are created to bridge the gap left by one or more missing teeth or to replace misshapen or discolored teeth. They are constructed using dental crowns that cover the teeth adjacent to the gap (called abutment teeth). The bridge is then used to anchor replacement teeth (known as pontics) in between your natural ones, leaving an organic appearance and a beautiful smile.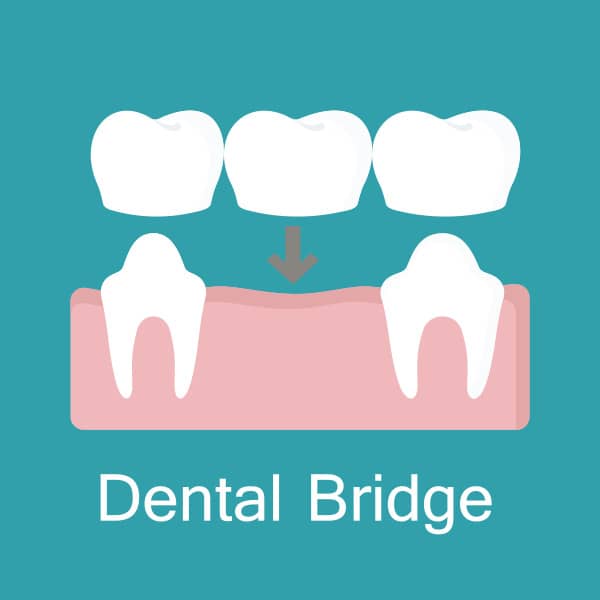 What Are Implant-Supported Bridges And Dentures?
If you are missing many teeth, your dentist may recommend an implant-supported full bridge or implant-supported dentures. These replace missing tooth roots, so your bone is better preserved than with conventional dentures. In the long term, implants are appealing, functional, and comfortable replacement options. When properly integrated with your jawbone, dental implants keep the bone healthy and strong.
Need a dentist?
Contact our Miami office today!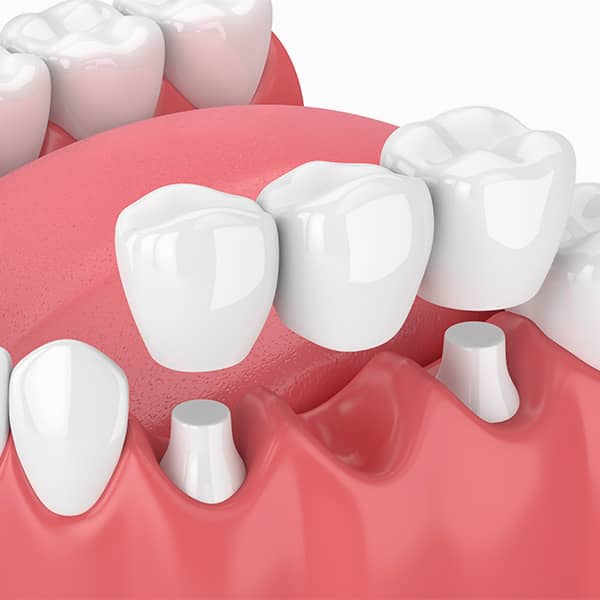 What Are My Replacement Options?
Although tooth loss is considerably less common than it was decades ago, there are still many reasons why adults may lose teeth, including trauma, advanced gum disease, or extensive tooth decay. The gaps left by these missing teeth can cause the remaining teeth to shift over time, leading to oral health challenges, difficulty speaking and chewing, altered bite, and facial collapse.
Dr. Gallardo will advise you on the best replacement option for your unique situation, which could mean dental bridges, dentures, or implants. His South Florida patients enjoy a range of choices for a natural appearance and effective results.
Types Of Dental Bridges
Dental bridges are classified based on how they attach to your existing teeth.
Traditional bridge
In a traditional bridge, the pontic is attached to a crown or a dental implant on either side of the gap.
Maryland bonded bridge
In a Maryland bonded bridge, the dentist bonds the bridge to existing teeth using cement or another similar medical product.
Cantilever bridge
In a cantilever bridge, the bridge is attached to a tooth on only one side. These are rarely used, as they can put a lot of pressure on the remaining teeth and cause damage.
Materials Used In Dental Bridges
A dental bridge can be made from a variety of materials
A dental bridge can be made from a variety of materials, including:
Alloys
Gold
Porcelain
Combination materials
Metal alloys are often the least expensive but will look like metal. Gold bridges are pricier and also remain gold-colored, so someone seeking a more natural look may opt for porcelain. It's both more fragile and more expensive than the metal options, but the end result looks like natural teeth.
Types Of Dental Implants
Dr. Gallardo offers several styles of dental implants.
Same-Day Dental Implant
This kind of Implant is non-removable and maximizes the use of available bone. Many patients also find it surprising that teeth can be attached to the implants the very same day! You can come into our office in the morning, and leave in the afternoon ready to smile, laugh, and eat.
Fixed Dental Crown and Bridge
This treatment option is the most like having natural teeth. Your teeth are securely fastened to the implants using cement or precision screws, and the result is non-removable.
Dental Implant bar
This treatment option features clips that attach your dentures to a secure metal bar that provides stability and support. The dentures can still be removed for daily cleaning.
Dental Implant-retained
With this treatment option, your denture snaps securely onto implants via an anchored attachment. The dentures can still be removed for daily cleaning.
Advantages Of Dental Bridges
Dental bridges can also improve your long-term oral health
With your bridge in place, you can eat, speak, and sing without discomfort.
Chiefly (and obviously), dental bridges close the gap left by missing teeth. With your bridge in place, you can eat, speak, and sing normally and without discomfort. Your dental bridge can also be closely matched to the color of your adjacent teeth, so the average person may not even be able to tell you to have one.
Dental bridges can also improve your long-term oral health by preventing further decay, shifting teeth, and jawbone erosion.
Dr. Gallardo will customize your dental bridge so that it is precisely fitted to your mouth, and most patients adjust to it quickly and comfortably. Unlike a denture, you do not need to remove the bridge and can care for it by simply brushing regularly.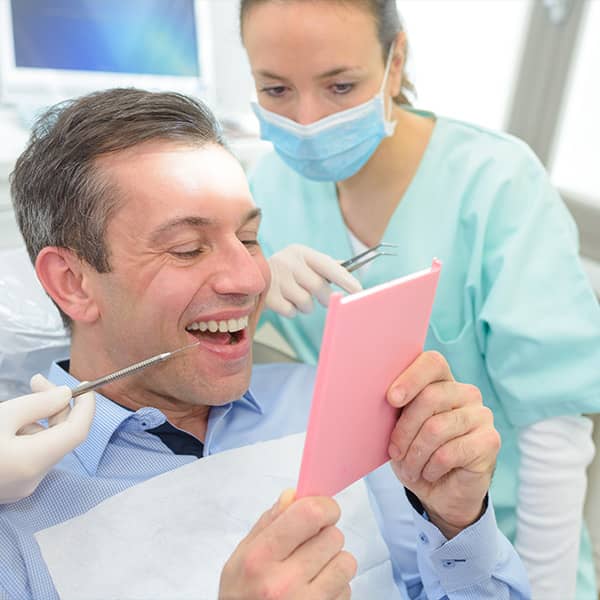 Advantages Of Implant-Supported Full Bridges And Dentures
Like dental bridges, implant-supported full bridges and dentures can replace missing teeth and improve overall oral health. In addition to looking and functioning like natural teeth, implant-supported full bridges or dentures are designed to be long-lasting and are more comfortable and stable than conventional dentures.
Potential Risks of Dental Bridges
A bridge is supported by healthy adjacent teeth
Typically, a bridge is supported by healthy adjacent teeth on either side of the gap. These teeth may need to be reshaped, however, which can damage them and undermine their structural integrity. Also, if the natural teeth are not strong enough to hold the bridge in place, it may collapse and require dental implants. It is additionally important to brush your teeth thoroughly once a bridge has been placed, as plaque and bacteria can collect between the bridge and crowns.
If you have removable dentures, it is important to clean them properly and daily. Damaged bone beneath bridges or removable partial dentures can lead to facial collapse and unattractive smiles and can make it difficult–even painful–to eat certain foods.
Dr. Gallardo will thoroughly examine your teeth to determine the best replacement option that protects your smile and improves your oral health.
What Implants and Dental Bridges can do?
Restore the look and functionality of your smile
Protect your ability to speak, sing, and chew
Prevent changes to your face shape
Protect against further jawbone damage
Keep your remaining teeth in position
Provide a comfortable, natural-looking tooth replacement
What To Expect From The Dental Bridges Procedure
When you schedule a consultation with Dr. Gallardo, he will review your options and help you choose the best one for your situation. As a specialized periodontist with almost three decades of experience, Dr. Gallardo is adept in placing beautiful, natural-looking dental bridges and implants.
The placement procedure varies based on the type of bridge. With a traditional dental bridge, Dr. Gallardo may reshape your natural teeth to accept the crown, or place dental implants for support.
Your dental bridge will be specially crafted to fit your mouth using an impression taken from your teeth and gums. While creating your permanent bridge, Dr. Gallardo will give you a temporary one to wear. When the new, permanent bridge is placed, adjustments will be made to ensure a proper, precise fit. Temporary cement may be used in the procedure to ensure correct placement before permanent installation.
Dental Bridges Recovery
You can use your new dental bridge right away, and the recovery period is usually very short. We recommend patients take small bites and choose soft foods to get used to their new bridge. But over time, you will be able to eat not just normally but more easily than before.
Frequently Asked Questions about Dental Bridges
Am I A Good Candidate For A Dental Bridge?
If you are missing one to three in a row, you may be a candidate for a dental bridge. You should have good oral health and be free of gum disease when the bridge is installed, and the supporting teeth should be strong enough to maintain the bridge over time. Your jawbone will need to have sufficient strength and density to receive any dental implants, and if needed, a bone graft may assist with this.
How Do I Care For A Dental Bridge After Placement?
After the procedure, Dr. Gallardo and his staff will provide you with detailed information about how to care for your new bridge. In general, you should brush and floss your bridge as you would a natural tooth, and take care to protect the anchor teeth on either side. Maintaining good oral hygiene and visiting your dentist regularly will also maintain your bridge and prevent further tooth decay.
How Long Will A Dental Bridge Last?
You can expect a well-cared dental bridge to last anywhere from 5 to 15 years, though most last around 10.
What partial and full dental bridges office is near me?
If you live near Miami, FL, Gallardo Periodontics and Implant Dentistry offers partial and full dental bridges among its services, and is conveniently located at 2020 SW 27th Ave Miami, FL 33145
Why choose Dr. Gallardo
Schedule Your Dental Bridge Appointment in Miami Today!
With Dr. Gallardo, you have chosen a skilled, specialized dentist with an exceptional experience. Take your first step on the journey to restore your smile today! Call our Miami office at 305-447-1447 or use our online form to schedule a consultation.