Orthodontics is vital for healthy teeth and jawbone development. Invisalign, the leading orthodontic solution, uses clear aligners to effectively and safely straighten teeth over time. At Gallardo Periodontics & Implant Dentistry, we offer Invisalign treatment, delivering exceptional results. Discover how this innovative method works for you.
Discover why patients from more than 38 states and 11 countries trust us
Invisalign is a modern orthodontic treatment that offers a discreet and convenient way to straighten teeth. Understanding the benefits of Invisalign can motivate individuals to achieve a beautifully aligned smile.
The 21st-century solution to misaligned teeth is Invisalign, brought to you by Dr. John Paul Gallardo, DDS, PA of Miami, FL. A dental specialist with three decades of experience, Dr. Gallardo finds this clear aligner system to be unrivaled by other treatment options for qualifying orthodontic cases. Invisalign is convenient, discreet, and effective, making it a great choice for men and women from all over South Florida.
Invisalign (clear aligners) is an excellent alternative to traditional metal braces. Named for the clear or "invisible" aligners that are used for orthodontic correction, Invisalign can straighten a patient's crooked teeth in less time and is less noticeable than the metal bracket and wire system. Unlike braces, clear aligners can be removed for eating and drinking and do not restrict the foods that patients can enjoy.
As a periodontics specialist, Dr. Gallardo recommends Invisalign for many reasons, including their ability to help patients with gum issues. Patients are better able to care for their oral health with the removable trays and can more easily maintain the reversal of their gum disease by using clear aligners vs. braces. Additionally, the Invisalign trays are situated above the gum line and will not trap food and bacteria between the teeth and gums.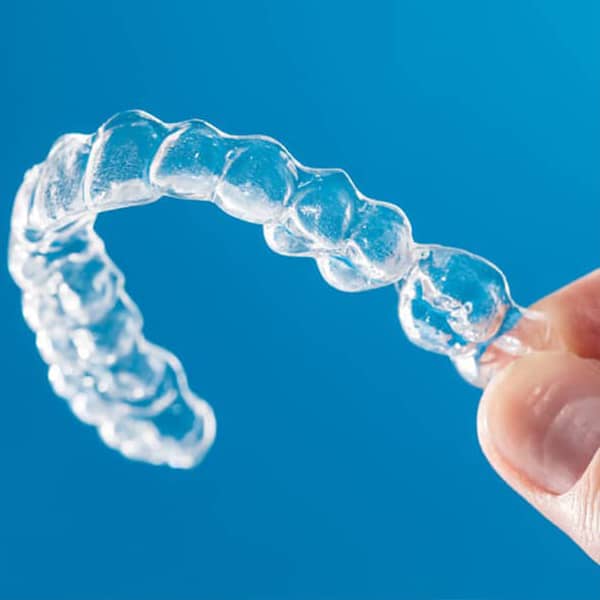 Contact our Miami office today!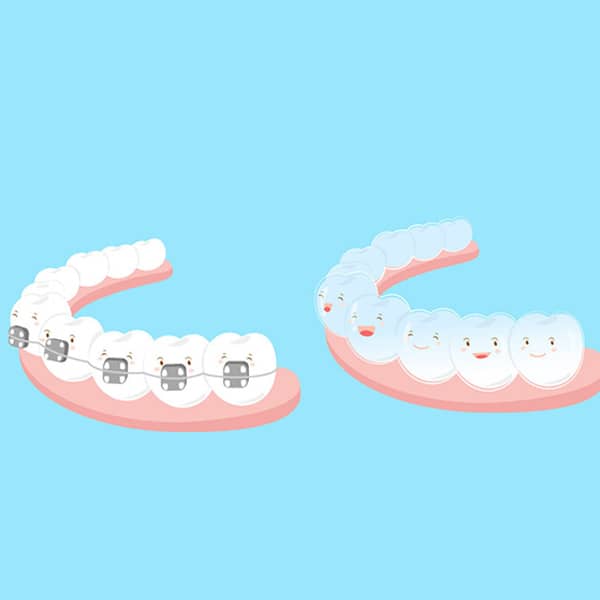 We now arrive at one of the popular debates: Invisalign vs. Braces.
There are some key differences between Invisalign and braces, although both are designed to correct misaligned teeth. Traditional braces use metal brackets and wires to apply pressure on the teeth, whereas Invisalign uses clear aligners made of a smooth, BPA-free plastic material. This makes Invisalign more comfortable and less noticeable than braces. Invisalign aligners are also removable, allowing patients to eat, drink, brush, and floss without any restrictions. 
Most patients opt for the Invisalign system because they prefer the look of "invisible" braces that the clear aligners offer over the brackets of metal braces. Orthodontic patients are often teenagers who are self-conscious of drawing attention to their smile, adults in professional roles who want to appear mature, and those who want quicker and less detectable methods of correcting the alignment of their teeth and bite. For this reason, clear braces for adults are an excellent option.
Metal braces are also more high maintenance than Invisalign because the components are not removable. Patients can get food particles stuck between the metal and their teeth, and special flossing and brushing are required to maintain good dental health.
In addition to enhanced care, those with mental braces have to visit their orthodontist every month or two, while the clear aligners are premade for the custom course of treatment and do not require as much follow-up care.
Sometimes, Dr. Gallardo's patients work away from South Florida or travel frequently, making invisible aligners a better fit for a busy schedule. By changing out their teeth aligners at home, patients have more flexibility in their orthodontic care.
Am I a Candidate for Invisalign
Clear aligners are a good option for many patients. Candidates may include:
Teens and adults, because the permanent teeth are fully developed and in place
Those committed to wearing the trays because they should remain in place for 22 of the 24 hours per day
Patients willing to have continued care in the form of retainers, which can be installed on the back of the teeth for permanently straight teeth
Those with a problematic bite or gapped or crowded teeth whose cases are minor to moderate. Candidates can use Invisalign for overbite, underbite, or crossbite.
The Invisalign website offers a free consultation in the form of a complimentary Smile Assessment, which can be found here and can help prospective patients learn more about how the system might benefit them. Patients can schedule an Invisalign consultation in Miami with Dr. Gallardo at his practice to learn more about their candidacy. A huge number of Invisalign reviews can be found online, and Dr. Gallardo will also be able to provide patient feedback from his practice, including Invisalign before and after photos.
Clear Aligners Consultation
How Does Invisalign Work?
If a patient is new to Dr. Gallardo's Miami office, he may review the primary dentist's patient records to determine if he or she would be a good candidate for Invisalign treatment.
Dr. Gallardo will explain how Invisalign works, beginning with how the trays move against the bumps installed on the teeth, moving their position about a tenth of a millimeter per tray.
During this initial appointment, patients may be able to begin the process, though some will require a secondary visit due to their dental insurance coverage, which can cause delays during the plan assessment. If invisible aligners are not the ideal treatment for a patient, Dr. Gallardo can suggest other treatment options for straightening teeth.
There are numerous reasons Invisalign is the ideal orthodontic treatment for patients with a history of gum disease. One of the greatest benefits of Invisalign for those with prior oral health issues is that its aligners can be removed for regular tooth care, such as brushing and flossing.
Excellent oral hygiene is essential for improving the health of the teeth and gums. With Invisalign, patients can floss and brush as they normally would without concern for specialized dental equipment such as special flossers or a Waterpik. These are often necessary to keep teeth clean while wearing traditional braces. Patients who have had gum disease typically struggle with bad breath, but Invisalign promotes fresher breath by making it easy to brush and floss thoroughly.
Invisalign properly aligns the teeth over time which helps the gums tighten around the teeth, leading to improved periodontal health. Pockets that form due to periodontal disease can be closed organically through tooth movement. Many patients notice that their gum health significantly improves after they complete Invisalign treatment.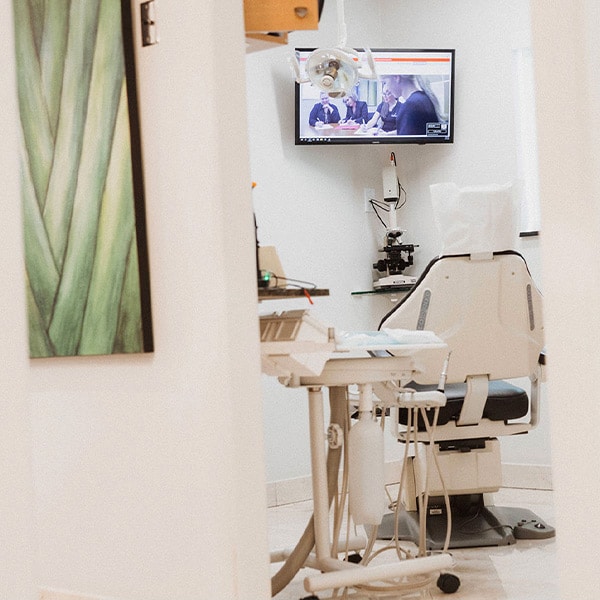 Depending on the complexity of the case and the number of aligners needed, the cost of Invisalign treatment can vary. During your consultation, Dr. Gallardo will provide you with a detailed estimate of the treatment cost, including any additional procedures that may be necessary. Many dental insurance plans cover Invisalign, and financing options are also available to help make the treatment more affordable.
Wilckodontics (PAOO) and Invisalign
Wilckodontics, or periodontally accelerated osteogenic orthodontics (PAOO), involves combining orthodontic and periodontal procedures to achieve optimal orthodontic results. The most noteworthy benefit of Wilckodontics is that it can prevent periodontal problems by creating sufficient bone in areas where it is typically lacking. The jawbones are demineralized during the procedure, and some bone is either etched away or removed to speed up the movement of the teeth. New bone forms in its place, resulting in a stronger base for the teeth.
Other benefits include a quicker orthodontic treatment, more bone to support teeth in the long run, reduced loss of gum tissue, less root resorption, and lower chances of relapse. Wilckodontics can be paired with Invisalign to move teeth without the need for wires and brackets. This contemporary orthodontic treatment can lead to improved oral health.
Preparation for Invisalign
Patients Should Be Up-to-Date on Dental X-rays
Patients should be up-to-date on dental X-rays and any necessary dental procedures before beginning the Invisalign process. Those who see Dr. Gallardo as their Miami periodontist should have controlled or eliminated their gum disease before they begin straightening their teeth. Generally, the teeth will be cleaned before the attachments are bonded to the teeth.
The standard Invisalign treatment plan in South Florida involves five steps. If a person opts to receive the advanced method of Wilckodontics, there will be an additional minimally-invasive surgery before wearing clear trays.
Step 1: Staff will collect X-rays and dental impressions to begin the treatment plan.
Step 2: Patients will have enamel-colored bumps or attachments bonded to their teeth. The Invisalign trays create resistance against these points to shift the teeth into the planned position.
Step 3: A series of clear trays will be made from the patient's impressions and will be worn over the teeth as directed.
Step 4: Typically, new trays are worn every one or two weeks and during this time, the teeth will move approximately 1/10mm at a time.
Step 5: Rubber bands that correct the bite are worn as needed, typically closer to the end of the Invisalign process.
Dr. Gallardo advises patients on how often they should schedule Invisalign visits at his Coral Gables area office so he can evaluate the progress of the clear aligners.
Aftermath of Invisalign Procedure
The teeth and gums may feel sore
There is no recovery needed after patients begin treatment with invisible aligners in Miami. Throughout the treatment, the teeth and gums may feel sore, but any Invisalign pain can be controlled with medications.
While metal brackets and wires from traditional metal braces can irritate the sensitive tissue inside the mouth, patients don't typically experience this issue with Invisalign because of the materials that are used.
By removing the clear aligners to eat and drink all beverages (except water) and limiting sticky foods that can cause the attachments to become loose or fall off, patients can prevent issues that may cause sensitivity.
Patients who undergo the Wilckodontics version of the procedure may notice additional swelling and discomfort due to the combination of procedures, but Dr. Gallardo will address their individual needs before the appointments.
What Are the Possible Side Effects or Risks of Invisalign?
Any dental or orthodontic treatment can result in side effects and involve some degree of risk. Below are the most common complications of Invisalign, although the treatment is very safe overall.
Discomfort
Root resorption
Allergic reaction to materials
Increased salivation
Dry mouth
Lisp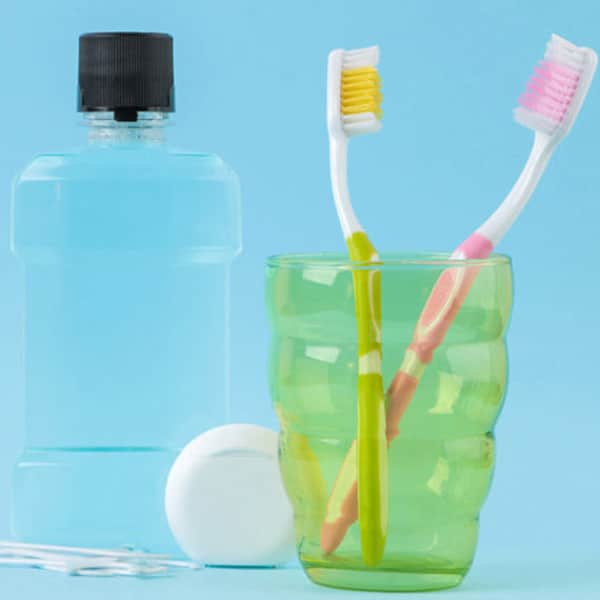 Wear the Invisalign Trays for 20-22 Hours a Day
Good results don't happen by magic
Good results from Invisalign don't happen by magic. You have to actually wear the trays to get good results. You should be wearing them constantly except for when you are eating, drinking, and cleaning.
Failing to wear your trays will slow down the treatment process considerably, which is why it's important to commit to wearing your trays. For Invisalign teen patients, there are Invisalign trays with blue "compliance indicators" that show how often they're wearing their aligners.
When Should You Think About Removing Your Invisalign Aligners?
Patients can take their Invisalign aligners off as they wish. That's one of the things that makes Invisalign such a favorite in the teeth-straightening realm, as people appreciate the fact that they don't have to feel "stuck" with these aligners. If you keep these aligners in your mouth for significant stretches of time, then you won't interrupt your treatment. If you don't take out your aligners too often, you'll ensure to reduce any setbacks in your treatment.  
People should have no problems if they remove their Invisalign aligners any time they floss and brush their teeth. Taking these aligners out can be terrific for people who want to be able to manage oral health without issues. It is also fine to remove these aligners before consuming any meals. If you want to be able to eat without any discomfort, then you shouldn't think twice about taking the aligners out of your mouth for a little while.
Be Straightforward With Your Orthodontist
Some patients make the mistake of not being 100 percent straightforward with their orthodontists regarding Invisalign treatment. Some young Invisalign patients do not like to wear their aligners while they're at school in front of their peers. They sometimes feel self-conscious about the treatment path, and understandably so. If you refrain from wearing Invisalign while studying or working, you may end up bewildering your orthodontist because he or she may not be able to understand why your treatment is rather sluggish.
Invisalign for a Beautiful Smile
The first step is to remain calm
The Invisalign product is both a revolutionary treatment and a surprisingly simple concept that was developed by an adult orthodontic patient. The inventor found that clear aligners, like oral retainers could be used to better position the teeth and effectively treat minor dental issues.
Patients who subsequently tried clear aligners soon found that they were much more convenient and discreet than traditional braces. There were far fewer office visits, the Invisalign apparatus/treatment was virtually invisible on the teeth, and the aligners could be easily removed to enjoy foods that were previously off-limits to patients with traditional metal braces.
Just a decade ago, if you wanted a Hollywood-perfect smile, it required two things: a lot of time, and just as much money. Today, a product that costs less than half of what metal braces will set you back is not only readily available, it is becoming the gold standard. Invisalign is discreet, practical, and incredibly affordable, with low monthly payments to fit comfortably into all budgets. Advantages of clear aligners over metal braces include:
Fast Cosmetic Results
Convenience
Discreetness
Affordability
Flexible Treatment Options
Easy Cleaning/Oral Care
Results Easy to Maintain
Professional Treatment Plan
Improves Self-Confidence
Free Online Assessment Tools
According to the Mayo Clinic, the disadvantages of metal braces can affect children, teens, and adults, (adults routinely wear metal braces for far longer than teens because their facial bones are already fully developed and set), while also frequently resulting in advanced tooth decay regardless of the patient's age, because the braces getting in the way of practicing routine oral care.
Gum disease is an all too common consequence of life after metal braces. According to The American Dental Association, there are a number of foods to avoid that quickly cause plaque build-up around braces, damaging and permanently discoloring teeth.
Why Should I Choose Dr. Gallardo for Invisalign?
John Paul Gallardo, DDS, PA earned his Doctor of Dental Surgery from the New York University College of Dentistry. Dr. Gallardo then completed a prestigious residency program at the V.A. Medical Center, receiving the honor of "Outstanding Resident of the Year". Dr. Gallardo continued his education and earned a Certificate of Advanced Graduate Study at Boston University. 
Throughout his 25 years in practice, Dr. Gallardo has mastered general and cosmetic dentistry, periodontics, and now offers Invisalign to all his South Florida patients, including those with a history of periodontal disease. Dr. Gallardo has discovered that over some time, his patients can permanently improve their oral health. To learn more about Dr. Gallardo, visit his Biography Page, or contact our office.
Our Work Speaks for Itself
Committed to your results
"After finishing Invisalign, my orthodontist recommended me to have a crown lengthening procedure done to make my teeth appear normally sized (due to genetics my gums grew longer than they should have, making my teeth look small). I went to Gallardo Periodontics and Dental Implants, and were wonderful. The staff was amazing, and everything was fast and efficient. After having the procedure, I could immediately tell that my smile was fuller, and I was really happy with the results. I experienced no pain during or after the procedure, and only took four Ibuprofen just out of precaution. Recovery was quick, and all my stitches fell off after two weeks. Thank you Gallardo Periodontics and Dental Implants for helping me achieve a great smile! :)"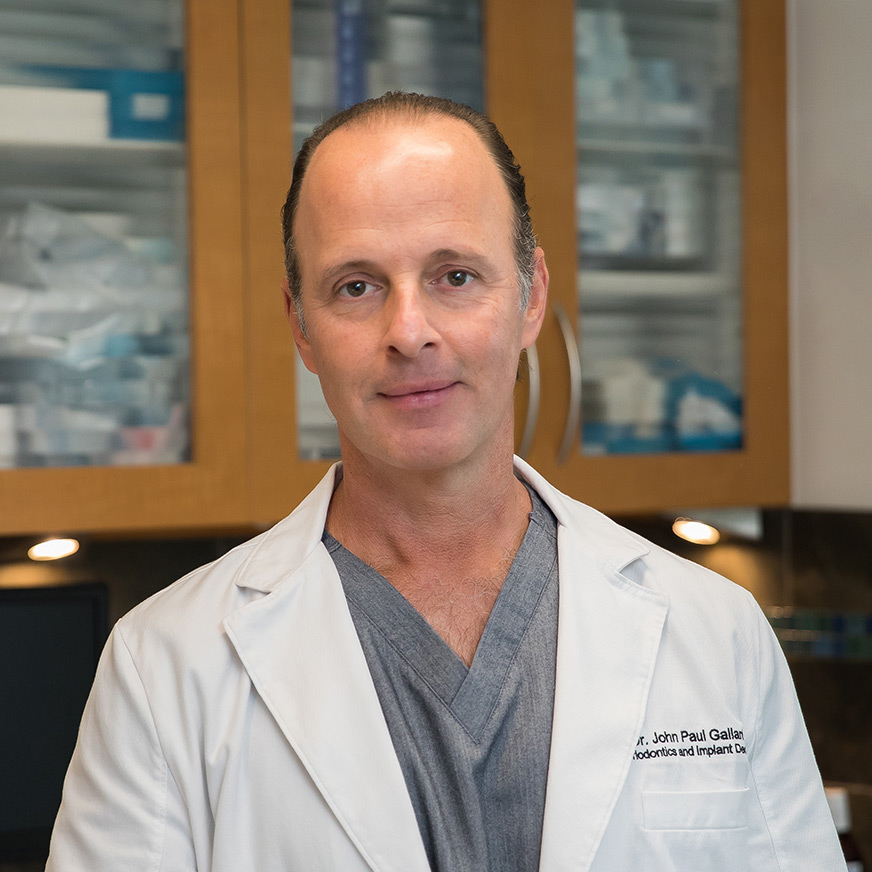 Dr. Gallardo has 30 years of experience offering dental implants and specialized periodontics to patients throughout South Florida.
Dr. Gallardo is a graduate from the University of Miami and received his Doctor of Dental Surgery degree from New York University College of Dentistry.
Accepted into the V.A. Medical Center General Practice Residency Program of the U.S Department of Veterans Affairs where he was honored with the "Outstanding Resident of the Year" Award.
He has lectured nationally and internationally to dentists and hygienists and has been sponsored by companies such as Procter and Gamble to speak on clinical topics related to gum disease and implant dentistry.
Dr. Gallardo remains a leader in periodontics and implant dentistry through his active and past involvement with University of Florida, Florida Association of Periodontists and North American Society of Periodontists.
Frequently Asked Questions About Invisalign