Emergency dentist services
Dental emergencies are scary and can involve pain, infection, or even missing teeth. At Gallardo Periodontics, Implant Dentistry & IV Sedation in Miami, FL, we provide emergency dentist services to help patients whenever they need us.
If you are experiencing a dental emergency, you can call our office right away, even after hours at (305) 447-1447 so our excellent emergency dentists and friendly dental staff can help you manage and treat your oral health problems.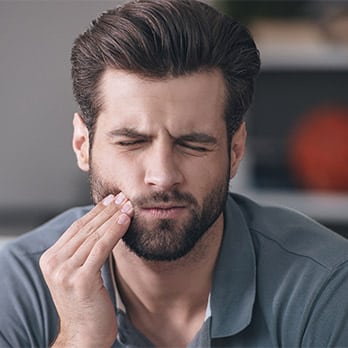 What Qualifies as a Dental Emergency?
Accidents, dental pain, and infection can occur at any time of the day or night. If you develop a problem with your dental health that cannot wait until your dentist can see you during normal business hours, then it is considered an emergent situation.
Some dental emergencies are very obvious: if you knock out, break, or severely crack a tooth, you will need to be seen right away by an emergency dentist. Quick action can sometimes prevent tooth loss. When you are experiencing tooth pain, a broken tooth, or a minor chip in one of your teeth, however, you might not be sure if you require treatment right away. You might be able to contact your dental office in Miami for an appointment with their staff on the same or following day.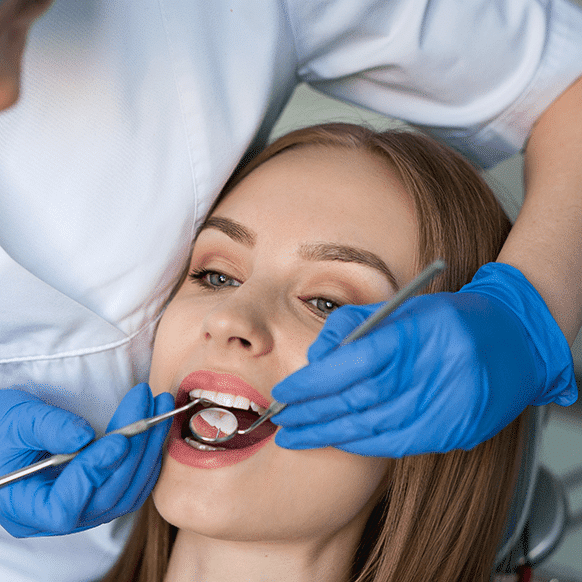 Not sure if yours qualify as an emergency?
If you aren't sure if what you're experiencing qualifies for needing immediate treatment, it is best to contact your dental office if they are open, or an office specializing in emergency dentistry, like Gallardo in the Miami area. A dental professional will be able to tell you whether or not you should come in for treatment immediately. Contact a dentist for:
Pain
Swelling
Difficulty opening or closing your mouth
Damage to the teeth
Significant oral bleeding
Signs of infection
Sensitivity
Broken or fractured tooth? Gum bleeding?
Need an Emergency Appointment?
Types of Dental Emergencies
Missing Teeth/Dental Prosthesis
A tooth falling out can be extremely alarming. Natural teeth may fall out for many reasons, including advanced periodontal disease, traumatic injuries, or other dental health issues. Dental implants and other prostheses may also fall out. It's important to call a Miami dental professional right away if a tooth or its replacement falls out for any reason.
Knocked-Out Teeth, Dental Trauma, Broken or Fractured Teeth
Sports trauma, injuries, accidents, falling, or even just biting down on something hard can all cause dental trauma. Teeth that are knocked out, cracked, or severely chipped due to trauma must be seen immediately. Urgent dental care can sometimes prevent the loss of natural teeth.
Severe Facial or Gingival (Gum) Swelling
Swelling can be a sign of gum disease caused by bacteria, an infection, or another dental issue. Minor swelling or sensitive gums typically don't qualify for urgent care, but patients should contact our emergency dentist immediately about severe facial or gum swelling, which could indicate an abscess and infection.
Wisdom Teeth
Many people have their wisdom teeth removed during their adolescent or young adult years. If they are left in the mouth, however, they are susceptible to many issues, especially if they are impacted and do not fully erupt. Great pain in the back of the mouth can indicate wisdom teeth issues.
Gingival Bleeding
Gums bleed for all kinds of reasons, ranging from cuts to periodontal disease. Minor bleeding may not be a cause for concern, especially if you know the source, but severe gingival bleeding can qualify as a dental emergency.
Large Cavities
Large cavities can eventually affect the tooth root and pulp. Many patients who come into our Miami office experiencing great pain need a root canal to clear out the infected pulp and seal off the tooth. Otherwise, a filling may be needed.
Toothache
A toothache occurs most often when a cavity has formed, but may also be caused by periodontal disease or an abscess. Toothaches can be extremely painful and usually indicate a serious dental problem. It is best to seek emergency dental care right away.
Periodontal Conditions
Periodontal disease is caused by bacteria that are left on the gums and teeth. Over time, it can cause dental problems as minor as bleeding or as major as tooth loss. Emergency care for periodontal conditions may be required in some cases, particularly if they have been left untreated.
Bruxism
Many people grind their teeth, and a simple mouth guard worn over the top arch is usually enough to prevent damage. Sometimes, however, severe grinding can lead to dental problems like a fracture that requires urgent care.
Pain & Infection
In general, if you are experiencing great pain in your teeth, gums, or jaw, it's a good idea to get help right away. Call a dentist immediately to discuss your tooth pain as it may indicate a cavity or infection.
What to Do in Case of a Dental Emergency
The first step is to remain calm
Your first step in case of a dental emergency is to remain calm. These situations can be painful and scary, but staying calm will allow you to quickly get the treatment you need. Here's what you should know:
If you are in great pain, try to find the source if possible before you call the dentist.
Call your normal dentist if the incident occurs during their normal business hours to schedule an appointment right away.
A dental care professional will ask you about the details of your emergency and set up an appointment.
Always be sure to follow any instructions the emergency dentist or hygienist gives you while you are en route to your dental appointment. This will help to improve the outcome of your treatment.
What Happens At Our Emergency Dentist Office?
During your emergency appointment, our professional staff will determine the problem and find out what kind of care you need. If you are experiencing great pain, you may be given a painkiller or anesthetic right away.
The emergency dentist at our Miami office will always work quickly to treat the issue and stabilize the situation so that you can safely and comfortably return home. Depending on the circumstances, you will likely have to return for one or more follow-up appointments in the weeks or months following your dental visit. You may need an extraction, an implant, a root canal, or another complex dental care treatment.
Any medications to control an infection or to manage your tooth pain until your follow-up appointment will be prescribed during your emergency visit.
Why Choose Dr. Gallardo As Your Emergency Dentist in Miami?
If you're experiencing a dental emergency, then it's important to find a Miami emergency dentist you can trust who will always try to see you right away. Patients choose the offices of Dr. John Paul Gallardo due to the staff's stellar reputation, experience, and dedication.
Dr. Gallardo is a periodontist and dental implant specialist with over 25 years of experience, offering customized and minimally invasive solutions for complex oral health problems. He works with a staff of friendly and professional dentists, hygienists, and assistants in Miami to offer patients everything from routine cleanings to extractions, cosmetic procedures, restorations, and more.
Safety, patient comfort, and oral health are our top concerns. Our website features a gallery of photos of our work and information about a range of dental treatments.
Frequently Asked Questions About Emergency Dentist
Who should I call first if I need emergency dental treatment right away? 
It is best to contact your primary dentist first for dental advice if they're open. Depending on what your dentist says, you might get an appointment on the same day or a later date. It's a good idea to keep a phone number for an excellent local emergency dentist handy. The number to contact our staff at Gallardo in Miami, FL is 305-447-1447. As a last resort, head to the emergency room.
Can a tooth that has been knocked out be saved? 
Sometimes, if a patient is seen by an emergency dentist in Miami right after a traumatic tooth injury, the tooth can be saved. If you have knocked out one of your teeth, take the following steps:

• Find the tooth!
• Handle it as little as possible; it is best not to touch the root portion
• Rinse the tooth if necessary
• Put it back into the socket, if possible (don't swallow it!)
• Use a cold compress to help with facial and tooth pain

If the tooth cannot be replaced in the mouth, keep it in a cup of milk or your saliva on the way to the dentist and give it to our friendly staff as soon as you arrive. This will help preserve it and give us the best chance for saving the tooth.
How can I control tooth pain on the way to my appointment? 
For many people, the first sign of an urgent dental health problem is experiencing great pain in a tooth or the soft tissues of the mouth. Management before your appointment might include using an over-the-counter painkiller or a cold compress, depending on the source of the pain. Always ask our friendly professionals at the office for suggestions when you call.
Should I notify my dentist if my gums are bleeding? 
Bleeding gums can be the first sign of early periodontal disease. If you notice minor bleeding when you brush or floss, make sure that you're not brushing too hard and let your dental hygienist know at your next appointment to see what he or she says. If the bleeding is severe, however, it is best to get help right away.
Find an Emergency Dentist in Miami, FL Now
Whether you need help right away or you're looking for a reliable dental office to care for your teeth long-term, reach out to us at Gallardo in Miami, FL. We offer a wide range of services, including:
Emergency care
Periodontal treatments,
Dental implants
Cleanings with a hygienist
Cosmetic treatments
If you're in need of an emergency dentist Miami dental professional Dr. John Paul Gallardo and his excellent team have been providing unparalleled care to South Florida patients for over 25 years. Call 305-447-1447 today to be connected with our skilled emergency dentists or to schedule an appointment at our dental clinic.