Emergency Dentist Services
Dental emergencies are scary and can involve pain, infection, or even missing teeth. At Gallardo Periodontics, Implant Dentistry & IV Sedation in Miami, FL, we provide emergency services to help patients whenever they need us. If you are experiencing a dental emergency, you can call our office during business hours at (305) 447-1447 so our excellent emergency dentists and friendly dental staff can help you manage and treat your oral health problems.
Discover why patients from more than 38 states and 11 countries trust us
What Qualifies as a Dental Emergency?
Accidents, dental pain, and infection can occur at any time of the day or night. If you develop a problem with your dental health that cannot wait until your dentist can see you during normal business hours, then it is considered an emergent situation.
Some dental emergencies are very obvious: If you have a knocked out, broken, or severely cracked tooth, you will need to be seen right away by an emergency dentist. Quick action can sometimes prevent tooth loss. When you are experiencing tooth pain or have a broken tooth or a minor chip in one of your teeth, you might not be sure if you require treatment right away. In this case, you can contact your dental office in Miami for an appointment with their emergency medical staff on the same or the following day.
Not sure if yours qualify as an emergency?
If you aren't sure if what you're experiencing qualifies for needing emergency treatment, it is best to contact your dental office if they are open, or an office specializing in emergency dentistry, such as Gallardo in the Miami area. A dental professional will be able to tell you whether or not you should come in for medical attention immediately. Contact a dentist for:
Severe pain
Swelling
Difficulty opening or closing your mouth
Damage to the teeth 
Significant oral bleeding 
Signs of bacterial infection
Sensitivity
Broken or fractured tooth? Gum bleeding?
Need an Emergency Appointment?
Types of Dental Emergencies
If you think you need emergency dentistry services due to adult tooth damage, Gallardo Periodontics, Implant Dentistry & IV Sedation in Miami, FL is available for same-day assistance. We treat the following conditions:
What to Do in Case of a Dental Emergency
Before an experienced dentist can provide the necessary treatment to restore and maintain optimal oral health, for those dealing with dental injuries or oral health issues, it is important to keep in mind the following advice:
The first step is to remain calm
Your first step in case of a dental emergency is to remain calm. These situations can be painful and scary, but staying calm will allow you to quickly get the treatment you need. Here's what you should know:
If you are in great pain, try to find the source, if possible, before you call the dentist. 
Call your normal dentist if the incident occurs during their normal business hours to schedule an appointment right away. 
A dental care professional will ask you about the details of your emergency and set up an appointment.
Always be sure to follow any instructions the emergency dentist or hygienist gives you while you are en route to your dental appointment. This will help to improve the outcome of your treatment.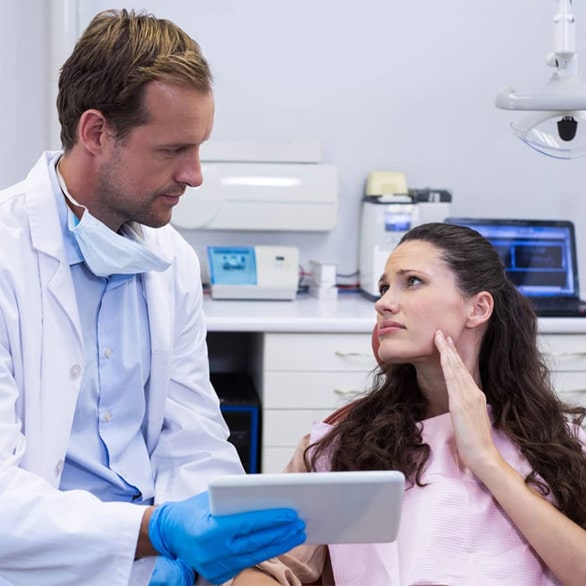 What happens at our Emergency Dentist office?
During your emergency appointment, our professional staff will determine the problem and find out what kind of care you need after a dental exam. If you are experiencing great pain, you may be given a painkiller or anesthetic right away.
The emergency dentist at our Miami office will always work quickly to treat the issue and stabilize the situation so that you can safely and comfortably return home. Depending on the circumstances, you will likely have to return for one or more follow-up appointments in the weeks or months following your dental visit. You may need a professional extraction, an implant, a root canal, or another complex dental care treatment.
Any counter-pain reliever medication and medication to control an infection until your follow-up appointment will be prescribed during your emergency visit.
Find an Emergency Dentist in Miami, FL Now
Whether you need help right away or you're looking for a reliable dental office to care for your teeth long-term, reach out to us at Gallardo in Miami, FL. We offer a wide range of dental services, including:
Emergency care
Periodontal treatments,
Dental implants
Cleanings with a hygienist
Cosmetic treatments
If you're in need of an emergency dentist Miami dental professional Dr. John Paul Gallardo and his excellent team have been providing unparalleled care to South Florida patients for over 25 years. Call 305-447-1447 today to contact with our skilled emergency dentists or to schedule an appointment at our dental clinic. 
Committed to your results
"On June 14th, I had emergency
oral surgery
with Dr. Gallardo. While I did not have consultations with any other periodontists, I had time to read up on the testimonials from Dr. Gallardo's past patients, so I knew he was the best in Miami. From the get-go, Dr. Gallardo made me feel comfortable, as he has such a kind, warm bedside manner. My teeth were in very bad shape, so I was very nervous, but Dr. Gallardo far exceeded all of my hopes for the procedure. I'm happy with my results and feel like the healing process is going smoothly. I'm thrilled with the service from Dr. Gallardo, and will certainly be recommending the office in the future."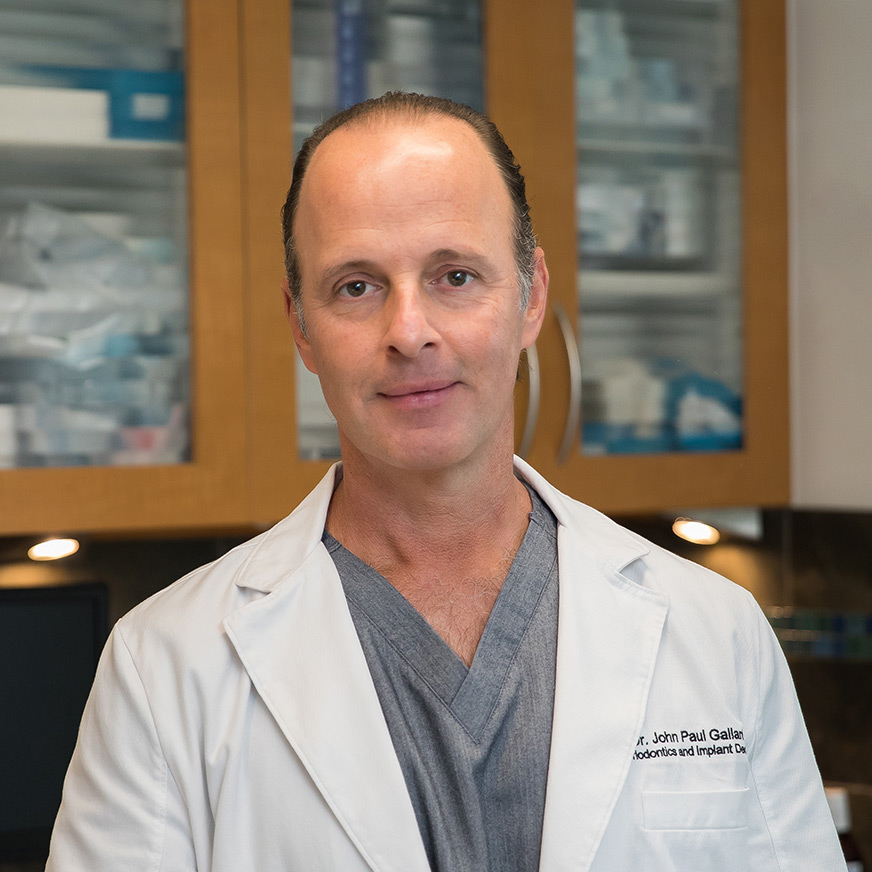 Dr. Gallardo has 30 years of experience offering dental implants and specialized periodontics to patients throughout South Florida.
Dr. Gallardo is a graduate from the University of Miami and received his Doctor of Dental Surgery degree from New York University College of Dentistry.
Accepted into the V.A. Medical Center General Practice Residency Program of the U.S Department of Veterans Affairs where he was honored with the "Outstanding Resident of the Year" Award.
He has lectured nationally and internationally to dentists and hygienists and has been sponsored by companies such as Procter and Gamble to speak on clinical topics related to gum disease and implant dentistry.
Dr. Gallardo remains a leader in periodontics and implant dentistry through his active and past involvement with University of Florida, Florida Association of Periodontists and North American Society of Periodontists.
Frequently Asked Questions About Emergency Dentist