Gummy Smile Surgery in Miami, FL
A gummy smile is not only unattractive, but it also makes you look older. It's often caused by gum disease, which causes bacteria to build up under the teeth. This bacteria creates plaque, which eventually turns into tartar. Tartar buildup causes inflammation, which causes the gums to recede. When the gums recede, the teeth appear longer because they aren't supported by healthy tissue. In order to fix a gummy smile, you must get rid of the plaque and tartar. This requires professional dental work from a dentist who specializes in cosmetic dentistry. The first thing you should do before having any kind of surgery is schedule a consultation with Dr. John Paul Gallardo, DDS, PA in Miami, FL. He will evaluate your mouth and determine whether or not you are a candidate for gummy smile surgery.
If you feel embarrassed because your gums show too much when you smile, you're definitely not alone. Many people who have a "gummy smile," feel self-conscious and avoid smiling as much as possible. Dr. Gallardo wants all his patients to have the confidence to smile and laugh with friends and family, which is why he offers cosmetic lip repositioning surgery in Miami, FL.
Traditional jaw correction can reverse an undesirable gumline; however, this is an expensive solution that requires a long recovery. Dr. Gallardo now brings his patients an innovative, cutting-edge procedure designed to reduce the unwanted appearance of the gums when smiling. Lip repositioning surgery is minimally invasive and can help boost confidence for patients with a naturally gummy smile.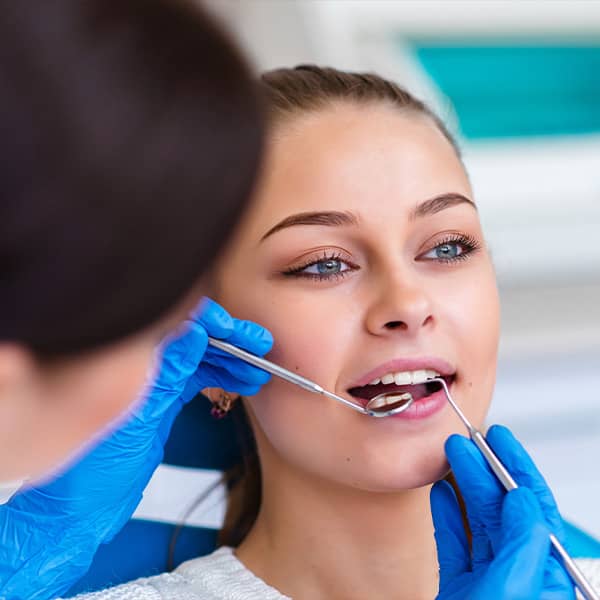 Causes of a Gummy Smile
While a glimpse of the gum line when a person smiles is cute, the excessive gingival display is often considered undesirable. Commonly referred to as a gummy smile, disproportionate exposure of the gums can result from an under/over developed jaw or high lip position.
There are several degrees of the excessive gingival display. A gummy smile can be more or less severe. Although it depends on a number of different factors, 1-3 mm of visible gum tissue is considered "normal" and would not fall under the definition of a gummy smile. A person will fall under one of the following categories:
1-3mm gingival display
4-6mm gingival display
7+mm gingival display
There are several causes of a disproportionate gumline, including an abnormal eruption of the teeth (the way the teeth grow in), too much gum tissue, hyperactive lip muscles, a short upper lip, or a large/unusually shaped jawbone. At the lip repositioning consultation, Dr. Gallardo will perform a physical examination to determine if this procedure is appropriate for the individual patient.
Need a dentist?
Contact our Miami office today!
Benefits of Lip Repositioning Surgery
The most important benefit of gummy smile correction is improved self-confidence. A gummy smile is not harmful to your health. However, it can cause you to feel self-conscious and affect your enjoyment of social situations.
Cosmetic treatments can be life-changing for people whose self-esteem and confidence are affected by the issue. Lip repositioning patients finally feel free to laugh and smile without fear of how their teeth and gums look.
The surgery provides the following benefits:
Immediately improves the appearance of a 'gummy smile'
Creates a proportionate amount of gum, teeth, and lip
Gives the top lip a fuller, more aesthetically pleasing look
Requires only local anesthesia
Fast recovery with little downtime
Does not result in external scarring
Quickly restores confidence and self-esteem
Before and After Photos
Procedure Gallery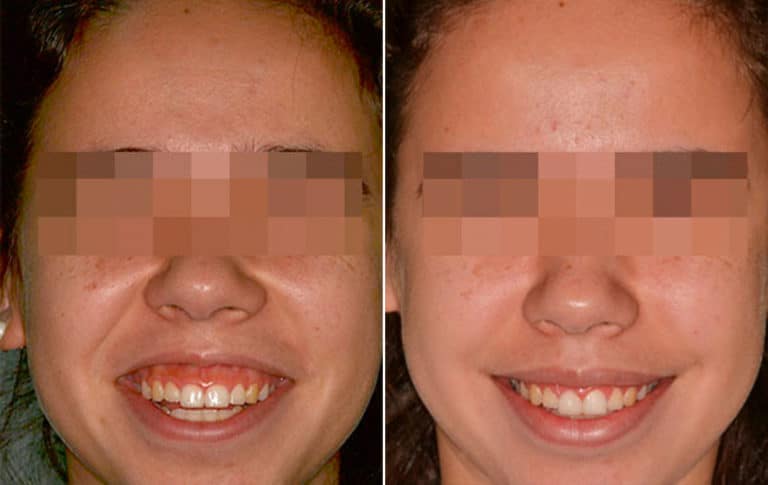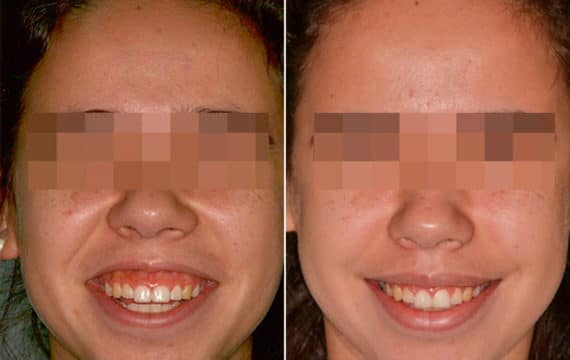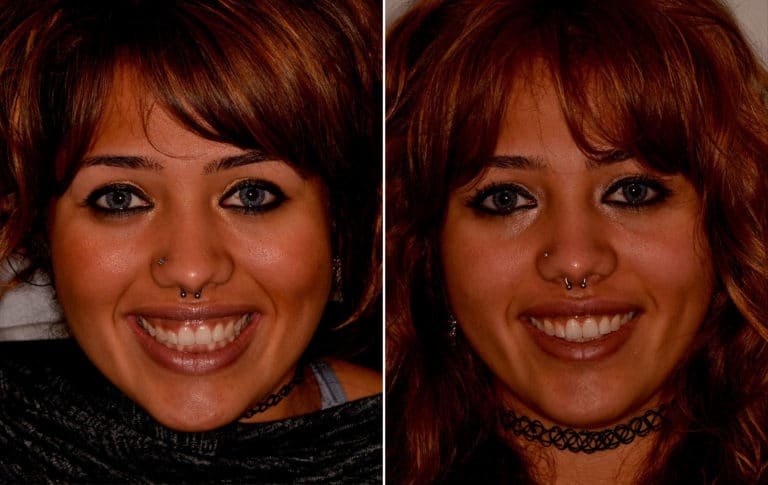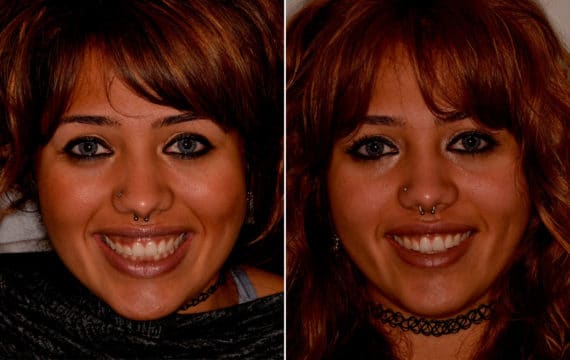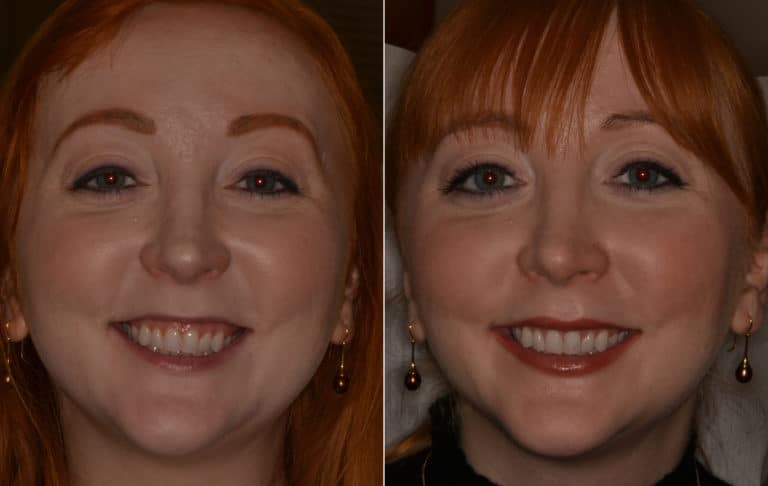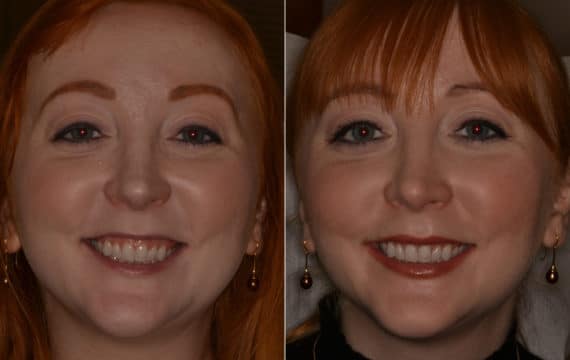 * Each patient is unique and individual results may vary.
How Lip Repositioning Works
Lip repositioning surgery offers patients the chance for a proportionate, beautiful smile. The outpatient surgery brings a harmonious balance to the teeth, lips, and gums.
Lip repositioning surgery is a simple surgical technique designed to restrict high movement of the upper lip. The surgeon removes a small amount of tissue from the upper lip in order to lower the lip and reduce the amount of gum tissue that will show when the patient smiles.
Surgical correction for a gummy smile is considered to be permanent. Patients should not need any additional procedures to maintain their results.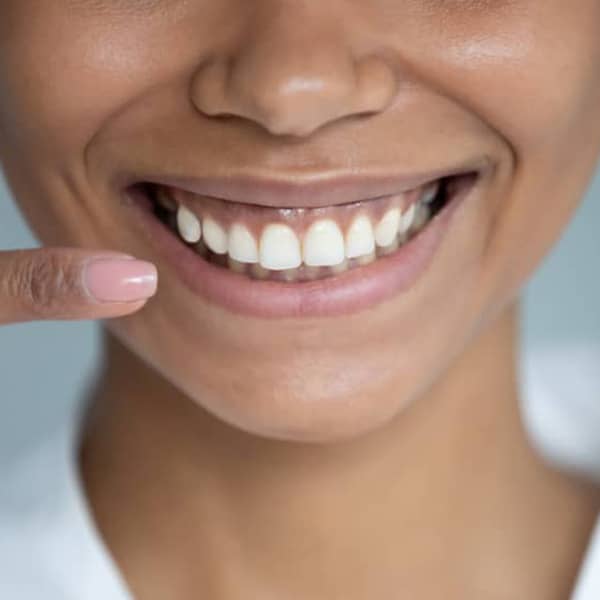 Candidates for Gummy Smile Correction
Between 10% and 25% of all adults are frustrated with the amount of gum line showing when they smile. Anyone unhappy with an excessive 'gummy smile' may make a wonderful candidate for lip repositioning surgery at Gallardo Periodontics and Implant Dentistry.
Those patients considering surgery should be in overall good health and must understand both the benefits and limitations of the procedure. Prospective patients should not smoke or must be willing to quit several weeks before the surgery to ensure proper healing.
What to Expect During Lip Repositioning
The benefits of the technique can be seen immediately
Dr. Gallardo performs lip repositioning surgery using a local anesthetic or IV sedation.
During this procedure, he will remove a strip of tissue from the inner portion of the top lip. The newly exposed area is then sutured into a lower, more aesthetically desirable position. A single procedure is all that is required; usually, no follow-up surgeries will be necessary.
Lip surgery takes about 30-45 minutes to perform. The benefits of the technique can be seen immediately. As any swelling dissipates, the results will continue to improve. Patients will have a bright, confident smile as soon as they leave Dr. Gallardo's office.
How To Fix a Gummy Smile Without Surgery
Understandably, many patients would rather avoid gummy smile surgery altogether and often seek non-surgical options for fixing the issue. Unfortunately, very few non-surgical treatments are effective for treating excessive gingival display.
A gummy smile is usually the result of a structural issue and it is difficult to treat non-surgically. However, injectable treatments such as Botox or dermal fillers can sometimes offer temporary results for the right patient. It's important to have your condition assessed by a dentist who is experienced in treating a gummy smile so you can understand your treatment options.
Cost of Gummy Smile Surgery
Because it is a cosmetic procedure, lip repositioning is typically not covered by insurance. If you are interested in this treatment, you will need to consider your personal financing options.
The cost of gummy smile correction varies based on region, the surgeon's experience, and the technique that will be used. Dr. Gallardo and his staff can give you a specific quote for your desired treatment when you come in for your consultation in Miami, FL.
Lip Repositioning Surgery FAQs
Am I a good candidate for the Lip Repositioning procedure with Dr. Gallardo?
If you are unhappy with the amount of gum line your upper lip reveals when smiling, and you are in overall good health, then lip repositioning surgery may be for you.
Will my lip lowering results look natural?
Yes, Dr. Gallardo's innovative method for lip repositioning will leave your face with an attractive, natural look. The top lip will not look stiff or unnatural.
Is the Lip Repositioning procedure better than traditional orthognathic surgery? 
Orthognathic surgery, also known as jaw surgery, is a more invasive and extensive procedure than upper lip surgery. Jaw surgery, therefore, holds greater risk for complications to occur. 

Lip repositioning, used to treat a gummy smile, is faster, has a shorter recovery time, and costs less than traditional jaw surgery. Dr. Gallardo can help you determine which procedure best suits your needs. 
How long does the Lip Repositioning procedure take? 
Dr. Gallardo's repositioning surgery normally involves local anesthesia or IV sedation and takes less than an hour to perform.
What are the potential complications associated with Lip Repositioning? 
As with any surgical procedure, lip repositioning does have some associated complications, such as bleeding, infection, and scarring. However, Dr. Gallardo's cutting-edge repositioning surgery is one of the safest and most sought-after aesthetic treatments for a gummy smile.
What Gummy Smile Surgery office is near me?
If you live near Miami, FL, Gallardo Periodontics and Implant Dentistry offers gummy smile surgery among its services, and is conveniently located at 2020 SW 27th Ave Miami, FL 33145
Why choose Dr. Gallardo
Learn More about Gummy Smile Correction in Miami, FL
Everyone notices a great smile. Gummy smile correction could change the way you feel about socializing and give you the confidence you need to take on the world. With a simple procedure and easy recovery, consulting with Dr. Gallardo about lip repositioning is a smart first step in feeling great about your smile.
To get more information on Dr. Gallardo's repositioning technique, contact Gallardo Periodontics and Implant Dentistry at 305.447.1447. Located in beautiful southern Florida, Dr. Gallardo's office is conveniently located in Miami for an aesthetic getaway. Consultation appointments for those traveling from outside of the Miami area may be completed online.