Teeth Cleaning in Miami, FL
Did you know that teeth cleaning is one of the most important parts of oral hygiene? It's true! Most people brush their teeth once per day, but only half of us floss daily. If you've never had your teeth cleaned before, then you should definitely get started soon. In fact, you should probably schedule a teeth cleaning appointment with me at Gallardo Periodontics and Implant Dentistry in Miami, Fl as soon as possible.
Adults over the age of 35 will lose more teeth this year to periodontal disease than to cavities. Even with diligent home care, three out of every four adults will see the effects of gum disease during their lifetime. Unfortunately, once periodontal disease begins, it can rapidly progress, causing a myriad of issues. Dentists and oral surgeons are keenly aware of the correlation between periodontal disease and chronic health conditions. Chronic illnesses such as diabetes, heart disease, and osteoporosis, among others, can have an impact on the mouth's health.
The only way to avoid periodontal disease is through daily brushing and flossing, as well as routine dental examinations and teeth cleanings. Dental hygiene is most effective with the assistance of an experienced dental professional. Dr. Gallardo has many years of dental experience. Working together, periodontal disease can be reversed, and in many cases completely avoided, through proper hygiene techniques.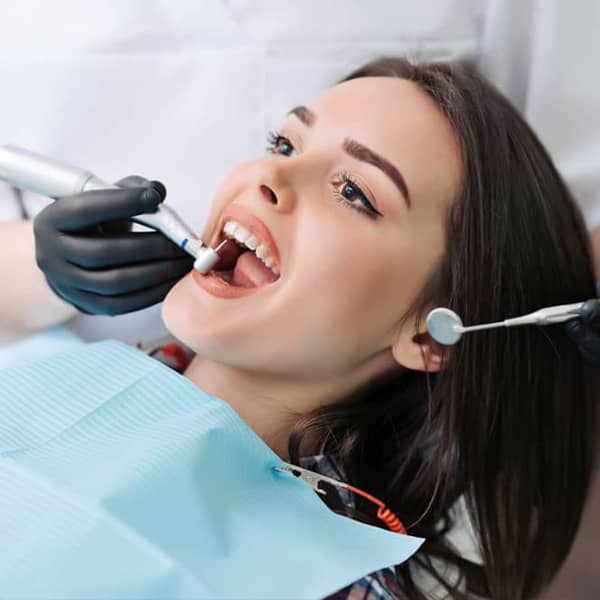 What is periodontal disease?
Periodontal disease is often characterized by an inflammation of the gums, infections below the gum line, and the presence of disease causing bacteria inside of the mouth. As bacteria can easily travel through the body, an infection in the mouth can be responsible for systemic health problems. Conversely, certain ailments will encourage the development of bacteria in the mouth and gums. While gum disease may seem benign at first, as it develops, serious symptoms may appear. Tenderness and pain along the teeth and gumline are the first signs of trouble, as well as chronic bleeding while brushing or eating. Periodontal disease can lead to the destruction of bone, the teeth shifting, and eventually, tooth loss.
Factors that can affect oral health:
Tobacco
Diabetes
Stress
Clenching and grinding
Medications
Hormonal changes (puberty, pregnancy, menopause)
Poor nutritional
Before and After Photos
Procedure Gallery


* Each patient is unique and individual results may vary.
The Importance of Professional Oral Hygiene
The only was to effectively stop the progression of gum disease is through the help of a skilled periodontist. Today, innovative methods are available to help patients can successfully reverse periodontal disease. Patients who are proactive can even prevent gum disease from starting.
Professional dental hygiene will help to:
Remove tartar
Calculus (tartar) and plaque can build up on the teeth, affecting structures above and below the gum line. Over time, tartar can cause serious problems. Home brushing and flossing are key, however for most people they are only the first step in proper dental hygiene. Professional cleanings can remove the debris, plaque deposits, and bacteria that are impossible to see and remove at home.
Improve aesthetics
Professional dental hygiene can improve the look of both teeth and gums. With the help of a dentist, yellow or stained teeth can be whitened and brightened. A youthful, confident smile can easily be restored through the cutting-edge techniques available at Gallardo Periodontics & Implant Dentistry.
Freshen breath
One of the first signs of periodontal disease is chronic bad breath, also known as halitosis. This can be caused by the accumulation of rotting food particles below the gumline, bacteria in the mouth, and an infection of the gum tissues.
When should you seek the help of a periodontist to assist with oral hygiene?
You know your mouth the best
You may be considering a visit to the periodontist for several different reasons. In many cases, a general dentist will refer his patients if he notes the early signs of periodontal disease beginning to appear. However, you know your mouth the best. If you are wondering if it is a good time to schedule a cleaning consultation, it probably is. The connection between your mouth's health and your body's health is undeniable.
Dr. Gallardo suggests making an appointment if you have any questions, concerns, or one of the following occurs:
Bleeding while brushing or eating normal foods.
Persistent bad breath, despite cleanings
Health issues such as heart disease, diabetes, or osteopenia
Red or white-looking patches anywhere in the mouth
A lesion or sore that does not heal on its own or bleeds easily
Hoarseness, loss of voice, or a sore throat that does not get better
Difficulty chewing or swallowing
A lump, bump, or thickening area in the lining of the mouth.
Teeth Cleanings Techniques
A comprehensive exam and tooth cleaning is recommended twice a year for everyone. Patients suffering from periodontal disease are recommended to have their teeth cleaned at three-month intervals. Those with certain health problems may need to come for frequent exams, as well. At the cleaning visit, the dental assistant or periodontist will perform an x-ray, and use a tool such as the periscope (endoscope designed to explore under the gumline) to pinpoint trouble areas not easily seen. This will also allow the dentist to spot the signs of other issues, like oral cancer, diabetes, and kidney problems.
Several cleaning techniques are available at our Miami dental office. Each is different and will be utilized to meet the unique needs of individual patients: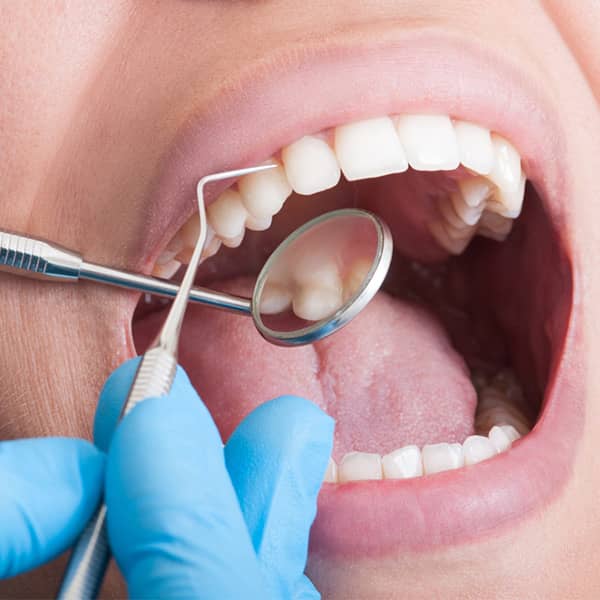 Prophylaxis cleaning
Prophylaxis is a preventative tooth cleaning technique, normally used for those with an overall healthy mouth.
Periodontal Prophylaxis
A complete and thorough cleaning of the teeth after a periodontal treatment has been performed. Periodontal prophylaxis cleanings are vital to make sure any periodontal disease or gingivitis does not progress. Periodontal prophylaxis is performed in three stages:
Supragingival cleaning – scaling tools will be used to eliminate plaque and calculus above the gumline.
Subgingival cleaning – the vital step of removing tartar and plaque from below the gumline.
Root planning – smoothing out of the roots of the teeth, to wipe out any remaining bacteria
Gross Debridement
This deep-cleaning technique involved the removal of plaque and tartar in patients with existing gingivitis or gum disease. A gross debridement, performed before a full evaluation, will allow for better visibility and probing in the diagnosis of periodontal disease.
Scale and Polish
A scale and polish treatment is normally utilized after a gross debridement procedure. It is an extension of the cleaning, ensuring a full removal of calculus under the gums in patients with moderate to severe gingivitis or gum disease.
Root Planing
Also known as a 'deep cleaning', root planning is recommended for those with mild, moderate, or advanced gum disease. An antibiotic gel may be used during root planning, as a treatment for periodontal disease.
Need a dentist?
Contact our Miami office today!
Oral Hygiene Products
The deep cleaning process, performed as part of the periodontal prophylaxis treatment, will begin with the initial examination. At this time, the build-up of plaque and calculus will be determined, and the dentist will exam the gum and mouth for any problems. The depth of spaces between the teeth and gums will be measured using a periodontal probe. When a pocket of more than 3mm exists between the tooth and gum, deep cleaning is necessary to remove harmful plaque.
For comfort, Dr. Gallardo will begin the root planing treatment with a topical or local anesthetic, or IV sedation if you prefer. Next, an ultrasonic cleaner or small scaler will be used to remove the plaque and tartar of each periodontal pocket. The surfaces of the teeth are planed (smoothed) to prevent more plaque from accumulating. This process also allows irritated or infected gum tissue to heal. Depending on the severity of the periodontal disease, a full-mouth root planing may be performed, or the treatment can be split into quadrants. Additionally, during this procedure, an antibiotic or antimicrobial gel may be applied.
Initially, some tenderness may be experienced, as well as minor bleeding of the gums. However, root planing will give the gumline a chance to heal, improving overall mouth health. More than one treatment may be recommended, according to each patient's individual needs.
Proper Techniques for Oral Hygiene at Home
Dr. Gallardo has put together some simple tips to keep in mind
To get the full benefit of home dental hygiene, proper techniques should be followed. Although most people feel they understand the art of brushing and flossing, often the proper method is never established. Dr. Gallardo has put together some simple tips to keep in mind.
Brushing
Brushing after meals is extremely important to remove bits of food, which can be the source of bad breath and infection. Remember to position the toothbrush at a 45 degree angle when brushing the outside of the teeth. Using light pressure, move in small, gentle, circular strokes, putting bristles on the surface of the tooth, between the teeth, and down toward the gumline. Next, clean the inside surfaces of the upper and lower back teeth. Use back and forth strokes over each of the front two teeth. Rinse thoroughly to remove any remaining plaque that was loosened during brushing.
It is important to brush your teeth at least twice a day, and floss daily, this is the 1st step on how to fix loose teeth from gum disease . Brushing helps remove plaque that builds up on the surface of the teeth from food particles and bacteria. Flossing helps remove plaque and bacteria that accumulate between the teeth that a toothbrush can't reach. It is essential to be gentle when brushing and flossing in order to avoid exacerbating existing gum problems or causing additional damage, such as receding gums. Additionally, it is recommended to use an antimicrobial rinse, as well as regular dental visits for professional cleanings and checkups.
Flossing
Plaque and food particles that accumulate in between the teeth can harbor periodontal disease. Flossing is a great way to eliminate the buildup that is hard to address by simply brushing. There are two areas that need to be addressed when flossing, between each tooth, and then the surface of the tooth along the gumline. Begin with a long piece of floss (the waxed variety will move easier). Wrap one end of the floss around the middle finger on one hand, and the end of the floss around the other middle finger. Gently insert the floss between the teeth and move using a back and forth motion. Bring the floss up and over the gum line in a c-shaped curve. Move the floss over the surface of one tooth, and then the other. Guide the floss using the forefinger and the thumb. Never force the floss or push it into place.
Do not forget to clean the backside and sides of the back tooth, as well. It is normal for your gums to bleed slightly or be a bit sore when you first begin flossing. However, as you floss routinely, removing plaque, your gums will heal and the bleeding will stop.
Oral Hygiene Products in Miami
Products and tools are available, in all price ranges, to work alongside of brushing and flossing. Your dentist or periodontist will be the best person to help you choose the right products to fit your dental needs. Those with sensitive teeth or specific dental issues can find at-home tools to comfortably and safely meet their oral health requirements. Keep in mind, if you have pain, chronic bleeding, or any questions about brushing and flossing correctly, call Gallardo Periodontics & Implant Dentistry for assistance.
The KOR At-Home Whitening System:
As the world's number one home teeth whitening system, KOR offers a simple, cost-effective technique for a beautiful smile. The KOR kit is now available at Gallardo Periodontics & Implant Dentistry. Although an upcoming wedding, graduation, or class reunion may make a good time to seek out whiter teeth, almost anyone can benefit from a good whitening system.
KOR Whitening will:
Whiten the teeth
Remove coffee and tea stains
Eliminate discoloration from tetracycline and other medications
Provide a brighter smile
Take years off the appearance
Restore self-confidence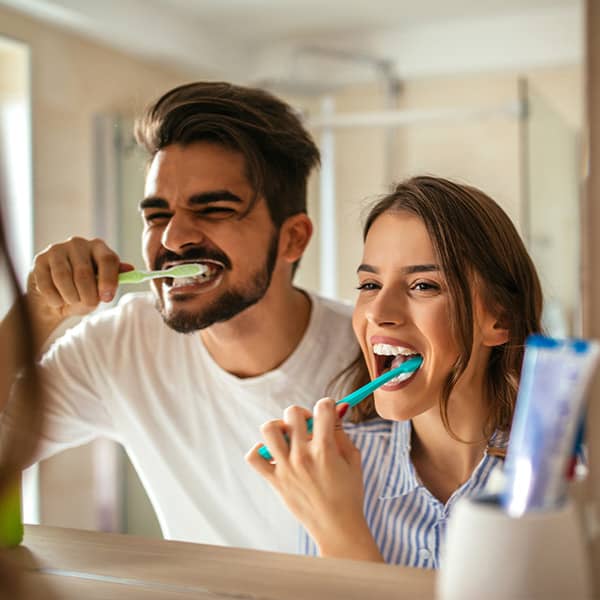 For more information on oral hygiene techniques, dental cleanings, whitening, or any other periodontics procedures, call our Miami office at 305.447.1447. We make every effort to ensure our patients are comfortable and stress-free.
Dental Hygiene FAQ
What is professional oral hygiene care?
Oral hygiene refers to various techniques to clean the teeth and gums. Dr. Gallardo can assist patients with in-depth hygiene methods that can prevent or halt the progressions of periodontal disease.
What is involved during a periodontal prophylactic cleaning?
At Gallardo Periodontics & Implant Dentistry, the periodontal prophylactic cleaning will eliminate calculus above the gumline (Supragingival cleaning), remove plaque and tartar below the gumline (Subgingival cleaning), and smooth the roots of the teeth (root planning), to eliminate all bacteria.
How often should I have a periodontal prophylactic cleaning?
Periodontal prophylactic cleanings should be performed every three moths for those individuals with existing periodontal disease.
Who is a good candidate for a cleaning procedure with a periodontist?
Anyone who would like to prevent the development of gum disease, or who is currently suffering from oral issues, such as bleeding gums or periodontal disease, should routinely have their teeth cleaned by a periodontist.
Is root planning, or a deep cleaning, painful?
Some patients may note mild to moderate discomfort during the deep cleaning process. Dr. Gallardo will utilize IV sedation or a topical anesthetic to ensure the procedure is pain free. His number one priority is to remove the stress and discomfort from any dental procedure.
What teeth cleaning office is near me?
If you live near Miami, FL, Gallardo Periodontics and Implant Dentistry offers teeth cleaning among its services, and is conveniently located at 2020 SW 27th Ave Miami, FL 33145
Why choose Dr. Gallardo