All on 4 Dental Implants Miami, FL
Dental Implants are the most common way to replace missing teeth. In fact, over 50% of Americans who lose teeth eventually get dentures. But not everyone wants dentures. They may prefer something else. There are many reasons why someone might choose to go with full-mouth dental implants instead of traditional dentures. Some people just don't like dentures. Others simply want to look younger. And others just want to feel more confident. Whatever your reason, we can help you find the solution that works best for you. At Gallardo Periodontics and Implant Dentistry, we offer All on 4 Dental Implants in Miami, Florida. Our team has years of experience helping patients achieve beautiful smiles.
Dental implants have drastically evolved over the past decade. While traditional dental implants are still an option, there are now faster ways to achieve a full smile. All-on-4 implants are ideal for those who are interested in full-mouth dental implants in Miami, FL.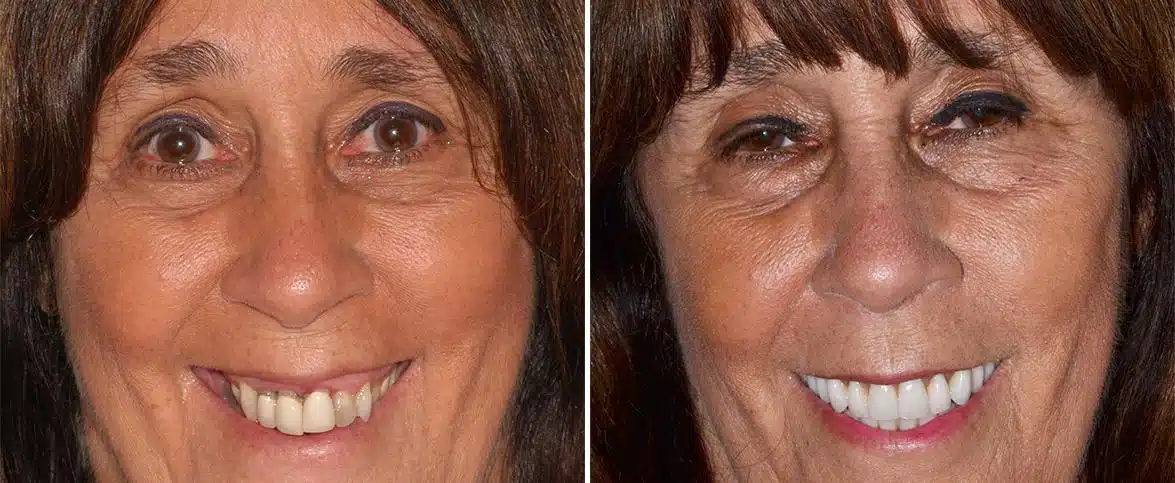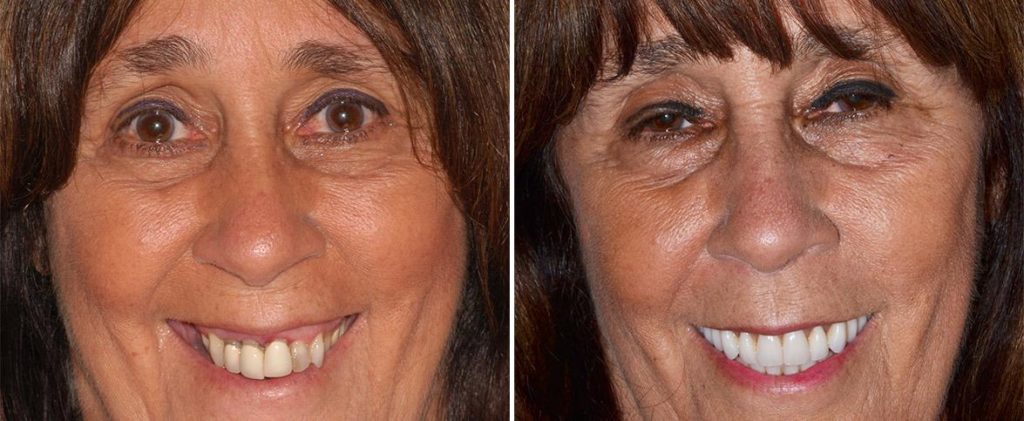 Why Choose All-on-4 Dental Implants?
All-on-4 dental implants are increasingly popular because of their efficiency and comfort. By using four implants, this procedure can be finished in one day.
Many patients wonder if All-on-4 dental implants are as stable as other forms of tooth replacement. Unlike dentures, this form of a dental implant allows support and durability throughout the day and night. By using four implants to mimic an extended dental bridge, this treatment can provide stability while both eating and talking.
All-on-4 implants are known to eliminate sore spots in the mouth. They can prevent rubbing and chafing to reduce the chances of inflammation or irritation. Because implants do not cover the roof of the mouth, they feel natural daily.
Before and After Photos
Procedure Gallery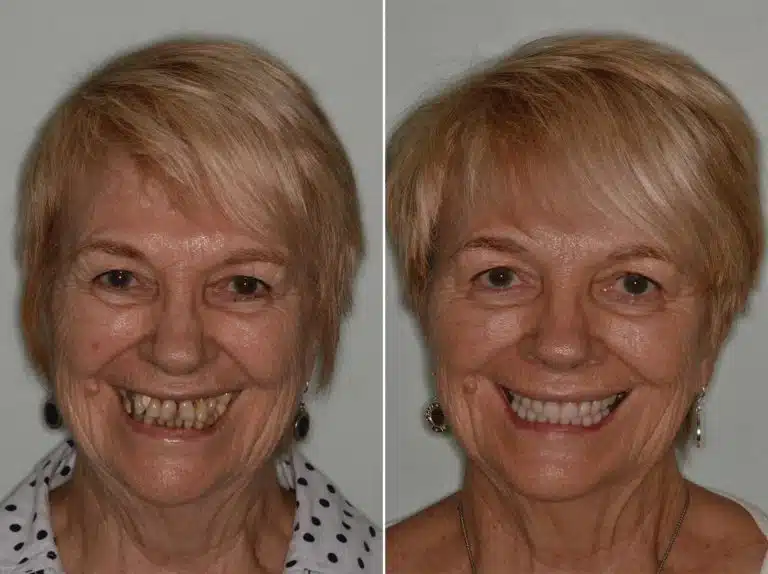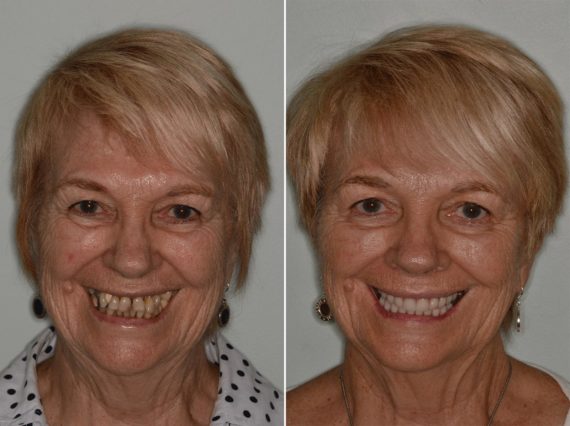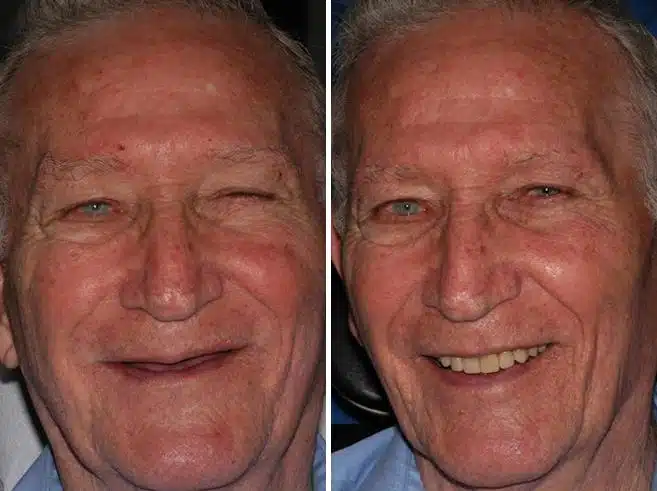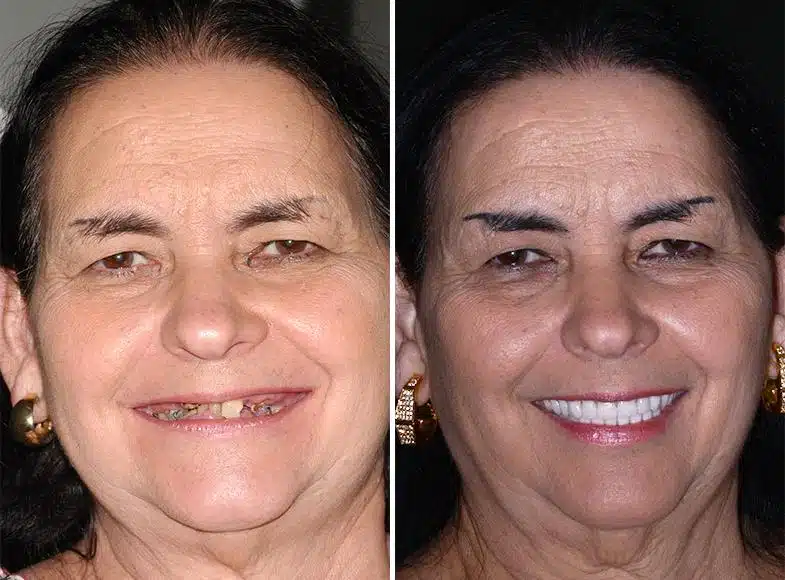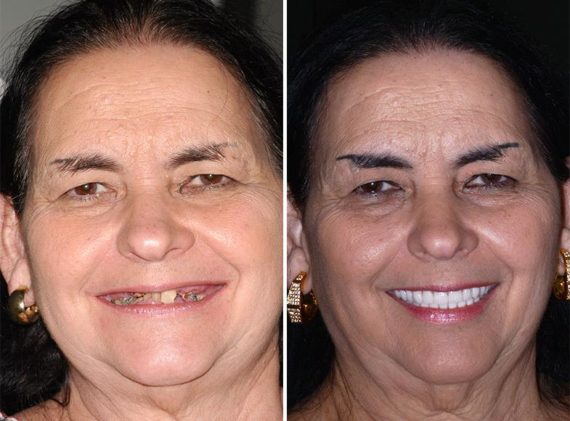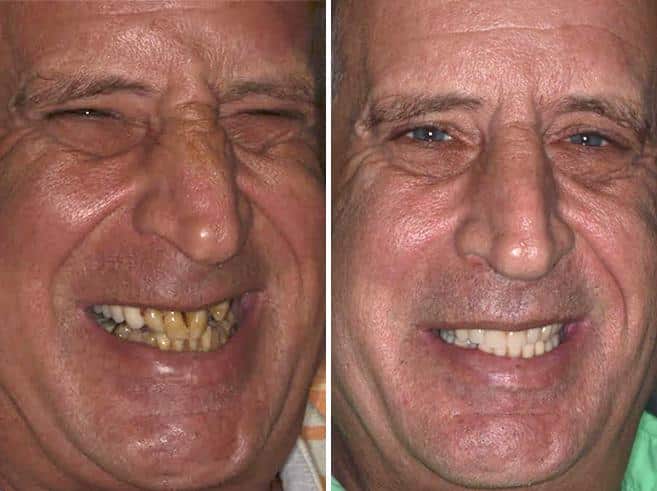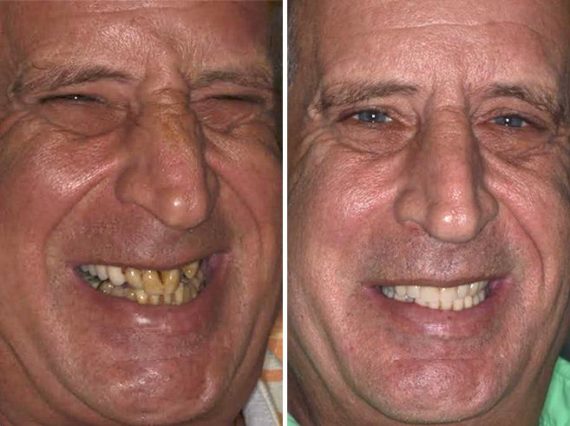 * Each patient is unique and individual results may vary.
Who Qualifies for All-on-4 Dental Implants?
Traditional dental implants typically require two surgeries. Since the implants are inserted directly into the jaw, it may take longer for the patient to heal than with newer methods. All-on-4 dental implants are bonded to the jawbone. In Miami, FL, this procedure can be done in one visit.
Full mouth dental implants can benefit adults of all ages who need a full set of teeth. Regardless of oral hygiene, teeth can become damaged due to environmental factors or genetics. As both men and women age, the need for teeth replacement increases due to oral health conditions such as gum recession.
Tooth loss in younger adults frequently occurs from accidents. Vehicle accidents and sports are two common causes. Because of the sudden impact, these situations can cause to the jaw, teeth may become loose. Lacking treatment can cause teeth to fall out, creating a shift in alignment. Before this happens it is crucial to seek dental care.
Patients benefit the most from All-On-4 dental implants when they are missing more than 4 teeth. Substantial tooth loss is a serious condition that frequently causes trouble when eating or talking. If it is not treated properly, the jaw bone itself can be affected. By replacing teeth with fewer implant posts, the jaw is effectively supported while creating a natural look and feel.
Tooth loss is not the only qualifier for this treatment. Many patients receive dental implants to replace damaged teeth. This can include broken or weak teeth that negatively impact oral health. Periodontal disease that causes bone loss can leave the mouth vulnerable to further tooth loss.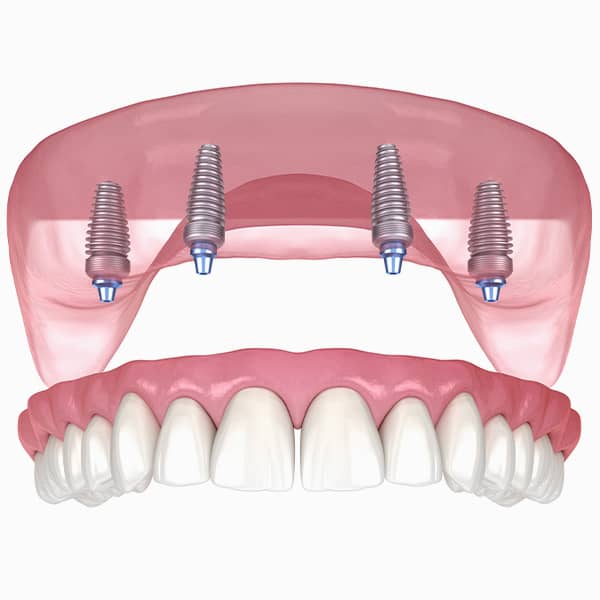 The Benefits of All-on-4 Dental Implants
Dental implants improve overall oral health. By replacing missing teeth, the jaw bone can be properly supported to help existing teeth. This often allows for easier access between the teeth so that flossing and brushing are as easy as possible. Because dental implants can last an entire lifetime, it is often seen as cost-effective.
There are several other reasons dental implants are used today. Improved speech is one of the most common issues people face when losing teeth. Even poor-fitting dentures can cause slurring or miscommunication. Since full-mouth dental implants are designed for stability, talking is much easier in a variety of settings.
Non-removable dental implants also help with eating. Unlike dentures, implants can function like regular teeth. Food restrictions are far less likely with the increased quality of chewing. Chewy foods such as dried dates, caramel, and candy will not remove or damage the implants.
Many people without dental implants feel self-conscious about their appearance. Cracked, broken or lost teeth can inhibit the way people interact with each other. Dental implants can restore the natural look and feel of healthy teeth.
Ideal Candidates for Same-Day Dental Implants
Same-day Fixed Dental Implants
Need a dentist?
Contact our Miami office today!
How Does All-on-4 Dental Implants Work?
All-ON-4 Implants Patient Testimonial
An initial consultation will help evaluate a patient's current and previous oral health. After providing a medical history the patient is encouraged to ask any questions they have about treatment. Goals and expectations are clearly examined before beginning treatment.
The All-on-4 dental procedure is typically done in one visit. Sedation is given before the procedure and the patient will need a ride home. Depending on the patient, different types of sedation can be used. These include nitrous oxide inhalation, IV conscious sedation, or oral anesthesia. Different sedation options are available to help patients feel comfortable and relaxed.
During the procedure, the patient's remaining teeth are extracted so the dentist can make an incision into the gums. This is designed to help shape the titanium rods. Only 1 dental implant will be used on each of the 4 arches. By placing implants at a specific angle, teeth can be secured without causing stress to the sinus cavities or alveolar nerve. A temporary denture is used directly after the procedure.
The recovery time varies for each individual but usually takes 12 to 16 weeks. Minor swelling and soreness are to be expected. Patients are advised to rinse with salt water on a daily basis during their first week of recovery.
This surgery can be used for patients experiencing bone loss. The implants are able to secure non-removable dental bridges without causing discomfort. Even surgeries that were used just six years ago were not considered revolutionary. All-on-4 implants are less expensive and can save a considerable amount of time.
Maintaining A Healthy Smile with All-on-4 Dental Implants
Dental implants are a way to improve your oral health
For most of us, maintenance requires more than just brushing and flossing. Even annual trips to the dentist may not be enough. Missing or damaged teeth that cause individuals to feel ashamed or embarrassed affects their quality of life. Dental implants are a way to improve your oral health quickly and effectively with no stigma attached.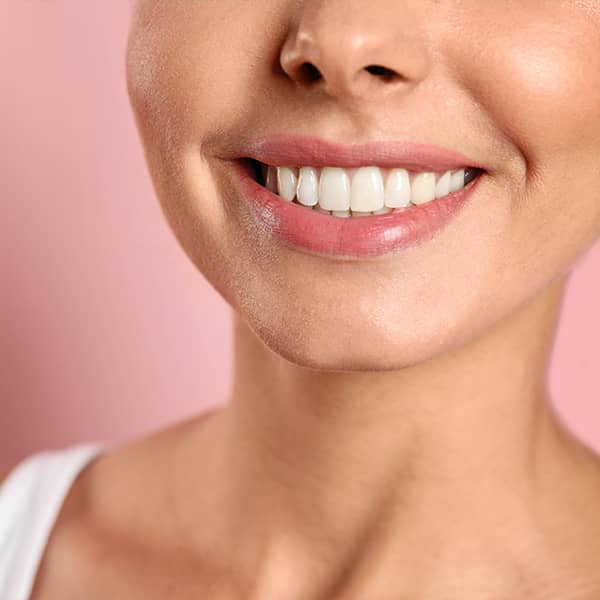 How Much Do All-on-4 Implants in Miami Cost?
Because this is a medical procedure, the cost will vary. There are several factors to consider when calculating cost. Insurance and individual health are two key issues. For those who need additional treatment or specific sedation, prices can fluctuate. For the most accurate price evaluation, a consultation is recommended.
The cost of dental care can be misleading. While a set of dentures may cost less than full dental implants, they will have to be replaced. Since dental implants are permanent, the cost is not recurring. All 4 dental implants can last an entire lifetime. They are uniquely designed for the individual and can provide stability regardless of daily use. When properly maintained, they are effective for decades.
FAQs All-on-4 Dental Implants
How Do I Clean My Dental Implants?
It is extremely important to keep the mouth clean, especially during the recovery phase. This can be difficult for those who have learned how to floss in alternative ways. New alignment can shift the cleaning process, but it will become natural after a few weeks. 

Floss after every meal. To access hard-to-reach areas, use super floss under the bridge. If flossing is painful or too difficult during the healing period, a water pick can also be used. Water picks allow a firm stream of water to access areas between the teeth. In addition to using a water pick, adding non-alcohol antibacterial mouthwash is also beneficial. 

Teeth are not the only area of concern. Make sure to continue practicing regular oral health practices such as brushing your tongue and cheeks. This will help remove food odors as well as potentially harmful bacteria. 

Electric toothbrushes are still recommended. Once the mouth has healed, using an electric toothbrush is considered more effective at removing stains and bacteria. Even with this oral healthcare routine, visiting a dentist is advised at least twice per year.
What Is Low-Abrasive Toothpaste?
While it may be tempting to use whitening toothpaste, this can actually cause more harm than good. For people with dental implants, abrasive kinds of toothpaste can do long-term damage. 

Abrasive kinds of toothpaste typically contain a bleaching agent and silica. Although silica is primarily used to eliminate stains, it also erodes the surface of the teeth. To check the abrasiveness of toothpaste, the American Dental Association rates each toothpaste with a seal of acceptance. 

Dental implants that are made from porcelain may become damaged from ingredients such as baking soda. Stain-remover agents can remove the glaze and create a dulling effect on teeth. Using low-abrasive toothpaste can be used under and around each implant to reduce the risk of gum disease. 
What Can I Eat?
After surgery, hard or sticky food may be difficult to eat. The day after surgery, smoothies and cold soups are soothing for the gums. A liquid diet is not mandatory, but many patients find it comfortable for the first day.

A soft diet is recommended during the healing process. This includes food such as yogurt, applesauce, soup, and certain fruits and vegetables. 

Typical foods to avoid include meat and processed foods. Meat can be difficult to chew regardless if it is steak or chicken. Processed foods such as potato chips and popcorn allow food to become trapped in new dental implants. This is also true with taffy and salsa. Chewy vitamins can also be painful to chew during this period.

In addition to the texture of food, certain spices can also cause discomfort. Hot peppers or extremely sour food may be discouraged. Acidic foods like oranges, lemons, and tomatoes may cause irritation in the gums.

After the initial healing process, you may be able to start eating solid foods in a few months. After a follow-up appointment, you will be given instructions on what is appropriate to eat for the next few weeks. A post-surgical evaluation is typically done after two weeks following the procedure. If you have any additional questions or concerns, they can be answered after an examination. 
Do I Still Need Dental Cleanings if I Have Implants?
Routine dental visits are still important for patients with dental implants. Oral health and hygiene include the teeth, tongue, gums, and cheeks. By keeping regular dental appointments, you can avoid potentially harmful health conditions.

Gum attachment evolves differently with dental implants. Since dental implants do not have periodontal pockets, a dental hygienist will usually forgo the periodontal probe. Instead, specialized dental instruments are used so that the surface of a dental implant will remain intact. These visits may include monitoring the jaw bone for any potential support issues. 

Maintaining ongoing oral hygiene may influence the length and cost of a dental appointment. When teeth are properly cleaned twice a day with the right instruments, this can greatly reduce the likelihood of future procedures or treatment. 
Should I Consider This Treatment if I Already Have Dentures?
Dentures offer a way to replace teeth on a temporary basis. Because they are removable, they can be slipped on and off at will. Many people choose this option because it does not require surgical implants. While they can work well for some patients, many individuals find them problematic when eating or talking.

Dentures are known to alter eating habits. Since they do not have the same bite quality as dental implants, soft food is usually preferable. To be able to chew sticky or hard food, dental implants are often easier. 

The physical effects of dentures are not the only reason some patients opt for dental implants. Dentures can cause some people to feel embarrassed. Since they are not permanent fixtures, dentures are prone to shift position. This can make conversations feel awkward or confusing. Emotional responses to one's own oral health are as important as physical symptoms.

If you notice that you are unable to eat the foods you like, talk with clarity, or feel a general sense of discomfort, it may be time to consider dental implants. Dental implants can be done in minimal time and provide a natural feel. Regardless of age, adults deserve to have a comfortable and healthy mouth.
Does Insurance Cover Dental Implants?
Dental implants can be covered by insurance in certain circumstances. Some dental insurance policies cover part of the cost depending on the reason they are necessary. Medical insurance plans may cover implants if tooth loss is related to health conditions.  Financing options are available to help individuals that need dental implants and cannot afford the entire price.
What All on 4 Dental Implants office is near me?
If you live near Miami, FL, Gallardo Periodontics and Implant Dentistry offers all on 4 dental implants among its services, and is conveniently located at 2020 SW 27th Ave Miami, FL 33145
Why choose Dr. Gallardo