Plasma Rich Growth Factors in Miami, FL
When we talk about regenerative medicine, we often mean using stem cells to repair damaged tissue. But what if we could regenerate lost teeth instead? In recent years, regenerative medicine has become popular because it offers a new approach to treating dental problems. It involves using plasma-rich growth factors (PRGFs) to stimulate tissue regeneration. This method has proven effective in healing damaged bones and soft tissues and Dr. John Paul Gallardo, DDS, PA offers it at Gallardo Periodontics & Implant Dentistry office in Miami, FL. PRGFs can be used to increase the amount of new bone formation around dental implants. This allows us to reduce the number of surgeries needed to achieve optimal results. We will look at how plasma-rich growth factors (PRGFs) can help regenerate lost bone around dental implants. We will also see why PRGFs are superior to traditional bone grafting techniques.
Dentistry is a field of medicine that has witnessed enormous advances: this new scientific and medical knowledge is allowing your dentist to offer you more therapeutic possibilities than ever before.
We are proud to offer our patients the latest technology in bone and tissue regeneration: PLASMA RICH IN GROWTH FACTORS or PRGF.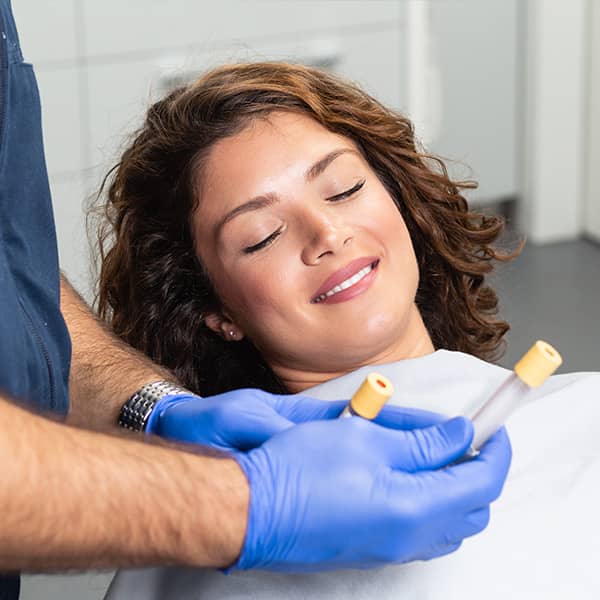 What does the Plasma Rich Growth Factors technique involve?
When we suffer any injury, the human body releases proteins (cellular signals) to stimulate the process of repairing that injury.
The PRGF technique isolates from the blood plasma these proteins which are responsible for wound healing and tissue regeneration. Once a therapeutic dose is applied to the treatment area, the repair process is accelerated.
To carry out this process, it is necessary to draw a small amount of blood from the patient, from which the Plasma Rich in Growth Factors -or proteinsis obtained through a centrifuge spinning process. This plasma is then placed where healing or regeneration of tissue and bone is needed.
Need a dentist?
Contact our Miami office today!
Are there any Contraindications for Plasma Rich Growth Factors?
This is the only technique that makes use of the body's own pharmacy and is offered after having proven its results in more than 10,000 patients in different fields of medicine.
This process can be considered an autograft, since it deals with the patient's own proteins which are responsible for carrying out and accelerating the repair process.
The PRGF procedure can be used on most patients and is recommended especially for those with healing problems or in need of stimulation of bone regeneration, as in the case of smokers and diabetics.
With the help of plasma rich in growth factors we can appropriately stimulate bone growth after surgical intervention, and, at the same time, achieve rapid recovery.
Plasma Rich Growth Factors achievements
Regeneration of bone in post-extraction sites.
Regeneration of bone around implants.
Regeneration of bone in bony defects.
Regeneration of areas after extraction of cysts.
Improved osseointegration of dental implants.
Faster wound healing.
How does Plasma Rich Growth Factors contribute to your treatment?
Recovery and the healing process speed up so the risk of infection or any other post-surgical complication is lessened. Using PRGF will guarantee a noticeable improvement, absence of pain and quicker healing.
All in all, PRGF optimizes recovery for the patient.
Frequently Asked Questions About Plasma Rich Growth Factors
What plasma rich in growth factors office is near me?
If you live near Miami, FL, Gallardo Periodontics and Implant Dentistry offers plasma rich growth factors among its services, and is conveniently located at 2020 SW 27th Ave Miami, FL 33145
Why choose Dr. Gallardo