Best Dental Implants in Miami
Are you looking for the best dental implants in Miami, Florida? Do you want to make sure you get the best quality implant treatment possible? When it comes to choosing the best dental implants in Miami, you should choose the top dentist in town Dr. John Paul Gallardo, DDS, PA. He will be responsible for making sure you get the best care possible. Dental implants are the most popular treatment option for replacing lost teeth, they look and feel like natural teeth, and they last a lifetime.
Losing a tooth can significantly impact your appearance and lower your self-esteem, whether it is due to an injury or decay. Tooth loss can also cause major challenges when eating or speaking, and may also alter your facial structure, which is why toothless people often look like they're frowning even when they're not.
Fortunately, dental implants offer a comfortable and long-lasting solution to tooth loss, help you feel confident in your own skin, and improve your quality of life. Dr. John Paul Gallardo, of Gallardo Periodontics and Implant Dentistry, has performed countless successful dental implants in the Miami area, and he's passionate about helping patients improve their smiles and their lives with permanent restorations that look and feel just like natural teeth.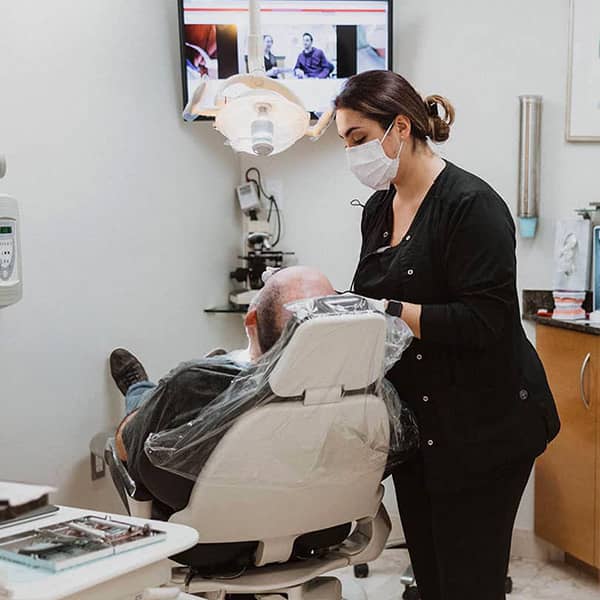 What are dental implants?
Dental implants act as artificial tooth roots that offer a permanent base for fixed, replacement teeth known as "crowns." They're an effective and popular solution for patients who've lost one or more adult teeth. In short, teeth implants are the gold standard of dental restoration procedures because they fit, feel, and function like natural teeth.
They consist of three parts: the actual implant is a screw that serves as a root for the new tooth. Its purpose is to permanently anchor the new tooth to the jaw. The second part is the abutment. It's a permanent and removable connector that supports a tooth or set of teeth. Lastly, the third part is the crown and the portion of the tooth that is visible. Porcelain ensures durability and an attractive natural appearance to crowns.
One of the uses for dental implants is to replace a single tooth, multiple teeth, or a complete set of damaged teeth.
How long do Dental Implants last?
About multiple tooth implants
The traditional method of repairing missing teeth is a bridge that cements onto neighboring teeth. Unfortunately, this requires grinding down those adjacent teeth so that they can act as support.
Multiple tooth implants, or an implant-supported bridge, are a better way to fix the problem. This method uses multiple implants in your jaw to replace the roots of the teeth, thereby supporting the bridge without damaging surrounding teeth. The result is a replacement that looks and feels completely natural.
One advantage of multiple tooth implants is that they're easier to clean. The metal around traditional bridges can become exposed when the gums recede, and the cement sometimes washes out, leaving gaps. These problems are not only unattractive but also dangerous breeding grounds for bacteria and infection.
With a multiple tooth replacement, you can expect a beautiful, intact smile in addition to your regained ability to eat and talk normally. The replacement will feel just like regular teeth. And it is a permanent solution with no restrictions, no follow-up procedures, and no risk of cavities.
Before and After Photos
Procedure Gallery




* Each patient is unique and individual results may vary.
Benefits of dental implants
Getting dental implants can be a life-changing experience. Unlike treatments that only repair the outer portion of a tooth, dental implants replace the entire dental structure, including the root. As a result, they feel just like natural teeth and behave like regular teeth, too. After implant surgery, patients are thrilled to discover that they can speak, chew, and laugh like normal again. Some patients even forget they're wearing dental implants after they get used to them.
Other benefits of dental implants include:
High success rate
As hygienic than metal
Prevent bone loss
Keep surrounding teeth stable
Help prevent gum disease
Easy to care for
No more removable dentures or bridges — dental implants are a permanent solution to tooth loss
Dental implant options
When it comes to creating dental implants, titanium and zirconia are biocompatible and can create a strong foundation for replacement teeth, so they are ideal materials.
Titanium dental implants
Titanium was once the material of choice for dental implants because of its durability and ability to attach and grow into the bone as it heals. Titanium implants are safe for most people, though they may pose a risk for allergic reactions in individuals with metal allergies. The main downside to titanium dental implants is that they can show through the gum tissue, making the surrounding area look a dark gray-ish color that some people find unappealing.
Zirconium dental implants
Made from a natural ceramic material, zirconia implants are the newest alternative to traditional titanium. The ceramic material used to make zirconium implants is some of the strongest on the market today. And it's also resilient to years of biting, chewing, and grinding, just like its metal counterparts. Unlike titanium, ceramic implants are similar in color to natural teeth and never show through the gum tissue.
Need a dentist?
Contact our Miami office today!
Am I a candidate for dental implants?
Good candidates for dental implants Miami are individuals who'd like to replace one, several, or all of their teeth and don't want bridges or dentures. They should have healthy gums and be an adult with a jawbone that has completed the growing phase.
However, you may not be a candidate for dental implants if you:
Use alcohol excessively
Have uncontrolled gum disease
Have an unresolved health condition, like diabetes or cancer
During your initial appointment, Dr. Gallardo will evaluate your unique situation and discuss whether dental implants are a good option or recommend an alternative approach.
The Best Dental Implant procedure
Dental implant surgery involves a three-phase process
Dental implant surgery involves a three-phase process that typically takes several months to complete:
The initial procedure consists of carefully inserting the implants into the jawbone. To do this, Dr. Gallardo will first administer local anesthesia to keep you from feeling any pain. We also offer a number of sedation dentistry options, like intravenous (IV) conscious sedation or nitrous oxide (laughing gas) for greater comfort.
After the area is comfortably numb, Dr. Gallardo will make small incisions in the gum line to expose the bone and make space using special instruments. Then, he will gently place the implant and cover it with gum tissue. After this process is completed, the dental implant will need to integrate into the jawbone for three to six months. Temporary crowns will be placed to cover the implant posts.
In the next phase, Dr. Gallardo attaches a post to the implant and allows the gum tissue to grow around it. Sometimes, the implant and post are placed at the same time.
During the last appointment, a customized, permanent crown is attached to each implant post. After this, you can enjoy your new smile and care for the implant as you would your natural teeth.
Recovering from dental implant surgery
Dr. Gallardo will provide special aftercare instructions following your dental implant surgery. You will be advised to refrain from rinsing, spitting, or touching the wound on the day of surgery. Expect some bleeding or redness for 24 hours. In the event of excessive bleeding, place a gauze pad directly on the wound and bite it for half an hour.
Apply an ice pack on the cheek in the area of the incisions to reduce swelling. Do this as much as possible for the first 48 hours after the procedure. You are also encouraged to drink plenty of water and avoid hot foods or liquids for a few days after surgery. Opt for soft foods like mashed potatoes, applesauce, mac and cheese, and oatmeal the day of the procedure. Avoid hard and sticky items like steak, caramel, cookies, and spicy foods for at least a couple of weeks.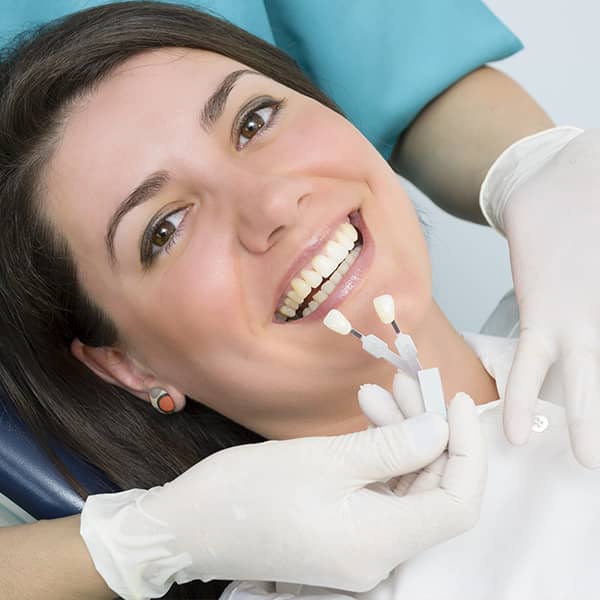 Caring for your dental implants
You must practice good oral hygiene
Dental implants are the next best thing to real teeth, but you must practice good oral hygiene to reap their full benefits. Follow these tips to keep your implants clean and healthy for years to come:
Brush and floss daily like you would your natural teeth, paying special attention to the base of the implant to remove food debris
Use a soft-bristled toothbrush
Avoid habits that can damage the implants, like biting your nails, smoking, chewing on pens or ice, or opening packages with your teeth
Avoid biting straight into hard foods, like apples or carrots
Don't smoke and only drink alcohol in moderation
Visit your dentist at least twice a year for regular checkups and professional cleanings
Related Articles
Dental Implants FAQs
Are dental implants covered by insurance?
It depends on your insurance. Some policies cover at least part of the implant procedure, while others may only cover the crown, bridge, or appliance supported by the implant but not the implant itself. If you have any questions about insurance or payment options, please contact our office at 305.547.8805; our staff is always happy to help! 
Do dental implants fail often?
No, not at all. In fact, dental implants have a success rate of over 90%. In most cases of failure, the problem can be traced back to inadequate aftercare such as not maintaining proper oral hygiene.
Are dental implants painful?
Fortunately, most of our patients report that their dental implants led to minimal pain. Dr. Gallardo uses a variety of advanced techniques and offers detailed aftercare instructions to ensure you are as comfortable as possible during and after the procedure.
What's the best age for dental implants?
Since the implants go into the bone itself, patients must wait until bone growth is complete before having the procedure done. This typically happens around the end of adolescence. Temporary solutions are always available, however. Dr. Gallardo can advise you on your best options until your bones are fully developed and ready for the implants.
How long do dental implants last?
Dental implants are strong and snugly fitted into the jawbone or gum. They won't shift or fall out, except in the case of trauma to the teeth or poor dental hygiene. They can also be surgically removed. Although dental implants do not come with a lifetime guarantee, you may very well be stuck with them for life! 

These advanced prosthetic teeth can withstand decades of stress, and they don't rot. Because of their potential for longevity, they make an excellent choice for single or multiple teeth replacements. Just care for your implant daily and keep your appointments for regular dental checkups, and your brilliant smile can last forever.
What dental implants office is near me?
If you live near Miami, FL, Gallardo Periodontics and Implant Dentistry offers dental implants among its services, and is conveniently located at 2020 SW 27th Ave Miami, FL 33145
Why choose Dr. Gallardo
Schedule a Dental Implant Consultation at Gallardo Periodontics and Implant Dentistry
If you are self-conscious about your missing tooth or teeth, we encourage you to schedule a dental implant consultation at our modern Miami area office as soon as possible. We look forward to learning more about your needs and can't wait to help improve the aesthetics of your smile as well as your oral health. Call us at 305-447-1447 to schedule a private consultation today.