Laser Gum Depigmentation in Miami, FL (Gum Bleaching)
Unveil your brightest smile in Miami, FL! Say goodbye to discolored gums with laser gum depigmentation. Discover the benefits, process, and expectations of this popular procedure. Dive into the world of aesthetic enhancement and embrace a more uniform, captivating smile. Explore laser gum depigmentation in Miami today!
Discover why patients from more than 38 states and 11 countries trust us
Laser Gum Depigmentation Benefits
Laser gum depigmentation is a cosmetic procedure used to lighten dark or discolored gums. Understanding the benefits of this treatment can help individuals achieve a more uniform and appealing gum appearance.
Our Work Speaks for Itself
What Is Laser Gum Depigmentation?
Laser gum depigmentation is a procedure used to remove dark spots, also known as gingival hyperpigmentation, from the gum tissue. This condition can be caused by periodontal disease, smoking, genetics, or other factors that lead to the overproduction of melanin in the gums. Laser gum depigmentation uses a laser to disrupt the melanocytes and lighten the discolored areas. The result is a more uniform and aesthetically pleasing smile.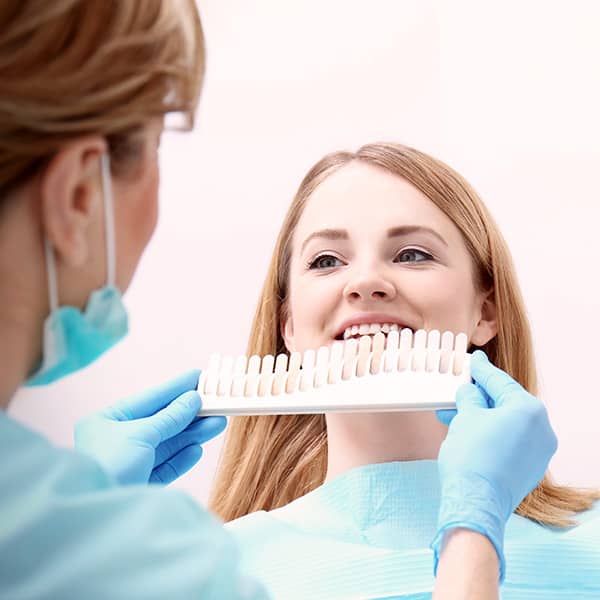 Like the color of your hair and skin, gum discoloration is primarily a genetic predisposition and is directly linked to skin conditions. It is not an indication of unhealthy or diseased gums. However, many patients feel that it negatively affects the attractiveness of their appearance, and it is the reason many people opt to have this popular cosmetic procedure. Discoloration of the gums may affect the entire area of the gums or only patches of the gums, and it is more easily seen in individuals with gummy smiles.
In many cases, dark spots on the gums appear as a result of physiologic gingival hyperpigmentation, a condition caused by the deposition of the melanin pigment inside the gums. Melanin, a natural substance in the body responsible for the hair and skin pigmentation in people with darker complexions, protects the deepest layers of the skin by absorbing harmful UV rays from the sun. Just as your skin can increase the melanin discharge based on your amount of exposure to sunlight, gum hyperpigmentation can also increase because of chronic exposure to certain irritants, such as cigarette smoke and smokeless, or "dipping," tobacco.
Pigmentation associated with smoking is called "smoker's melanosis." It is more easily seen in those with a light complexion and gums that are naturally pinkish in color. It appears most commonly as a brown band of color just beneath the gum line. Fortunately, it is a benign condition that can slowly but gradually reverse itself when the patient ceases smoking.
In addition to genetics and smoking, the following factors can also cause physiologic gingival hyperpigmentation:
Gum disease resulting from poor oral hygiene.
Endocrine disorders such as Peutz Jeghers Syndrome, Addison's disease, and Von Recklinghausen's disease, all of which are associated with increased melanin levels.
Certain medications, such as antimalarial agents and minocycline.
During placement or removal of metallic fillings, the shavings can, in rare cases, embed themselves into the gums, resulting in blue, black, or gray spots of discoloration on the gum tissue. These spots of discoloration are known as amalgam tattoos.
Contact our Miami office today!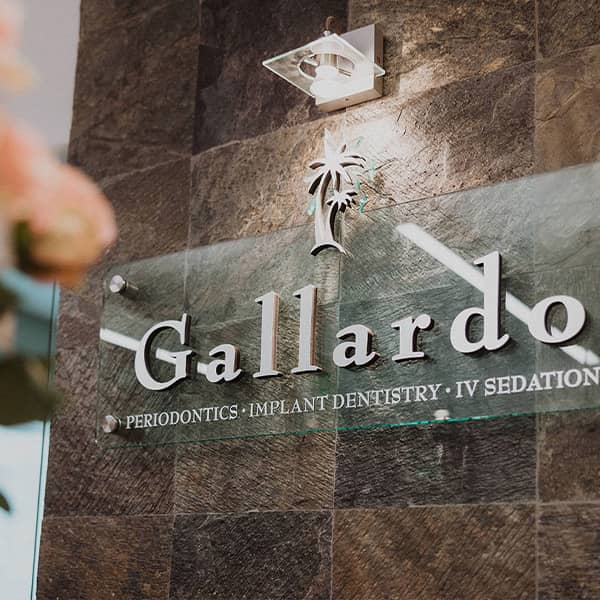 What You Should Know Before Undergoing Laser Gum Depigmentation
Before you decide to undergo laser gum depigmentation in Miami, FL, you should understand the procedure and what it entails. Laser depigmention treatment involves the use of a specialized laser designed to remove excess melanin pigment from your gums. It is a safe, effective, and relatively painless way to achieve a uniform pink gum line and reduce any excessive dark pigmentation on your gums.
Before starting the procedure, you should meet with an implant dentist or periodontist in Miami, FL, who specializes in laser gum depigmentation so you can discuss your concerns and expectations for the treatment. Additionally, make sure that you're aware of all the risks associated with laser gum depigmentation before undergoing the treatment. Finally, expect some discomfort during the actual procedure itself due to heat exposure from the laser. However, once completed, you will experience only minimal post-treatment discomfort and swelling associated with the laser treatment.
The Benefits of Gum Bleaching
Laser gum depigmentation is a relatively new and painless way to treat discolored tissue around the gums. This simple and effective procedure can dramatically impact one's overall dental health and aesthetics:
Laser gum depigmentation can improve the appearance of discolored and uneven gums caused by gum disease, hyperpigmentation, or other factors.
The laser treatment removes excess melanin pigment from the gums to give a more uniform and aesthetically pleasing pink color.
The procedure is a safe, effective, and relatively painless way to achieve a uniform pink gum line and reduce any excessive dark pigmentation on your gums.
Laser gum depigmentation can help prevent gum disease by removing bacteria-filled tartar and plaque on the teeth.
With regular dental check-ups and good oral hygiene habits, laser gum depigmentation can provide lasting results for improving one's overall dental health.
Am I a candidate for Laser Gum Depigmentation?
Laser gum depigmentation is suitable for individuals who have excessive melanin levels in their gums, resulting in an uneven or discolored gum line. The procedure involves removing excess pigment from the gums to achieve a uniform color and a more aesthetically pleasing appearance. Laser gum depigmentation is typically recommended if the discoloration is caused by a medical condition, genetic factors, or certain medications. In some cases, laser gum depigmentation may be beneficial for those with smoker's melanosis, amalgam tattoos, or endocrine disorders such as Von Recklinghausen's disease and Addison's disease. It is important to consult with your dentist in Miami, FL, to determine if you are an ideal candidate for laser gum depigmentation. If you have some other serious issues with gum disease, please make a consultation to know better about the best option for you such as LANAP. You can read about LANAP in our guide.
The Steps You Need to Take Before Having Laser Gum Depigmentation
Before undergoing laser gum depigmentation, a patient should consult with a qualified dentist in Miami, FL, who specializes in laser depigmentation. During the consultation, the dentist will take a full medical history and thoroughly examine the mouth to determine if the patient is an ideal candidate for the procedure. The dentists may also use dental lasers to evaluate any underlying health issues that could affect the success of the treatment. Additionally, the dentist will inform the patient about potential risks associated with laser gum bleaching, such as temporary sensitivity or swelling of the gums. Patients who are aware of these factors can make an informed decision on whether to pursue this treatment option.
How Does Laser Gum Depigmentation Work?
Dr. Gallardo uses a laser to easily and painlessly remove those unsightly melanin spots on the gums with little to no recovery time. Traditional surgical methods to remove dark gum pigments are costly and extensive. The laser gum depigmentation technique is designed to be minimally invasive and to provide a quick recovery, less discomfort, and immediate results. And, gum depigmentation side effects are not common thanks to the precision of the laser. At Gallardo Periodontics & Implant Dentistry, we strive to bring the very latest FDA-approved cutting-edge technology. We have offered Laser Periodontal Therapy in our office since 2009. The laser is a very delicate tool used for many different types of procedures. Laser Assisted New Attachment Procedure (LANAP®) is another patented and FDA-approved laser therapy that allows us to easily and painlessly clear infected areas under the gum tissue. Also, there is LAPIP procedure to address peri-implantitis. Our office continues to innovate with the technology available to bring the very best oral health care to our patients.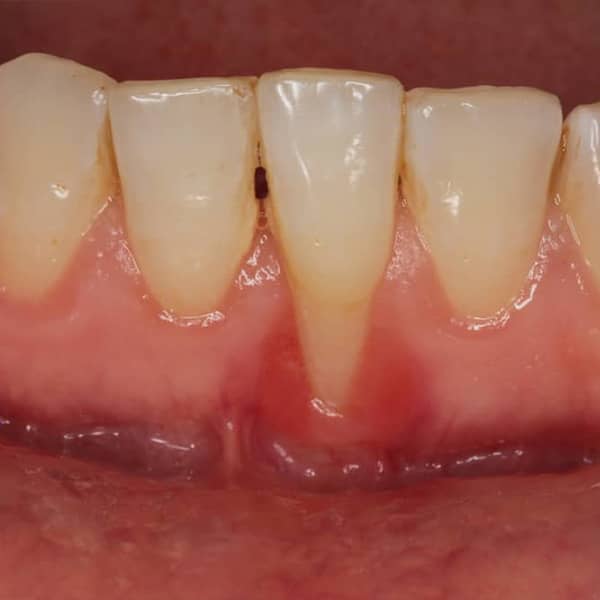 Laser Gum Depigmentation: Possible Risks
Laser gum depigmentation is a relatively safe procedure with few known health risks. However, certain factors can increase the risk of complications such as darker skin types, taking over-the-counter pain medications, and pre-existing medical conditions. Patients with darker skin tones may be more prone to hyperpigmentation or hypopigmentation after the treatment. Over-the-counter pain medication may cause bleeding in the gums during treatment and should be discussed with your dentist prior to beginning the procedure. Additionally, individuals who have pre-existing medical conditions such as diabetes or high blood pressure should consult with their physician before undergoing laser gum depigmentation to ensure that their health is not compromised in any way. With proper preparation, laser gum depigmentation can be an effective solution for those seeking a uniform and aesthetically pleasing gum line for a healthier-looking smile.
How to Prepare for the Laser Gum Depigmentation Procedure
Preparing for laser gum depigmentation a week in advance is important to ensure the procedure's success. During this time, avoid smoking and consuming products that contain alcohol as these can interfere with the healing process. Additionally, patients should avoid taking any medications or supplements that may cause bleeding or impair healing. Patients should also practice good oral hygiene such as brushing twice a day and flossing daily to maintain healthy gums prior to the treatment. Finally, stay hydrated by drinking plenty of water before and after the procedure to promote healthy healing and recovery.
Laser Gum Depigmentation Recovery
Once the laser gum depigmentation procedure is complete, patients should expect a period of time for recovery and healing. Depending on the patient's individual case, the dental treatment may be done in one session or spread out over several sessions. For those who only have one session, the process is relatively quick, and most patients return to their normal activities within a few days. During this period of healing time, patients can expect some minor swelling, redness, and sensitivity. Patients receive the benefits of a much more uniform and aesthetically pleasing gum line without any permanent damage to the gums or surrounding tissues. With proper care and regular check-ups with your dentist, you can enjoy these results for many years to come.
Tips for Aftercare After Having the Procedure Done
Having laser gum depigmentation in Miami, FL, can help improve oral health and make a noticeable difference in appearance. People should take these important steps to get the best results possible:
Practice good oral hygiene by brushing and flossing your teeth twice a day.
Avoid consuming products containing alcohol or smoking.
Drink plenty of water to stay hydrated and promote healthy healing.
Use a soft bristled toothbrush to minimize irritation in the gums.
Take prescribed medications as instructed by your dentist for any pain or discomfort after the procedure.
Avoid strenuous activities that may cause irritation or further damage to the gums.
Follow up with your dentist regularly for check-ups to ensure proper healing and results.
Costs Associated with the Treatment
We offer our patients a free benefits check during their office visit. Pricing for the procedure will be determined by Dr. John P. Gallardo once an assessment has been made. For pricing specific to your needs, please call us today at 305-447-1447 or Click here to set up your consultation! At Gallardo Periodontics & Implant Dentistry, we make it our mission to deliver the absolute finest gum depigmentation laser Miami has to offer, so you never have to worry about the quality of care you will receive!
Committed to your results
"I have a fear of dentists and had been searching for a very, very long time to find someone who made me feel comfortable and at ease. I'm so lucky I met Dr. Gallardo. His kind and reassuring personality really stood out during my first appointment. I felt like I was in great hands during my dental implant and laser gum depigmentation procedures. I'm two weeks out from my procedures and feel great...no pain at all. I highly recommend Dr. Gallardo to other patients. He really took great care of me. It's unbelievable, but he actually sent me flowers after procedure"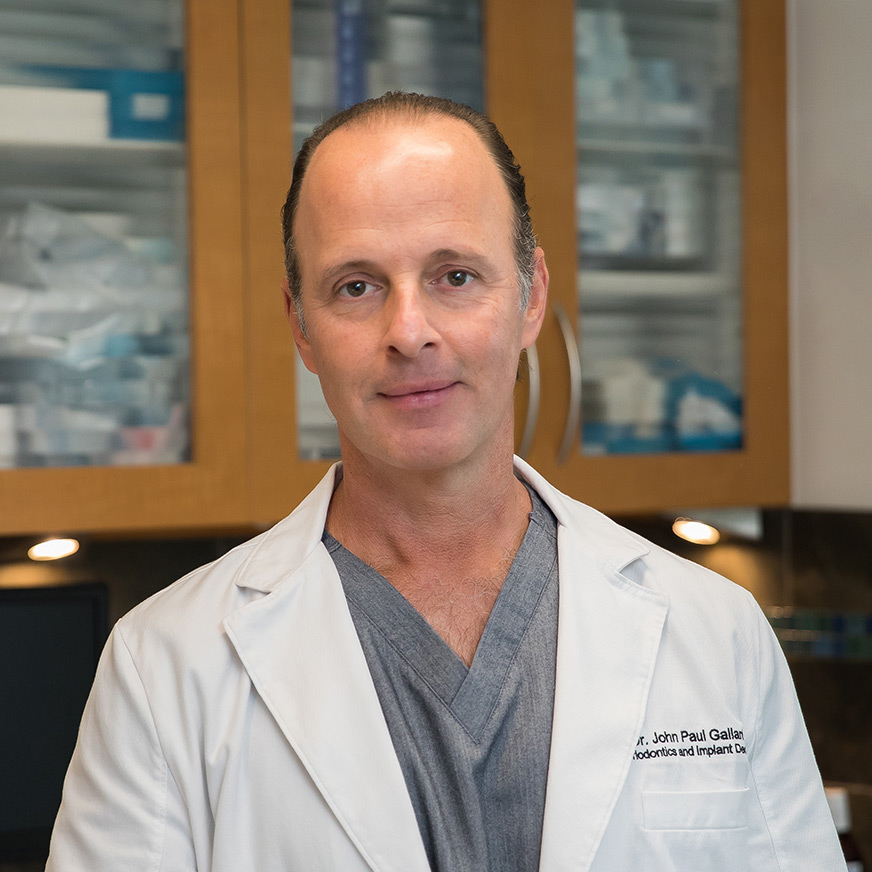 Frequently Asked Questions About Laser Gum Depigmentation