Teethxpress® in Miami, FL
Dr. Gallardo offers TeethXPress® dental implants to his patients. These implants are made out of titanium, which is strong enough to hold up against chewing forces. Once implanted, the implants fuse with the bone and become permanent fixtures. Patients can enjoy all of their routine activities without worrying about losing any teeth. This procedure is ideal for patients who are struggling with poorly fitting denture solutions. Many patients find that wearing dentures causes sore spots, chafing, discomfort, and embarrassment. TeethXPress® eliminates all of these problems. For patients who are just beginning to think about replacing their missing teeth, TeethXPress® is a great option. Unlike traditional methods, TeethXPress® doesn't require multiple visits to the dentist. All of the work is done during one visit.
While dentures may look like natural teeth, when it comes to function, they often fall short. The slipping and shifting can cause a loss of self-confidence, as eating and speaking with dentures can be surprisingly difficult. Luckily, anyone frustrated with their current dentures, or looking to replace decaying teeth, now has a better option at the Miami dental office of Dr. Gallardo.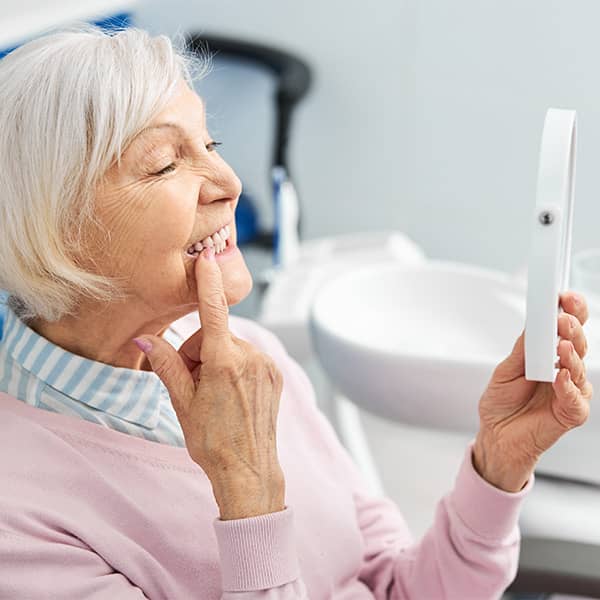 TeethXPress® Dental Implants
TeethXPress® is an innovative dental implant technique that allows patients to have a full mouth of teeth permanently restored in just one day. As the revolutionary implants bond with the natural jawbone, the new set of teeth will be attached and stable, allowing patients to carry on with all of their routine activities in confidence. Dr. Gallardo offers this immediate tooth restoration solution to patients struggling with poorly fitting dentures, as well as to those who are just starting to consider tooth replacement options. The TeethXPress® procedure is performed in-office, in one of our comfortable and private treatment rooms, making the treatment simple and efficient.
Before and After Photos
Procedure Gallery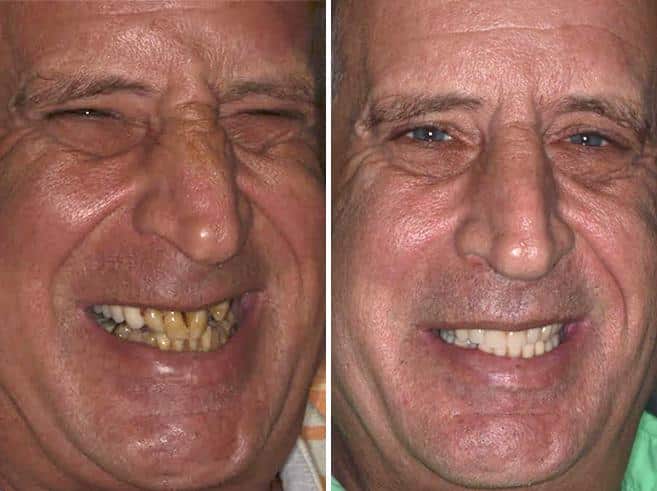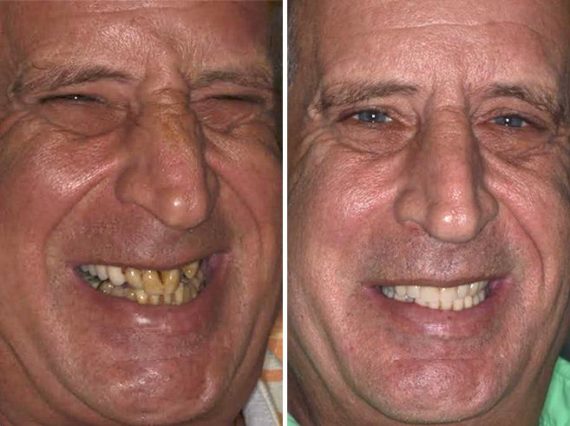 * Each patient is unique and individual results may vary.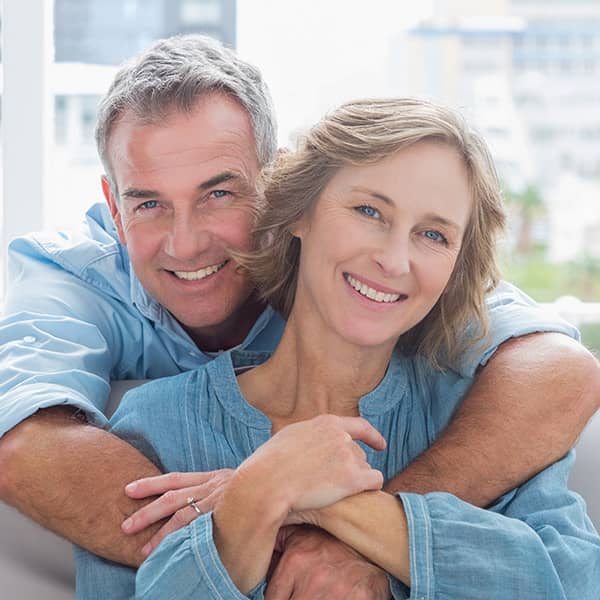 TeethXPress® Dental Implants vs. Traditional Dentures
Traditional dentures have several drawbacks. One of the main patient complaints is that dentures fail to stay in place, making eating, and sometimes speaking, difficult and embarrassing. While dentures may give the appearance of natural teeth, they do not replace them. Over time, without bone stimulation, the jawbone can shrink significantly, which only further impairs properly fitting dentures. The decaying bone structure will also affect the appearance, giving the jawline a hollow, aged looked.
TeethXPress®, similar to the Same-Day dental implants, have several benefits over dentures. As the implants replace the teeth, they fuse directly with the jawbone. This will stimulate the bone structure, keeping it healthy over the coming years. Teeth will look and feel natural, and as the palate is not covered, patients can eat whatever they want. TeethXPress® will not slip or move about, providing complete confidence when speaking. Plus, they can be cared for just like organic teeth, and do not need to be removed at night, like dentures. TeethXPress® will look natural for years to come and can last a lifetime.
Common Denture Problems:
Difficulty chewing and biting certain foods
Slurred speak
Clicks, whistling, smacking sounds
Slipping or moving
Gum and mouth irritation
Pain from poor fit
Need a dentist?
Contact our Miami office today!
The Best Candidates for TeethXPress® Dental Implants
TeethXPress® provide excellent results for many patients, regardless of age. Candidates with current dentures, or who are losing their natural teeth and are ready to move onto to a full mouth of implants, may find TeethXPress® fit their needs for permanent replacements. It is important that candidate have a moderate level of existing bone density to allow for the implants to properly integrate with the jaw. A consultation with Dr. Gallardo can determine if TeethXPress® is the best procedure for an individual's unique implant needs.
TeethXPress® and Same-Day Dental Implants
Both TeethXPress® and Same-Day provide a full set of permanent dental implants in just one visit. However there are a few differences in the two techniques. TeethXPress® uses a set of four to six implants, and will require a certain amount of bone density for proper bone bonding. Same-Day consists of four dental implants only and does not require any bone grafting. As Same-Day does not rely on the same amount of bone density as TeethXPress®, the technique can provide a valuable alternative for prospective patients.
TeethXPress® Surgery and Recovery
Our office provides many different sedation dentistry options
The TeethXPress® procedure takes hours to perform in one of the comfortable treatment rooms at our Miami dental office. For our patient's comfort, our office provides many different sedation dentistry options. Over the years, our practice has performed this alternative to dentures on thousands of patients, all of which have expressed a very high satisfaction level through this life changing experience. If you believe you are a candidate, please contact our office for a complimentary examination so that we may share our knowledge and expertise with you.
Following a TeethXPress® procedure, patients typically express very minor discomfort. Dr. Gallardo follows your recovery very closely and will monitor any discomfort. A soft diet is best for the initial healing period, with harder foods slowly added. For the first two weeks, no brushing or water pick use is allowed, and a medicated mouthwash will be prescribed. After this time, patients can return to their routine dental hygiene practice, including the use of a water pick. Regular dental cleanings should also be scheduled. TeethXPress® will be fully healed and integrated into the natural bone in three to six months. Well cared for implants can last a lifetime.
TeethXPress® Dental Implants in Miami
The best way to determine if TeethXPress® is the right choice for you is to schedule consultation with Dr. Gallardo. Our Miami office can be reached at 305.447.1447 with your questions, concerns, or to arrange your initial appointment. At our practice, we strive to ensure you will have a safe, stress-free, and comfortable dental experience.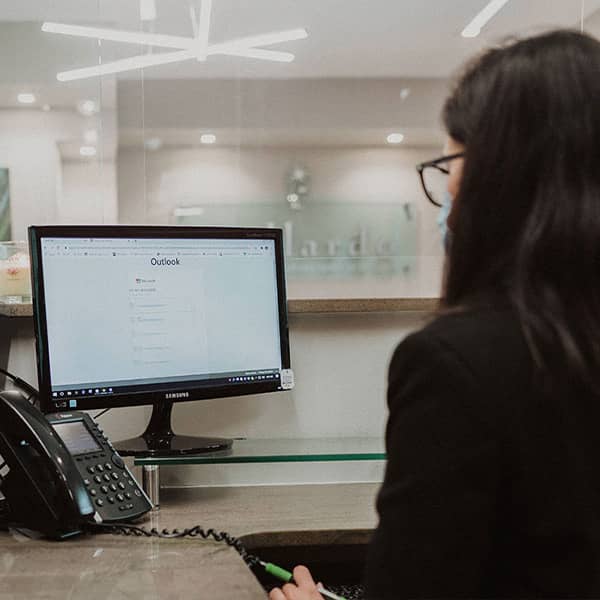 TeethXPress® Dental Implants FAQs
What is TeethXPress® dental implants?
TeethXPress® is the best way to have a full set of dental implants in only hours. Using between four and six permanent implants, Dr. Gallardo will create stable new teeth that fully attach to the bone.
What advantages does TeethXPress® have over standard dentures?
Traditional dentures do not connect with natural bone, which causes the bone to deteriorate. This will cause the face to look hollow over time, as the bone density is slowly eliminated. Dentures may fit poorly, become loose, and shift. TeethXPress® fuses implants with natural jawbone, encouraging dental health, and keeps the teeth secure when eating or speaking.
Am I a good candidate for TeethXPress®?
If you are looking for a full set of dental implants, or to replace current dentures, then TeethXPress® may be for you. Patients will need to have adequate existing bone density for the implants. This will be determined at your consultation appointment with Dr. Gallardo.
How long does the TeethXPress® procedure take?
Depending on the patient, and the number of implants used, the procedure will take from three to six hours, from start to finish.
Does TeethXPress® hurt?
Dr. Gallardo is proactive in pain relief during any dental procedure. The TeethXPress® treatment can be done through several different sedation options, all fully discussed during your consultation.
Where is the TeethXPress® procedure performed?
TeethXPress is performed in one of the private, cutting-edge treatment rooms of Dr. Gallardo in his Miami dental office.
How long will my TeethXPress® results last?
These dental implants are permanent and with proper cleaning, can last for decades to come.
What special care is required after my TeethXPress® treatment?
For the week following a TeethXPress® procedure, a special medicated mouthwash will be required, and a soft diet is recommended. After this initial healing, however, TeethXPress® require no special care aside from proper daily cleaning (a water pick is recommended) and routine office cleanings.
When can I return to work after TeethXPress®?
Most patients are feeling well enough to return to work the day after their TeethXPress® procedure.
What TeethXPress® office is near me?
If you live near Miami, FL, Gallardo Periodontics and Implant Dentistry offers TeethXPress® among its services, and is conveniently located at 2020 SW 27th Ave Miami, FL 33145
Why choose Dr. Gallardo