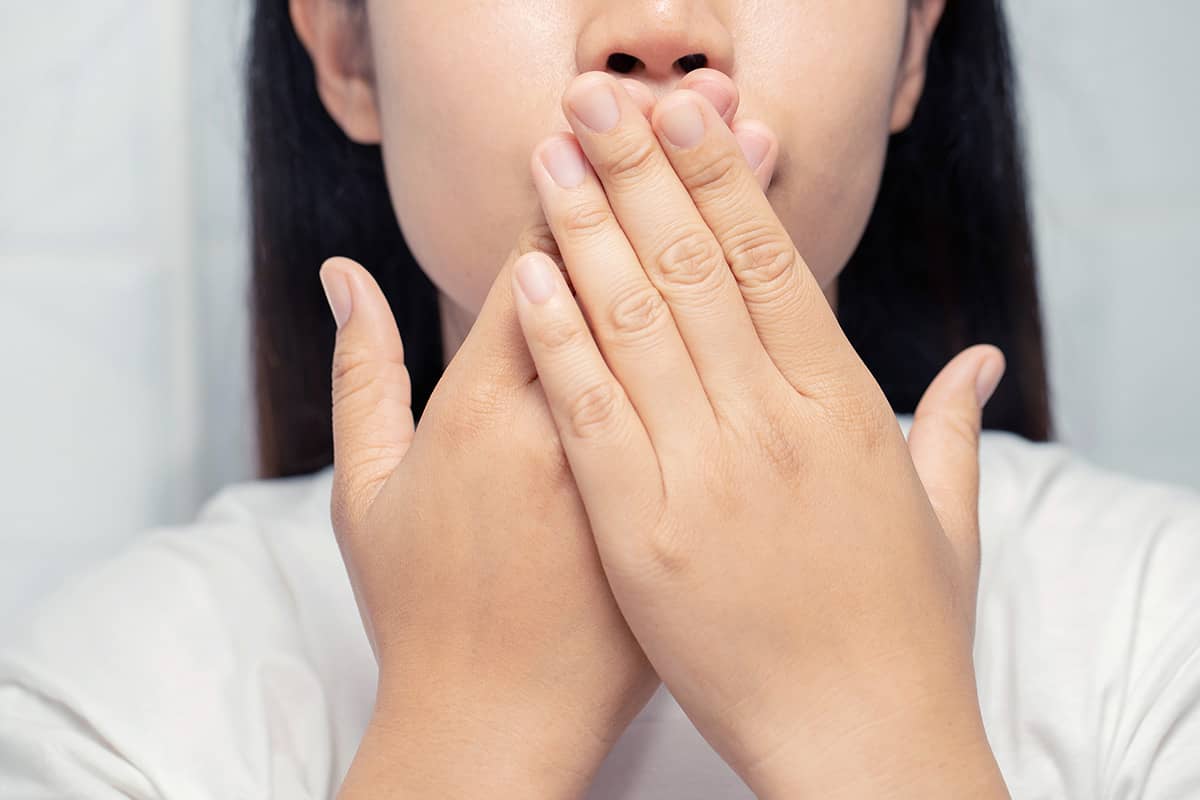 Bad breath can be a big enough problem to ruin your day. If you're worrying about how your breath smells, you might find yourself unable to enjoy a date or you might spend an entire meeting worrying that your colleagues find your breath unpleasant.
It's difficult to tell if your breath smells unpleasant on your own, which is why it can be helpful to ask someone you trust for their opinion. If you're particularly concerned about your breath's odor, you can consult your dentist for advice on ways to take better care of your teeth and gums and to improve the scent of your breath. Understanding the common causes of breath odors can help you take action and improve it as well.
Bad Breath Cause 1: Your Last Meal
Some foods have a much stronger smell than others and are likely to cause bad breath. Certain foods affect the scent of your breath in two ways. First, the volatile compounds in the foods can make your breath smell unpleasant right after you eat. Once you digest the foods, the compounds travel through your bloodstream and into your lungs, so that you are essentially exhaling a bad odor. Onions and garlic are two foods that are typically guilty of making your breath smell. Other foods that can affect the scent of your breath include spices, fish, and dairy. Beverages such as coffee and alcohol can also contribute to unpleasant breath smells.
Bad Breath Cause 2: Smoking
Smoking causes bad breath as well. Whenever you inhale on a cigarette, you're pulling chemical-laden smoke into your mouth. Tiny particles of that smoke linger on your tongue and other oral tissues and in your throat and lungs. Smoke doesn't smell so great to begin with and the scent becomes staler and less pleasant as time goes on. Since those tiny particles tend to stick around for several hours after your last cigarette, it's easy to see why smoking causes bad breath.
Smoke particles are just part of the cause of bad breath in tobacco users, though. Smoking increases your risk for tooth decay and gum disease, both of which can contribute to bad breath. Plus, tobacco contains numerous chemicals that have a distinct scent. Finally, smoking dries out your mouth, making it a hospitable environment for bacteria, which can also contribute to an unpleasant breath smell.
Bad Breath Cause 3: Poor Oral Hygiene
It's not only particularly fragrant food that can cause bad breath. If you aren't in the habit of brushing your teeth regularly or of flossing and haven't seen your dentist for a teeth cleaning in a long time, you are likely to experience bad breath more often than not.
When you skip your twice daily brushing or don't floss, food gets a chance to linger on your teeth and gums. Plaque, a film made up of sugar and bacteria, builds up on your teeth, eventually hardening into tartar. The more tartar build-up you have, the more places bacteria have to hide. In the case of your gums, the build-up of tartar and plaque can cause irritation, which leads to the formation of pockets. Bacteria can hide in those pockets.
If you have dentures or a dental bridge, not taking good care of them can also lead to bad breath. If you aren't fully cleaning your dentures on a regular basis, bacteria has a place to hang out, making your breath smell less than sweet.
Bad Breath Cause 4: Infections
Infections in your mouth, such as a dental abscess, pericoronitis (an infection near a wisdom tooth) or advanced gum disease, can also contribute to less-than-pleasant smelling breath. The culprit again is bacteria. Treating the infection and rinsing out the mouth with saline or a mouth rinse can help clear the infection and improve your breath.
Bad Breath Cause 5: Dry Mouth
Your mouth has its own built-in cleaning agent: saliva. When your body produces adequate amounts of saliva, it helps rinse away bacteria and food bits and freshen your breath. But, a number of factors can decrease the amount of saliva you produce, leading to xerostomia, or dry mouth. If you have a congested nose, for example, you might breath through your mouth, which can dry up saliva. A wide range of medications can also decrease saliva production, as can a blocked salivary duct. Some conditions, such as Sjogren's syndrome, affect the salivary glands and lead to a drop in saliva production.
Once you know what's causing your bad breath, you can work to treat it. If an infection, medication or chronic condition is contributing to your bad breath, working with your periodontist to find a solution might be the best option.
There are a few ways you can mask or treat bad breath at home, too. Brushing your teeth regularly reduces the bacteria in your mouth, while using a mouth rinse afterwards can give your breath a minty, fresh scent.
At their practice in Miami, Dr. John Paul Gallardo offer a variety of treatments to help patients coping with bad breath. Whether your concern is cosmetic or related to a more serious issue, such as gum disease, the periodontists will help you discover the best way to treat it. To schedule a consultation at their practice, call 305-447-1447 today.