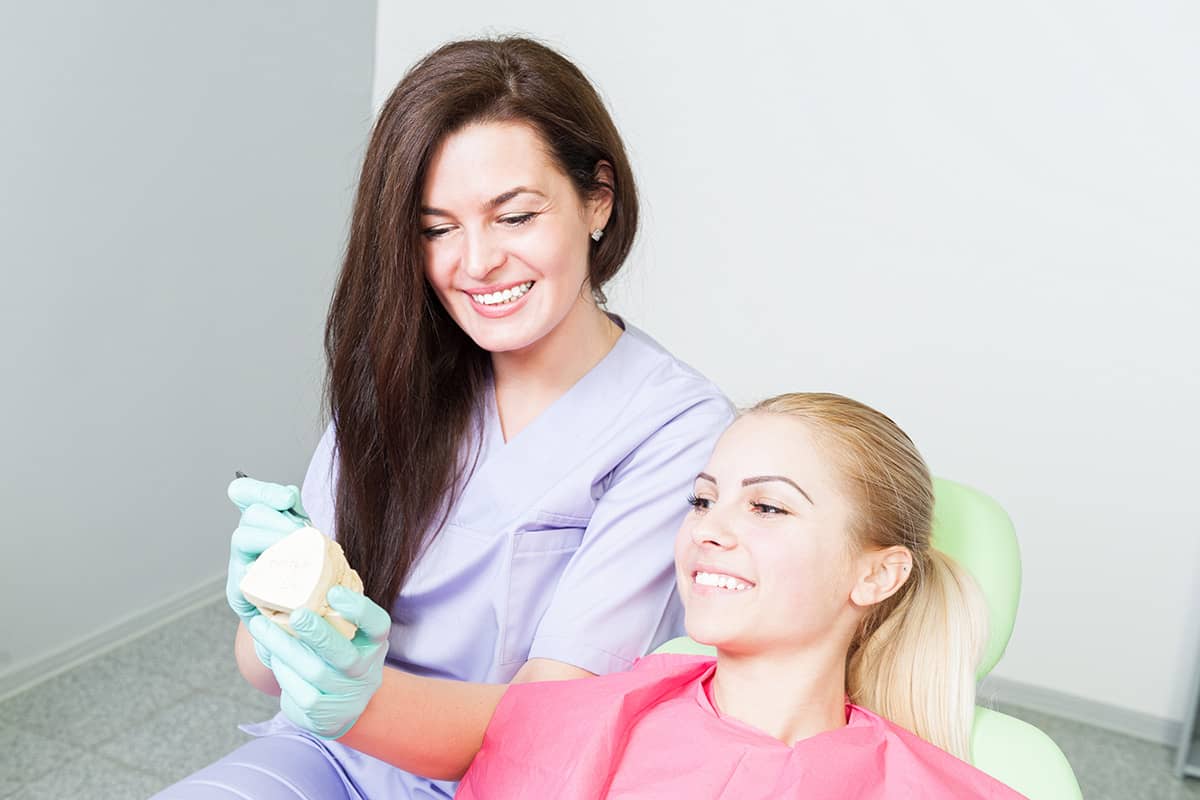 Just as people have different skin tones, so can people have different gum tones. Often, darkening of the gums occurs because of an irritant, and isn't a person's natural gum color. Fortunately, laser gum depigmentation is one way to remove dark pigment and restore the gums to a healthy, pink color.
What Makes the Gums Dark?
Melanin is the pigment responsible for skin color. Higher levels of melanin usually mean darker skin. Your body can naturally produce more melanin than another person's. The body can also produce more in response to irritation. For example, when you tan, your skin is producing melanin as a way to defend itself against the sun's harmful UV rays.
Your gums also produce melanin. Some people naturally produce more than others, usually people with a darker complexion. Although people often assume that gums are a uniform, pink color, the truth is that there are a variety of shades that peoples' gums can be.
Your gums might also produce extra pigment in response to an irritation. Cigarette smoke is a common irritant that leads to an increase in melanin production in the gums. The darker color is usually more visible in smokers who have a lighter skin complexion. Known as "smoker's melanosis," darkening of the gums that occurs due to tobacco exposure can be reversed by quitting smoking.
Some medical conditions, or the medications prescribed to treat certain conditions, can also increase melanin in the gums. For example, some endocrine disorders, such as Addison's disease, which cause darkening of the skin, can also cause pigmentation on the gums. Antimalarial medications and the antibiotic minocycline can also cause dark spots to develop on the gums.
Interestingly enough, in some cases, darkening of the gums isn't necessarily caused by pigmentation but by an outside factor. It's possible for small pieces of metal, or amalgam, fillings to embed themselves into the gum tissue when a person is getting a filling or if a dentist is removing an older filling. The metallic substance causes the blue or black spot to appear on the gums.
Coping With Darker Gums
How you cope or deal with darkening of the gums depends on the cause. In the case of medications, your doctor might prescribe a different medicine, one that doesn't increase pigment, if you let him or her know about the issue. If you smoke, quitting smoking can be the best thing you do, not only for the health and appearance of your gums, but for your overall health as well.
It's also possible that dark gums are related to gum disease. Usually, the more serious forms of gum disease, such as trench mouth, have darker gums as a symptom. In that case, treating the gum disease with surgery to remove the damaged tissue or with antibiotics to clear up the infection is often your best option for dealing with discolored gums.
What Happens During Laser Gum Depigmentation
Treatment is available if the darkening of your gums is purely a cosmetic issue. For example, some people naturally have higher levels of melanin than others, leading to brown or black, not pink, gums. The positioning of a person's gums can make the discoloration more visible, too. For example, some people show a lot of gum when they smile, known as a gummy smile. If the gums are also very dark, people can feel more self-conscious about them.
In these cases, laser gum depigmentation might be a suitable option. During the treatment, a periodontist uses a laser to essentially bleach the gums, removing the excess pigment from the area.
Similar to laser skin resurfacing, laser gum depigmentation destroys the top layer of cells on the gum. When those cells are destroyed, the pigment is as well, leaving pinker gums behind. Treatment with a laser is usually quick and there is no lengthy downtime required afterwards. Many people get the results they were hoping for after just a single treatment session.
Are There Other Options?
Laser gum depigmentation is meant to be a minimally invasive alternative to other depigmentation options. In the past, options for removing extra pigmentation from the gum tissue included scraping away the tissue with a scalpel or using a rotary tool to physically abrade the gums. The scalpel and rotary tool method of depigmentation are not only more invasive and painful, they also tend to cost more and have considerably longer recovery times than laser treatments.
Before Treatment
If you are considering laser gum depigmentation, it's important that your gums be in good shape before treatment. If you've had gum disease, your periodontist will most likely recommend antibiotics or a deep cleaning to clear up the infection first. It's a good idea to let your dentist know about any medications you're on or any health conditions you have, whether you think they have something to do with your gum color or not.
Your gums shouldn't get in the way of having a great smile or in the way of your health. If you're concerned about your gums in any way, whether it's their color or another issue, Dr. John Paul Gallardo, peridontists in Miami, Florida, will listen to your concerns and recommend the right treatment. To schedule a consultation, call 305-547-8687 today.