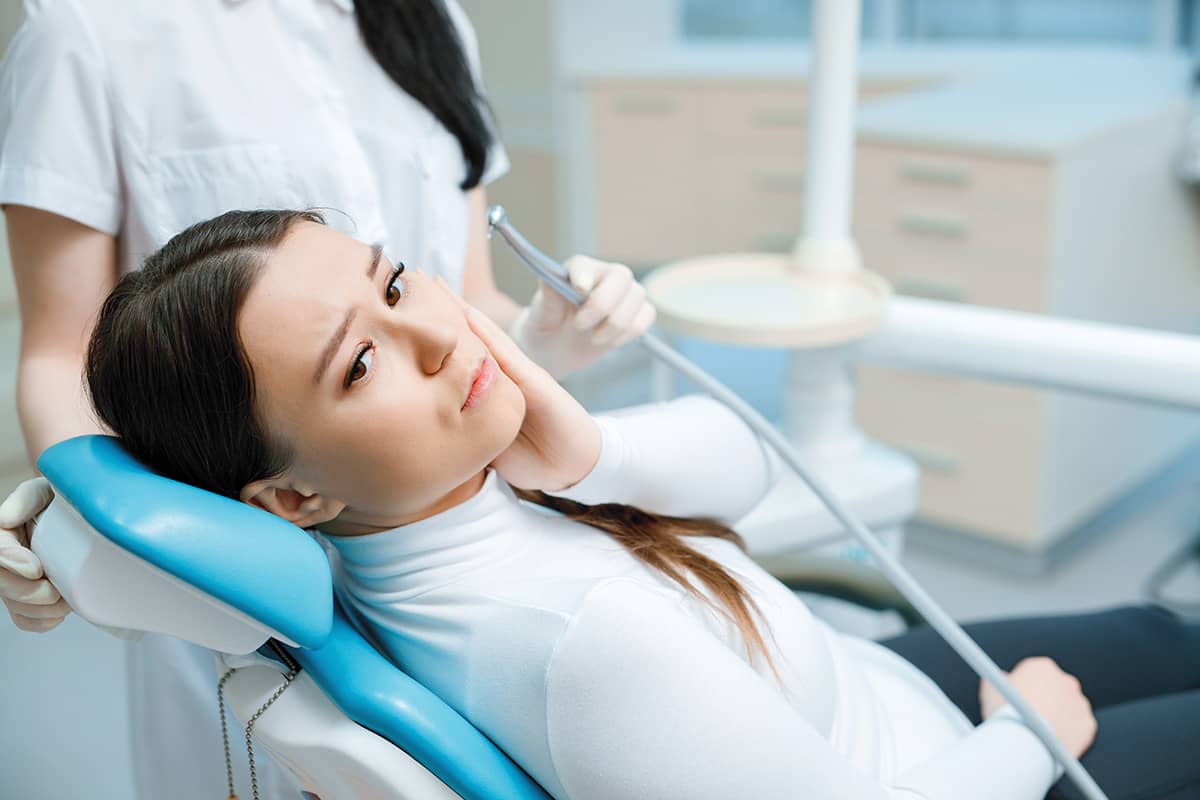 You've got a sore on the inside of your mouth that's painful to the touch and you're wondering if you should worry. That all depends on the type of sore you have. A canker sore, for example, is usually a benign thing, while other types of mouth sores can signal more serious concerns, such as cancer or herpes.
Knowing whether to worry about your sore or not means understanding what's causing it and what you can do about it.
Canker Sore vs. Cold Sore
It's not uncommon for people to confuse canker sores with cold sores. While the two issues sound similar and develop in the same general area, they are very different. First, a cold sore forms on the outside of the mouth. A cold sore usually looks like a collection of pimples or blisters at the corner of the mouth or somewhere around the lips. The blisters tend to break or burst after a few days, creating a crust over top of the sore. Cold sores are caused by a form of the herpes virus. Canker sores are not.
Canker sores, on the other hand, form inside the mouth. You might have a single sore on its own or a cluster of sores together. They are usually oval or round in shape, have a white or yellow center, and are surrounded by a ring of red.
Generally speaking, there are three types of canker sore. Minor sores are small and typically clear up after a week or two. Major sores can be more problematic, as they are deeper and larger than minor sores and can be considerably more painful. They also take longer to clear up, needing as long as six weeks in some cases.
Herpetiform canker sores are the most rare form of canker sore. They typically consist of tiny, pin-sized sores in groups of anywhere from 10 to 100. The sores get their name from the fact that they look like herpes, but like other canker sores, they are not caused by the herpes virus. Older people are more likely to get herpetiform canker sores, which usually clear up within two weeks.
What Causes Canker Sores
If a virus doesn't cause canker sores – what does? A number of things can trigger the development of a sore in your mouth. It can be something as innocent as accidentally biting the inside of your cheek or lip while chewing. In some cases, a sharp piece of food, such as a potato chip or pretzel, can irritate the inside of the mouth enough to trigger a sore. A chipped tooth that is irritating the gums or cheeks can also cause a sore to form.
Some people have sensitivities to certain foods that make them more likely to develop a canker sore. For example, foods such as chocolate, cheese, and nuts can trigger a sore. Acidic or spicy foods can also cause some people to develop a sore in their mouths.
Other causes of canker sores include:
Changing hormone levels
Stress
Certain types of bacteria, such as helicobacter pylori, which also causes stomach ulcers
Sodium laurel sulfate (found in many toothpastes)
Nutritional deficiencies
Having another condition, such as Celiac disease, Crohn's Disease, or HIV/AIDs, can also make a person more likely to develop canker sores.
Coping with Canker Sores
In the case of minor canker sores, at home treatment might be all you need to get relief. Rinsing your mouth with salt water can help relieve the discomfort associated with the sore and speed healing, as can rinsing with a mixture of one part Benadryl and one part milk of magnesia.
Cleaning your teeth and maintaining a good oral care routine at home can also help. If you think the toothpaste you use is triggering your canker sores, you can talk to your dentist about varieties that don't contain sodium laurel sulfate.
Figuring out the sore's trigger really helps you and your dentist figure out the best course of treatment. For example, if you tend to develop sores after eating hard, sharp or crunchy foods, avoiding those foods can help you avoid irritating the existing sore and can help you avoid triggering new sores. While you wait for a sore to heal, it's a good idea to avoid spicy or acidic foods, as they can make the discomfort worse.
Since low levels of B vitamins are often connected to the development of canker sores, your dentist might recommend taking a B vitamin supplement on a regular or daily basis.
If dental work, such as a retainer, or a broken or chipped tooth is irritating the tissue inside the mouth and contributing to canker sores, your dentist might fit you for a better retainer or recommend dental implants to replace the damaged tooth.
Finally, some people do need medical treatment to help heal their canker sores. If you have a major sore and it hasn't cleared up on its own within a week or two, your dentist might cauterize the sore to drain it and speed healing. He might also prescribe a mouth rinse to help numb the area or to help minimize inflammation while the sore heals.
A canker sore might not seem like a big deal. But, if it is interfering with your quality of life, it can be. If you're experiencing a canker sore and want to get to the bottom of what is causing it and find out what you can do to treat or cope with it, talk to a dentist today. Miami periodontists Dr. John Paul Gallardo can recommend at-home treatments or medical treatments to help you get relief. Call 305-447-1447 to schedule a consultation today.