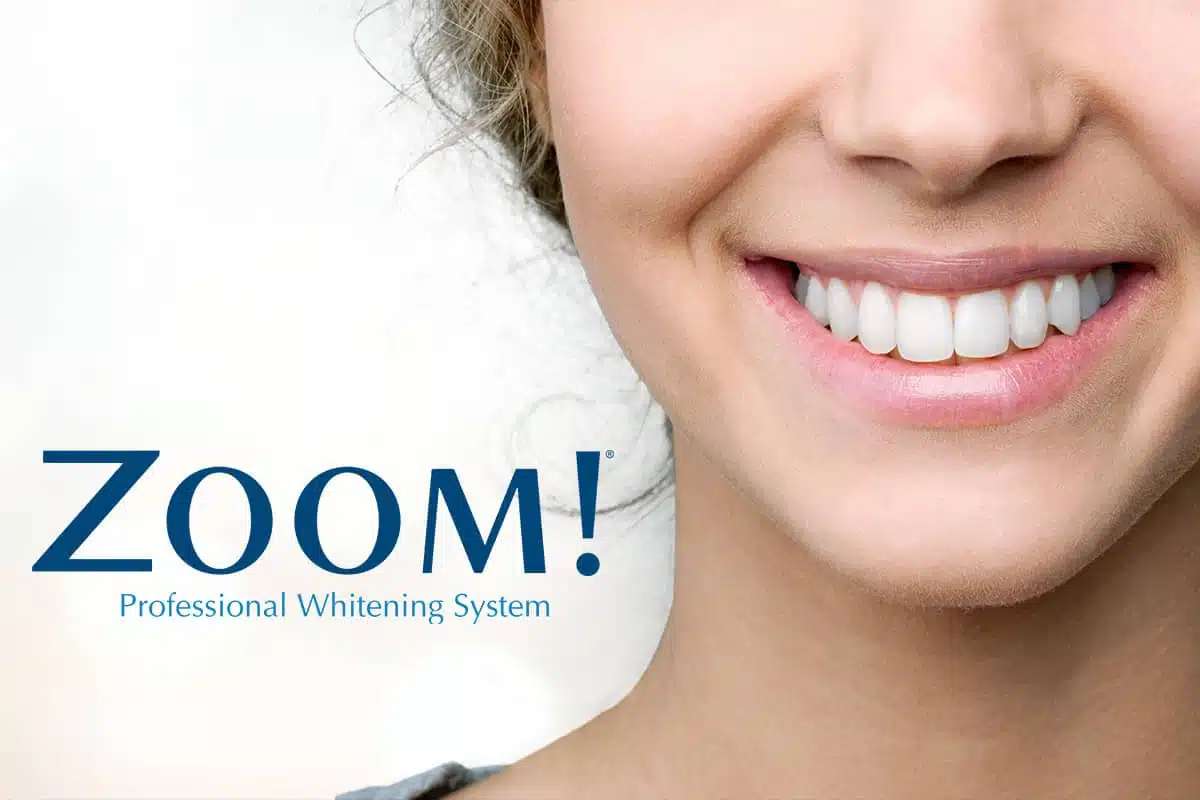 Have you ever dreamed of bright white teeth, like you see on celebrities? If you've struggled with DIY whitening kits, then you know they can be messy, uncomfortable, and not always effective. In order to get real results in tooth whitening, you need to head to your dentist's office.
There are different methods for teeth whitening, but many dentists today are using the ZOOM! Whitening system to help patients achieve their goals. But does it really work?
Why Do Teeth Get Yellow?
Over years of use, teeth get stained for many reasons. Exposure to dark liquids like coffee and red wine, food, smoking, medications, and aging can all contribute to yellowing teeth. Whatever the reason, many people find having a discolored smile very upsetting, impacting their overall confidence and self-esteem. That's where professional whitening systems like ZOOM! come in.
What is ZOOM?
ZOOM! is a non-invasive hydrogen peroxide whitening treatment that's performed in your dentist's office, rather than in your own bathroom. Each treatment takes about an hour to perform. First, a strong hydrogen peroxide gel is applied to the teeth. UV light is then used to help the peroxide whiten the teeth quickly, providing impressive whitening results that are long-lasting. Some patients have more than one treatment, while others are satisfied with just one ZOOM! session.
Does ZOOM! Work?
ZOOM! whitening can make teeth up to 8 shades whiter in just one session. Results will vary depending on several factors, including age and condition of the teeth. Patients should be at least 14 years old to undergo the treatment. Most patients are very happy with the results, because ZOOM! is able to produce much better results than any home treatment. Results are typically long-lasting, as long as patients keep up good dental hygiene habits. At-home care instructions are given to patients to help optimized and maintain results.
Are There Any Downsides?
Some patients report that they experience discomfort during the treatment. If you have sensitive teeth and gums, your procedure might be more uncomfortable than for others. Some patients are concerned about the UV light used in the procedure, but the lips and gums are covered to prevent harmful exposure during the treatment process. ZOOM! has been proven a safe option for patients all over the country, and should not be a cause for concern.
Is ZOOM! Right for You?
If you're frustrated with whitening toothpaste or at-home trays, it might be worth looking into a professional whitening option to restore your smile. DIY kits are cheaper than professional whitening, but they can't come close to the results from ZOOM! or other in-office whitening procedures. Before you choose to undergo ZOOM! you will need to make sure you are a good candidate for the procedure, and prepared to undergo the treatment. Most patients find that the cost of the procedure is well worth it for the results they receive, but it's important to take your time and make sure ZOOM! is something you really want to move forward with.
Choosing the Right Dentist
Not sure if ZOOM! is right for you? No problem. There are other systems available for professional tooth whitening, and the most important factor in your treatment is choosing the right dentist to perform your procedures. Technique matters when it comes to any dental procedure, so it's important to choose an experienced dentist who has performed many professional whitening treatments.
If you're looking for a renowned office in the Miami area, come to Drs. Gallardo . Patients will enjoy top-notch care with expert providers, and a welcoming office environment. To learn more about ZOOM! tooth whitening at our Miami office, call 305-547-8687 to schedule an appointment.