Peri-implantitis is a disease that affects implants placed in the jawbone. It causes inflammation around the implant site, involving both the soft tissue and bone tissue, leading to bone loss. However, many patients are not aware of the signs of teeth implant failure and the symptoms of peri-implant disease until it has progressed to the point where the implant must be removed. The LAPIP protocol is used to help healthy tissue regenerate and reattach to the implant, differentiating it from diseased tissue.
Discover why patients from more than 38 states and 11 countries trust us
LAPIP™ Treatment Benefits
Laser-Assisted Peri-Implantitis Treatment uses a laser to remove tartar from the implant surface, thus preventing further infection and allowing the patient to retain his/her implant. In addition, the laser also helps prevent future infections.
LAPIP for Dental Implant Failure
The laser-assisted peri-implantitis procedure, or LAPIP™, is designed to eliminate tissue inflammation and infection, as well as stabilize the bone surrounding a tooth implant using a stable fibrin blood clot.
Dr. Gallardo is part of a small group of periodontists across the country who provide this unique technique, which ensures better tissue rejuvenation and longer-lasting results than those seen with traditional treatments. By eliminating pathologic proteins and promoting the activity of stem cells, the LAPIP™ procedure ensures a healthier implant.
The LAPIP™ is unique in that it does not require any incisions or sutures. It also reduces tooth sensitivity and recovery time compared to other methods. On the day of treatment, Dr. Gallardo identifies if there is an infection present and uses LAPIP™ to treat the cause of infection, without disturbing the dental implant itself.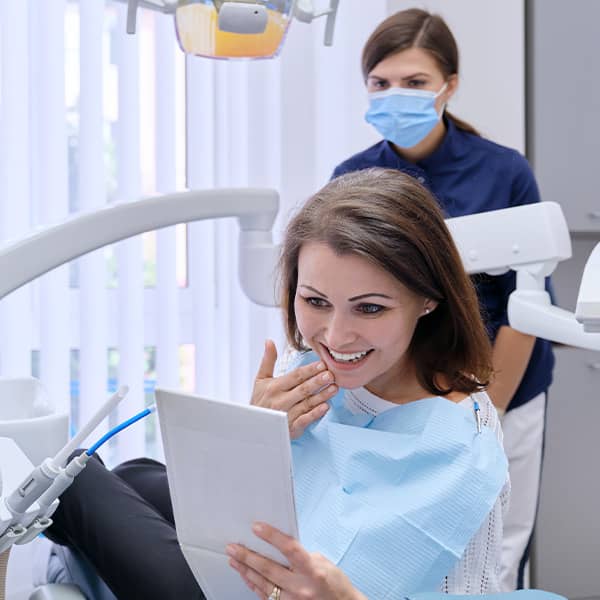 Contact our Miami office today!
Reasons for dental implant failure
Teeth implant failures can be caused by factors such as poor dental hygiene, poor overall health, and smoking. Titanium corrosion contaminants are also a concern. Additionally, an inferior implant procedure, or an implant placed in the low-density bone, can cause the implant to become loose and take on bacteria, which can then result in an infection of the surrounding tissues. If not properly treated, the infection can turn into peri-implantitis. Even minor inflammation, known as peri-mucositis, can cause the bone to deteriorate and the implant to become loose, indicating the necessity for regular check-ups. The above symptoms, especially when they occur in combination, could suggest a risk for heart disease and other conditions linked to periodontal issues.
Signs and symptoms of peri-implantitis
Gum or implant sensitivity
Gum swelling
Loose or wiggling implants
Bleeding gums
Gum discoloration
Mild to severe pain
Drainage or pus from the surrounding tissues
Gum recession
Implant exposure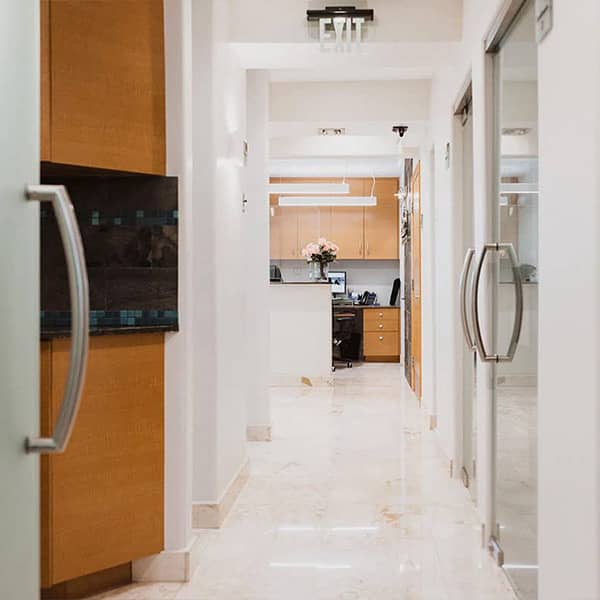 LANAP® Laser Periodontal Therapy
The Best Candidates for LAPIP™
While some inflammation around a tooth implant is normal, severe pain, bleeding, and infection call for immediate treatment. Almost anyone suffering from these issues may be a candidate for the LAPIP™ procedure from our Miami dental specialty office. The ideal patient should be in overall good health and have a clear understanding of the LAPIP™ process. Those who make smart food choices and avoid blood thinners often have better outcomes.
During an initial consultation, Dr. Gallardo will perform an in-depth evaluation of the implant. In some cases, an antibiotic regimen can successfully eliminate the infection. If it is determined that LAPIP™ is the right non-invasive treatment for your situation, a treatment plan will be created for you. However, it's worth noting that while the LAPIP™ procedure is innovative, treatment options remain varied, depending on the individual case.
How LAPIP Treats Failing Dental Implants
After a careful examination, the doctor will begin the LAPIP™ procedure using a tiny, innovative laser, about the width of three human hairs. The laser will be inserted between the implant and the gum line, eliminating bacteria and removing unwanted particles or tissue. This unique laser procedure also stimulates growth factors within the bone, promoting healing and bone graft for tissue regeneration.
In severe cases, the use of a small scalpel may be required to pull back the gum tissue, providing deeper access to the implant. The doctor can also add additional growth factors as needed, to encourage bone growth. This approach can mitigate complications with implants. In this case, sutures will be placed for proper healing.

To keep the implant immobile during the healing period, Dr. Gallardo may place a temporary splint along the treated area. Although unlikely, if patients experience any discomfort, over-the-counter pain medications are normally adequate, but prescription pain medications could also be prescribed.
For the first seven to ten days of the healing process, patients should not brush or floss. The doctor will provide a medicated rinse to use during this time period. A soft diet is recommended, and hard items like nuts, chips, or seeds should be avoided. Smoking should also be avoided, as it can cause delay healing and introduce bacteria into the mouth.
Schedule Your Miami LAPIP™ Consultation
Ensure the health of your dental implants by scheduling regular cleanings with a periodontist experienced in implant dentistry. Should any concerns arise, including pain, difficulty chewing, or a loose implant, contact your dentist immediately. Dr. Gallardo is on the forefront of innovative techniques, like LAPIP™, that will keep your teeth and implants healthy for years to come. Call our Miami dental office at 305.447.1447 to schedule a complimentary consultation, or to discuss any concerns about the LAPIP™ technique.
Our Work Speaks for Itself
Committed to your results
"I am terrified of the dentist and I recently had an implant . Needless to say i was a wreck. The procedure and recovery was much better than expected. Thank you Dr. Gallardo and Daniel for making me feel at ease."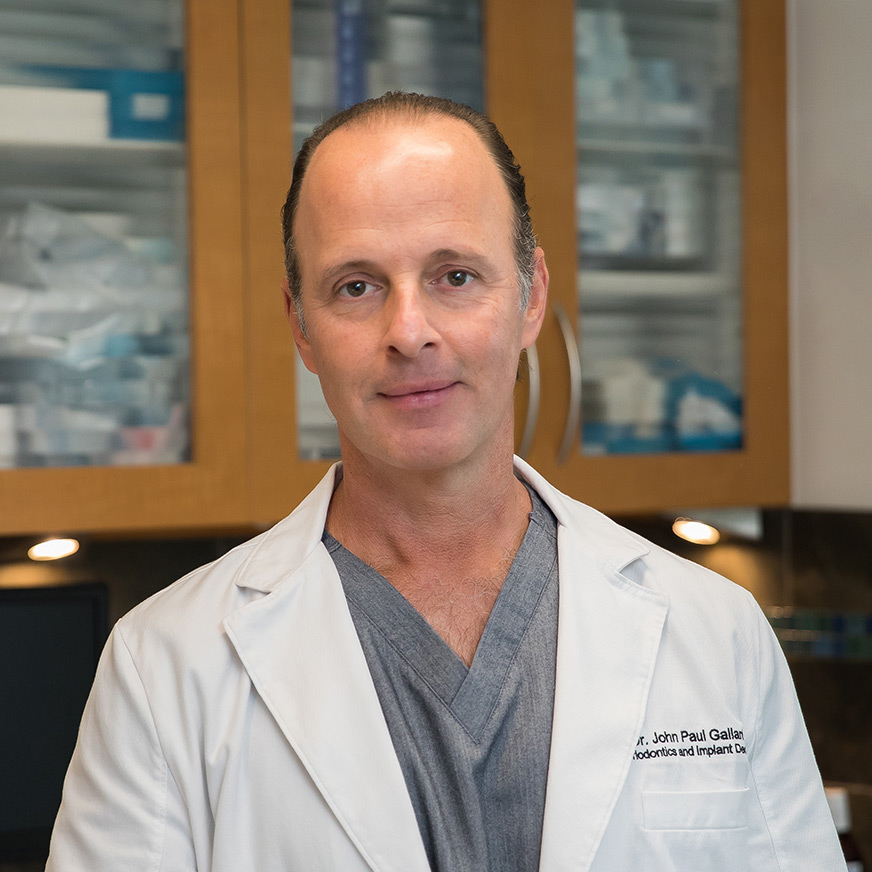 Dr. Gallardo has 30 years of experience offering dental implants and specialized periodontics to patients throughout South Florida.
Dr. Gallardo is a graduate from the University of Miami and received his Doctor of Dental Surgery degree from New York University College of Dentistry.
Accepted into the V.A. Medical Center General Practice Residency Program of the U.S Department of Veterans Affairs where he was honored with the "Outstanding Resident of the Year" Award.
He has lectured nationally and internationally to dentists and hygienists and has been sponsored by companies such as Procter and Gamble to speak on clinical topics related to gum disease and implant dentistry.
Dr. Gallardo remains a leader in periodontics and implant dentistry through his active and past involvement with University of Florida, Florida Association of Periodontists and North American Society of Periodontists.
Frequently Asked Questions About LAPIP™