Dental Implant Single Tooth Replacement in Miami, FL
Do you have a single tooth missing from your mouth? Are you looking for a dentist who will replace it with a state-of-the-art implant? Dr. John Paul Gallardo, DDS, PA offers single Tooth Replacement in Miami, FL. A single-tooth replacement is a simple procedure that many people overlook. It's also a very common dental problem that millions of Americans suffer from every year. If you've got a single tooth missing, then you may qualify for dental implants. If you're interested in learning more about how to get a single tooth replacement in Miami, Fl, then read on.
From first impressions to good nutrition, healthy teeth are a vital part of life. Unfortunately, teeth can be surprisingly fragile. Missing teeth can be caused by congenital defects, accidents, and trauma, tooth decay, gum disease, or just general wear and tear with age. As common as the problem is, though, a missing tooth can be an embarrassing problem that may leave you too self-conscious to smile or even talk. Fortunately, it is correct an absent tooth with a replacement that is so natural that even you might forget it's not real.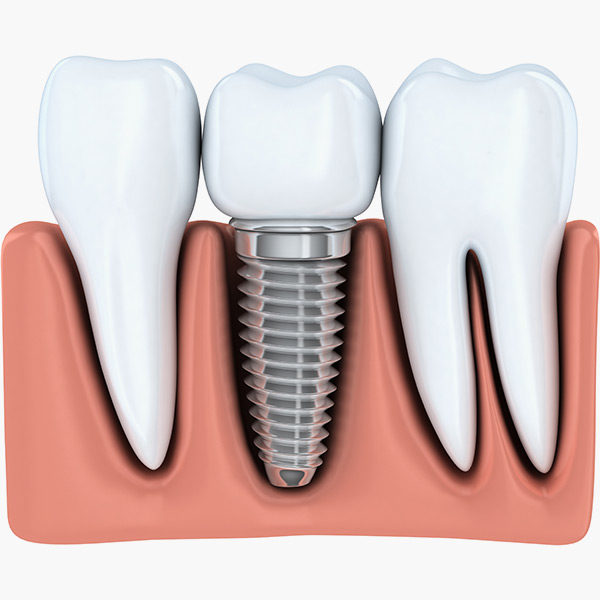 About Single Tooth Implants
The traditional method for replacing a tooth involves a bridge that anchors on neighboring teeth. Unfortunately, this requires grinding down those other teeth so that the bridge can be cemented onto them. A single tooth implant, on the other hand, replaces a missing tooth without damaging neighboring teeth. It is not a patch but rather a full replacement that takes the place of both crown and root. A safe and permanent solution, the single tooth implant anchors directly into the bone and includes a ceramic crown so that it looks and functions just like a natural tooth.
Before and After Photos
Procedure Gallery




* Each patient is unique and individual results may vary.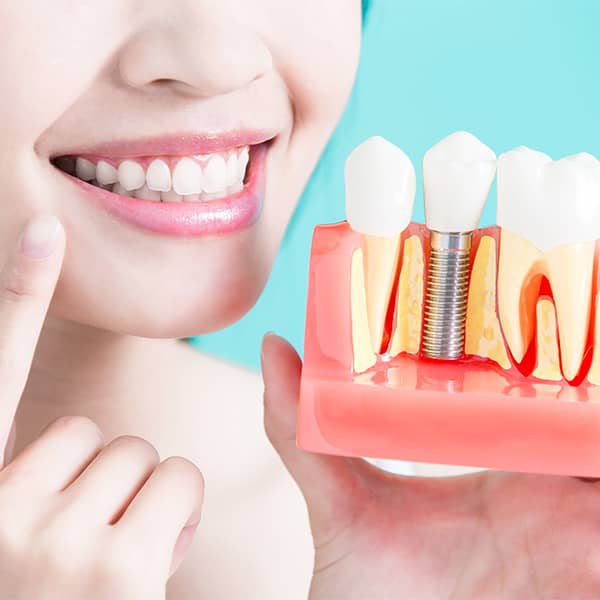 Single Tooth Replacement Procedure
Your single-tooth replacement will begin by ascertaining the need for replacement with an examination. It may also include an X-ray or CT scan to make sure that you have enough remaining bone to anchor the implant and to determine exactly where the implant should be located.
The placement of the implant is a two-stage process. In the first stage, a small pilot hole will first be drilled in the bone where your tooth was. It will then be carefully widened to allow placement of a titanium implant that looks like a small screw. This screw will stay there for 2-6 months to give it time to bond with the bone, creating a secure anchor. During this process, called osseointegration, you will wear a temporary replacement crown. In addition to covering the unattractive screw, this also helps it to heal faster and provides a model tooth for the gum to shape itself around.
After the osseointegration process is complete, a new ceramic crown will be created to precisely fit the gap. It will be attached using a small metal post called an abutment. After a brief adjustment period, this new crown will feel so natural that you may forget you ever lost a tooth.
In addition to this normal two-stage process, it may also be possible to do a one-stage procedure that puts the entire replacement tooth in at once using an implant with a pre-attached extension piece. The viability of this varies based on the exact situation, so it will depend on the results of Dr. Gallardo's initial examination.
Need a dentist?
Contact our Miami office today!
Recovering from Single Tooth Implants
The discomfort after the implantation procedure is relatively minimal. You will experience some swelling which is normally confined to the jaw but may briefly extend to the face itself, and there will be minor bruising and bleeding for several days. You may be prescribed pain medications to help for the first few days. Your diet will be confined to soft food only for the first week.
After the replacement, the patient's commitment to good oral hygiene is vital. Daily flossing and brushing are necessities, as is the cessation of smoking. Poor hygiene and smoking are all highly associated with infection and failure of the implant.
What You Can Expect about Single Tooth Replacement
After your single-tooth replacement, you can expect extremely natural results that both look and feel like your own tooth. You'll have renewed confidence in your teeth both aesthetically and functionally. Your smile will look like new, and you'll be able to speak clearly and chew food easily.
Benefits of Single Tooth Implants
A single-tooth implant provides results that look more natural than a bridge since it takes the shape of a single tooth. It also preserves the bone better, since it replaces the root. Without this replacement root, the bone often begins to resorb or shrink back, which can lead to an uneven and unattractive smile. This replacement root keeps everything healthy and intact.
It is also easier to keep clean than a bridge. With a bridge, the gums sometimes recede, exposing the metal base, and the cement can wash out, which allows bacteria to enter and corrupt the remainder of the neighboring natural teeth that anchor everything. By contrast, single-tooth implants provide a lifelong, cavity-proof solution that requires no additional treatment and no special care
Single Tooth Replacement FAQs
My teenager lost a tooth in an accident. Is he eligible for single tooth replacement?
Not yet, unfortunately. Dental implants cannot be placed until bone growth is finished after adolescence. Dr. Gallardo can help you find a temporary solution until your child's growth is complete and the implant can be placed.
What are the success rates like for this procedure?
Single tooth implants are one of dentistry's most successful procedures, with above a 90% success rate. That said, the success of the procedure depends both on the location and on the patient's commitment to correct aftercare.
Are there any options for candidates with very little bone or gum tissue?
It depends on the specific case, but some individuals will be eligible for small diameter or mini implant. In other cases, bone or soft tissue grafts may be used to help build up mass until the implant is a viable option. Dr. Gallardo can evaluate your situation to determine your options.
Are there any risks I should be aware of?
There is a slight chance of the implant breaking or the replacement crown coming loose, both of which require professional repair, but most risks are caused by failure to maintain proper oral hygiene around the implant. This can cause infection or peri-implantitis.
How long do I have to wait for an implant after having a tooth extracted?
It depends on your individual situation. In some cases, the implant may be placed immediately after extracting the old tooth, which has the benefit of speeding up the osseointegration process considerably. The viability of this depends on the anatomy of the area and whether the extraction site will be too wide to securely hold an implant, so you will need professional evaluation to determine whether this is an option for you.
What dental implant single tooth replacement office is near me?
If you live near Miami, FL, Gallardo Periodontics and Implant Dentistry offers dental implant single tooth replacement among its services, and is conveniently located at 2020 SW 27th Ave Miami, FL 33145
Why choose Dr. Gallardo